-By Warner Todd Huston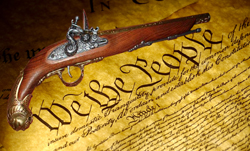 A former corrections officer and a downstate farmer have joined with the Second Amendment Foundation to sue the State of Illinois over its constant failure to institute a concealed carry law.
In its press release the Second Amendment Foundation says that, "Illinois statutes that completely ban the carrying of handguns for self-defense are 'inconsistent with the Second Amendment.'" The foundation insists that its lawsuit is not intended to create law, but only to determine that prohibiting concealed carry is impermissible under the Second Amendment of the U.S. Constitution and in light of the Heller ruling, the prohibition is obviously untenable.
"Illinois is currently the only state in the country that imposes a complete prohibition on the carrying of firearms for personal protection by its citizens," said SAF Executive Vice President Alan Gottlieb. "The state legislature recently stopped, by a thin margin, a concealed carry measure. After the 2008 Heller ruling and last year's McDonald ruling against the City of Chicago that incorporated the Second Amendment to the states, one would think that Illinois lawmakers would act quickly to comply with court decisions and the constitution."
The lawsuit was brought on behalf of former corrections officer Michael Moore of Champaign and farmer Charles Hooks of southeastern Percy, Illinois.
The Illinois General Assembly has repeatedly been only a few votes shy of reversing the outright ban on concealed carry, the measure having failed again only just over a week ago.
Illinois is one of the last states left that has not passed a concealed carry law of some sort or another.