…All week the weather forecast was beginning to sound a lot like The Boy Who Cried Wolf. Every day there had been a call for severe storms. Damaging winds, torrential rains and large hail were supposed to be rolling through ever day. It never happened. I assumed the day of the solstice would be no different. The radar said so.
Besides, I had the Fox Valley Effect on my side. Storms will move in from the west and southwest, but as soon as they get to the Fox Valley they'll start to break up and disappear. I had noticed this phenomenon for a long time. The name for it came from air traffic controllers at the Aurora Airport.
When I finally got into the river the first hour was uneventful, which is what I wanted. Though the river was up a little, it was easy to wade across to the opposite shore. Wading the first half mile along the shore was easy. The tricky part was out in the middle, but even then there were sections where I could get across.
Problem was that the fishing was also uneventful. That wasn't supposed to happen. This was a go to spot I had relied on for many years. Every section I picked apart was supposed to produce a smallie. I never got a hit. This was quickly becoming a stroll in the river.
The elderberry plants were lit up along the shore. Their tiny green/white flowers just starting to bloom.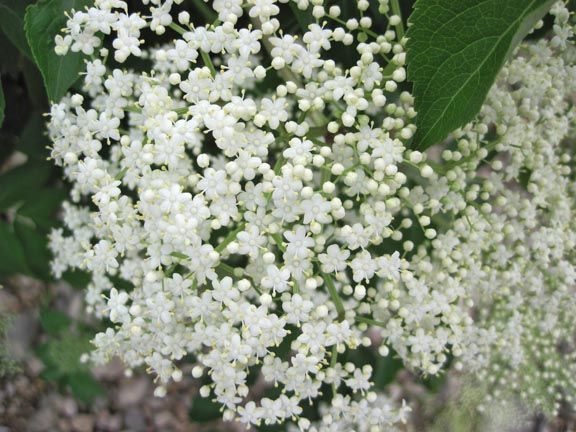 I've been meaning to make something from the berries, but never seem to get around to it. I have recipes for everything from sauces to wine.
At the hour mark a dark cloud formed directly overhead and the wind started picking up. No big deal, the rest of the sky was cloudy, but didn't look like rain.
And then it rained from this one cloud. Huge rain drops started hitting the water and before I could find some cover to sit under, it was pouring. Two minutes later it stopped. Just enough to get me soaked. Of all the places it could have picked on the river, it decided to sit directly on top of me.
I kept wandering down stream. A couple of weeks earlier we had a fast heavy rain. The river came up high enough to keep me from wading, but it was not that big of a deal. I do remember checking the river gauge that day. It came up fast. The end result through this stretch was that the trees that had been trying to kill me by sucking me under them were all now pushed tight along the shore rather than sitting perpendicular to the shore. I was sorry to see a couple of good fish holding spots go away, but grateful I wouldn't have to worry about walking around them at high water anymore.
At the beginning of a very nice run of water I finally got a hit. I assumed smallie, but the fish went limp and it was like reeling in a wet sock. Ahhhh, walleye, the small ones are pathetic fighters.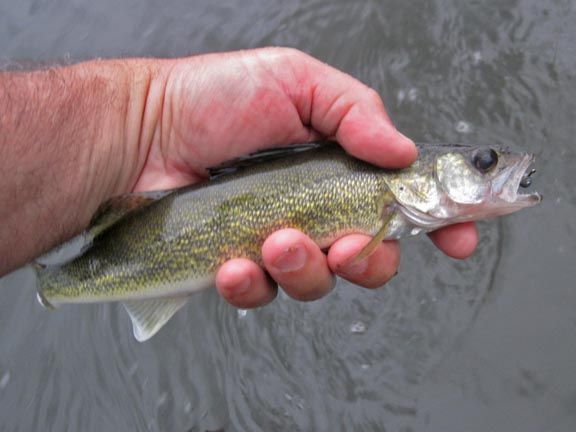 I hadn't caught a walleye in this stretch in a few years, it used to always produce a few. But then I hadn't been to this spot when the conditions were perfect in a long time. Another cast got another hit. I could tell it was another walleye by the way it hit, but this one refused to stay hooked. Then I landed another small walleye that fought about as pathetic as its namesake, wet sock.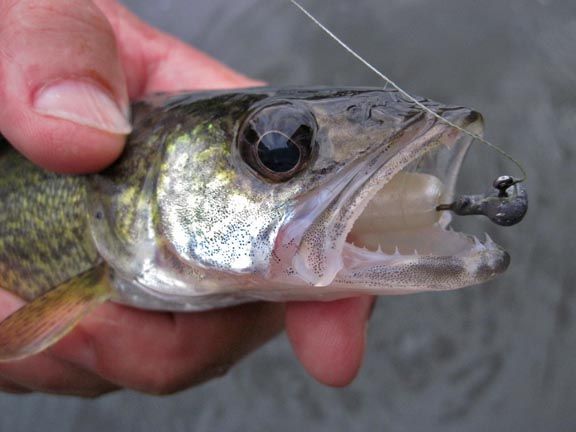 One last hit gave me two fish and two missed opportunities all from the same spot.
I'm sure I noticed that it was getting dark out and the clouds were getting thicker. That explained the walleye bite. The wind was starting to pick up, but I've fished in much worse so I gave it no thought. I was grateful for the cloud cover to turn on a few fish, even if they were walleye.
I kept fishing my way down stream. The wind kept picking up and clouds were blowing around. I worked my way down to the tail end of a huge pool. I still didn't have a single smallie hit under my belt. This next stretch was also a good walleye spot when the conditions were favorable. The skies kept the light down and the walleye turned on.
I caught a couple of more wet sock walleye, then got nailed hard by a fish. Bulldogging upstream and taking out drag got me impressed. I expected to see a big smallie that didn't feel like jumping and wound up with a walleye over 20 inches.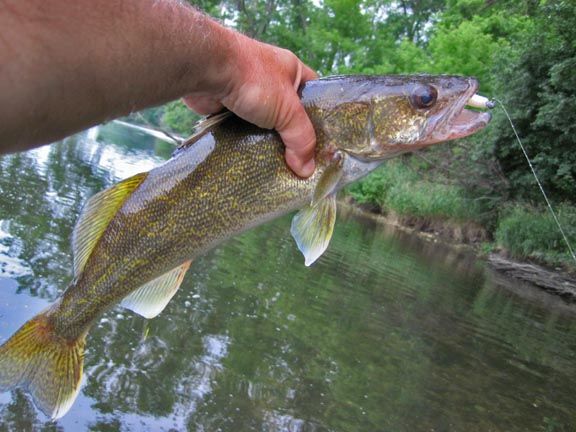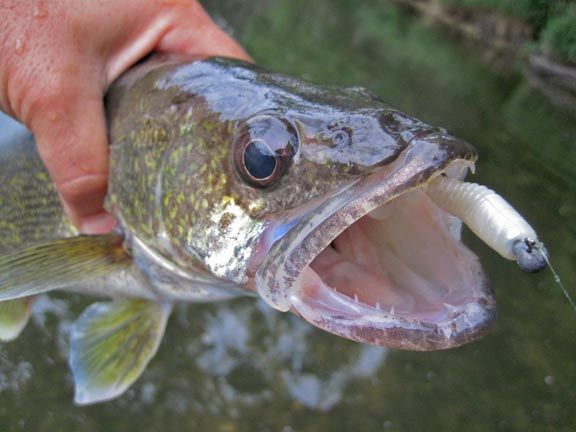 A few casts later and another hard thump and this one felt heavier than the other big one. Only, I'll never know. It didn't feel like staying hooked.
The marker for this walleye spot for the past 10 years had been a tree in the water that had been tucked in along the shore. It was well over 50 feet long and the trunk was over 3 feet in diameter. It was a nice resting spot. A good place to sit and watch the river flow by. When my back was stiff from wading, it made a good stretching board and always took the kinks out.
It was gone. That fast rise in water a couple of weeks ago made it disappear. For as far down the river as I could see, the tree was nowhere to be seen. Amazing how water can do that.
Far down stream a black line of clouds were going by. No big deal. The wind was picking up around me, but that storm was pretty far south and moving to the east. Above me it was just clouds. I got around a bend to fish one last stretch.
That's when I started to hear the thunder off in the distance. I kept fishing figuring all that thunder was the storm passing to the south. Then I heard some thunder out west of me. I kept fishing since it sounded pretty far off. Then the thunder started to sound like heavy trucks banging down the road on a highway. There weren't too many breaks in the sound,
I looked west and couldn't make out much because of all the trees up to the rivers edge. Not far off was the top of the river valley bluff, which was easily 50 feet high. Put a wall of trees over 100 feet tall up to and on top of it and there wasn't much you could see off in the distance.
Then I saw the sky start to light up behind the tree tops. That was not a good thing to see. I was a good three quarters or a mile from my car and I had a pretty wide stretch of river to cross. The shortest distance between two points is a straight line and I was afraid I was going to have to take it. The light and sound show was getting closer over the trees. None of this was any good. I believe I mentioned the river was up a bit, but no big deal.
Well, now it was. I don't like walking through this stretch when the river is normal. I had no choice but to go across. The other route would take too long and the lightning starting to arch over my head was telling me to get going.
I honestly thought I had plenty of time to make it back to my car. I took my time getting across the river. There was a pretty good flow and the water was around 4 feet deep if I kept moving slightly to my left, upstream, as I walked. I could feel my feet wanting to drift out from under me with each step. I knew if I just kept moving along slowly, I'd be fine. I had time to do it right.
Just then I hear a familiar ring tone, it's my wife. Talk about poor timing.
When I get on the shore of the first island, the wind is blowing harder, the lightning is becoming more frequent and the thunder is becoming a steady rumble. I call my wife.
"Are you off the water, it's blacker than hell here and heading your way."
"I can't see a thing, too many trees. It can't be that bad."
"Oh, you'll see. I'd get out of there if I were you."
For some reason it didn't seem that bad. I hung up. Within seconds the severe storm sirens went off all up and down the river. This can't be good. Lightning started arching across the sky and it kept getting darker. I could now hear the crack of bolts of lightning off in the distance. I kept repeating some words in my head as I walked, oh shit, oh shit, oh shit…
Filed under: Fox River, The Fishing Stories
Tags: fish the fox, fox river, fox river fishing, ken g, ken gortowski, summer, summer solstice, wadauwant, waterdog, waterdog journal