The plan was to spend Saturday with my oldest daughter down along the Fox River at Blues on the Fox in Aurora. Over the past 40 years I've seen a lot of concerts and performers, but I had never seen Buddy Guy play. To go see him was the plan.
Problem is, I've grown to hate crowds and large groups of people. So Saturday afternoon the plan was changed.
"Want to go fish till sunset?"
"Sure."
Both my daughters love to be outdoors. The oldest is the angler while the youngest shows no interest. Leah will go walk around in a creek with me while I toss a few lures, but Nina wants to fish. Since Leah was off being 16 and in no need of a father for the weekend, Nina and I blew off Buddy to wade the river.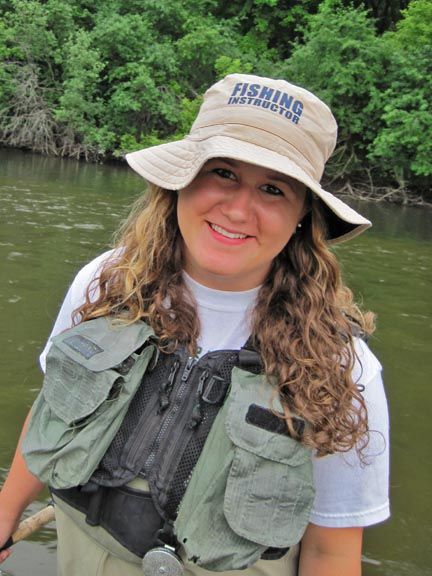 Even as a kid she refused to learn how to use the standard kid Zebco set up.
"I want to use what you use."
She was only two. So I started teaching her how to use spinning gear. I mainly let her throw topwater lures since at that age, trying to teach her the subtleties of worm fishing would just be frustrating for her. A couple of months before her 4th birthday I had her out fishing a lake from a canoe. I'd be 40 to 50 feet out from what I wanted her to hit with a cast.
"Put it within a few inches of that stump" and sure enough, it would land within those few inches. Her accuracy was astonishing for that age.
I think I had her out on the Fox wading for the first time when she was around 10 years old. Give or take a year. She loved every minute of it. I also started teaching her to swim when she was a year old, did that with both my girls. They both eventually were on the school swim team and swim like fish.
She has no fear of water.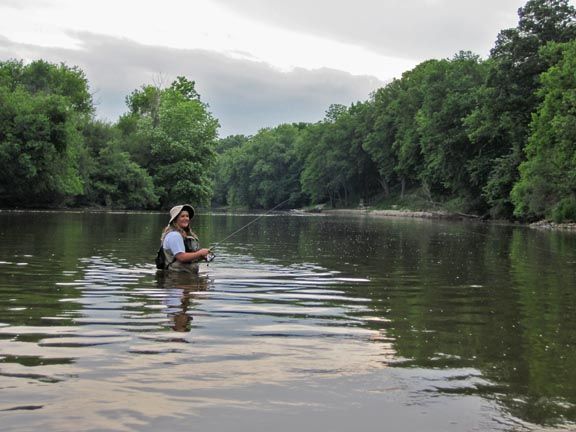 I let her go wander off to fish where she wanted. The water was a little high, but no big deal. I'd give her a general idea of where to go, but pretty much left her on her own. I think I heard "you could have told me it was going to get deep" a couple of times.
Could have swore I did.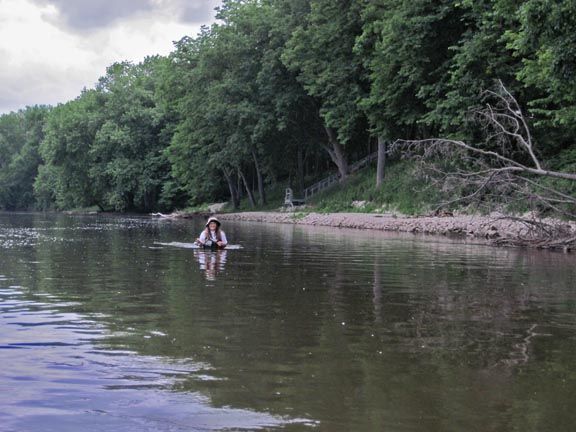 "Do you remember what I taught you?"
"Yep, if I go under, put my feet down and stand back up."
The fish were not cooperating for us this day, but we didn't care. She was combing the surface and I was trolling the depths. The topwater got nothing and the underwater lures got a couple of tentative hits and a dink smallie for each of us.
That was more than enough.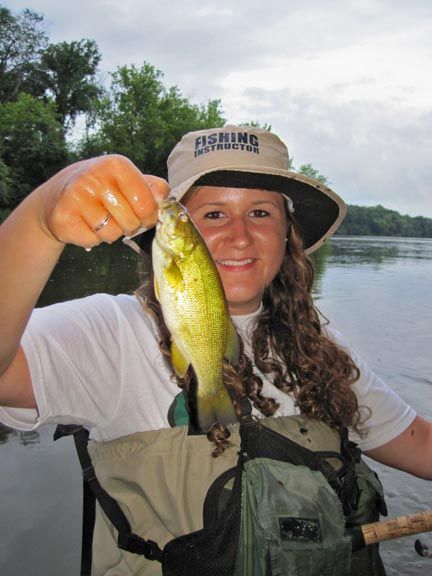 The bulk of the time we just wandered around, watching the increasing bug hatch that was coming up off the river as the sky got darker. She hesitated in continuing down the river at one point when we saw a huge school of carp working the surface in a big slow pool.
"I don't want those things bumping into me."
They'll move, don't worry, you won't even know they're around.
A phrase I use a lot for the places I fish on the Fox is — It Could be Anywhere.
She agrees.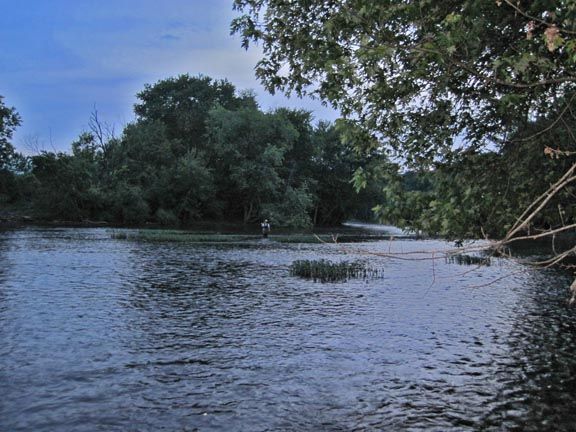 We called it quits when it got dark and we were still a hike to the car. We wound up taking our time wandering down the river while we watched the massive bug hatches come off the surface. It looked like fog lifting from the river. Bugs of every imaginable size. The flash of the camera caught them in mid air.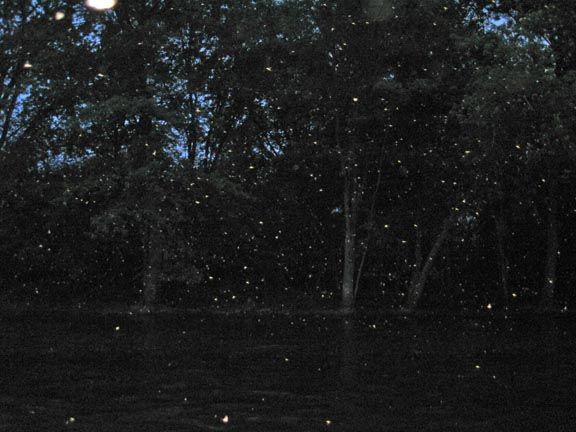 We got back to the car, shook off the caddis flies, peeled off the waders and walked back to the rivers edge to get used to walking on land again. Streaks of clouds were lit by the very last of the light. It was too dark on the water to see the bug hatch any longer. We stood and listened to the sound of running water over rock with a few frogs singing along on the shore line.
"That was fun."
Yes, it was.