I live as close to the train station as I live to the Illinois Prairie Path.  I feel very fortunate to have both.  The path is a nicely maintained slice of nature through the busy western suburbs.  It is a shortcut to downtown Wheaton for me, but it is really so much more.
The 61 mile path starts in Maywood. It splits into a Y just west of downtown Wheaton and continues to either Aurora or Elgin.  It also makes available other trails that run through Fermi Lab, Batavia, St. Charles, and Geneva.  It was transformed in the 60's from an old abandoned electric commuter line and it is considered the first successful "Rails to Trails"  conversion.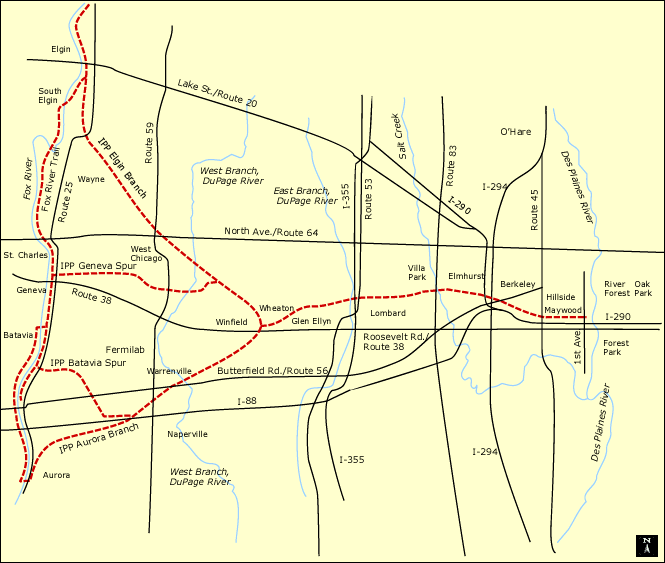 The surface is crushed limestone which is a great surface for running or biking and doesn't retain water.  The path even allows horseback riding.
The section of Prairie Path that I am nearest to, is always bustling with runners, bikers, walkers, young parents and children.  I am sure that the Wheaton College students take advantage of it as well as the permanent residents. There is always someone using it.  (Even the newly inducted Couch to 5K wanna be's…ahem…are using it!)
You may be stuck in a rut by riding or running the same streets or trails nearest you.  Try somewhere new! You should make a day of it, throw your bikes on the back,  and try this out.  And if you already live near The Prairie Path and aren't using it, you don't know what you're missing!!  Get off the couch, turn off the TV, shut down that computer, and get going!
If you don't live near the path, there is plenty of parking and places to jump on.  Restrooms, water fountains, benches, and cute downtowns with plenty of food are just a few of the many amenities the path provides.  The Illinois Prairie Path is a non-for-profit corporation.  If you feel so inclined after using it, I am sure they would appreciate the "love".  Otherwise, just be grateful and enjoy the ride!
What are you waiting for??