Thanks to everybody who participated in what turned into a Bourbon County Stout giveaway this week! And for standing by through the crazy rule changes. Now, for the benefit of those who won't be able to wait in line, I have a couple of BCS Black Friday events.
I'm giving you the whole week's schedule early, since I'm visiting the folks at Thanksgiving and might not be able to add to the calendar until next Monday. Enjoy!
Friday, November 29
33rd Annual European Beer Tour begins
Quenchers Saloon, 2401 N. Western Ave., Chicago
Beginning the day after Thanksgiving, and running through Sunday December 8 is the 33rd annual Quenchers Saloon European Beer Tour. Boasting an impressive list of draught beers from sixteen different countries, be sure to drop by the corner of Fullerton & Western in Logan Square for either a long (20 flights) or short (10 flights) tour of "The Old World".
THE BEERS:
THE 3 WAYS TO ENJOY THIS YEAR'S TOUR:
1. Flight Card — $65.00
Try short pours of ALL 20 beers, Special Edition T-Shirt with design by Josh Hastert, 2 snack plates, 2 pint glasses
2. Long Tour — $65.00
10 Beers from the tour, Special Edition T-Shirt with design by Josh Hastert, 2 snack plates, 2 pint glasses
3. Short Tour — $40.00
6 Beers from the tour, Special Edition T-Shirt with design by Josh Hastert, 1 snack plate, 1 pint glass
Friday, November 29
8:00 am – 8:00 pm ♦ Lakefront Black Friday in Milwaukee
Lakefront Brewery, 1872 N. Commerce St. Milwaukee, WI (414) 372-8800
For the third straight year, Lakefront Brewery, Inc. will host a "Black Friday" event, featuring a limited edition beer: Black Friday Imperial India-Style Black Ale, which will be available only at the brewery and only for one day – if that. (It sold out in just 90 minutes last year.)
Lakefront's Black Friday event will start at 8 a.m, serving its beer and breakfast food (and "beermosas") from Karma Bar & Grill; a live deejay from 8 a.m. to 3 p.m.; brewery tours starting at 11 a.m.; and a live band, the Brewhouse Polka Kings, from 6 to 8 p.m.
The potent (10 percent ABV) dark ale was first created for last year's Black Friday event. It will be available in 22-oz. bottles only. Sales will be limited to three bottles per person, while supplies last. Because last year's supply of Black Friday went so fast, the brewery has more than quadrupled the number of bottles it will make this year from 1,200 to 5,000. The brewery is also adding a "bottle swap" component for the 2013 event – encouraging participants to bring and trade bottles of rare or unusual beers.
The first 1,000 people to buy the beer will get a limited Black Friday pint glass. Full details about the event can be found on the brewery's Black Friday website, blackfridaybeer.com. Patrons can also buy advanced brewery tour tickets online via the website if they want a guaranteed spot on a specific tour.
8:30 am ♦ BrickStone's Annual Black Friday
BrickStone Brewery, 557 Latham Drive, Bourbonnais, IL (815) 936-9277
BrickStone is joining the early Friday rush by releasing its barrel-aged (Elijah Craig bourbon) Dark Secret in 22 oz. bottles at 8:30.
9:00 am – 12:00 pm ♦ Black Friday at Binny's Lincoln Park
Binny's Lincoln Park, 1720 N. Marcey St., Chicago (312) 664-4394
Yep, it's that time of year again! We'll be releasing the 2013 batch of Goose Island's Bourbon County Brand Stout, along with this year's variants: Bourbon County Brand Coffee Stout, Bourbon County Brand Barleywine, Backyard Rye Bourbon County Stout, & Proprietor's Reserve.
In addition, we'll be pulling some limited beer out of the cellar including Rare, King Henry, Cherry Rye, and others. Like last year, you'll get a number when you show up (no purchase necessary) and, if your number is pulled, you'll have the option to purchase the beer.
Intelligentsia will be on hand pouring coffee in the morning, and there will be some other line perks for those that brave the cold.
11:00 am ♦ Crown Brewing Black Friday Release
Crown Brewing, 211 S. East St., Crown Point, IN (219) 663-4545
We want to make sure can you do all your holiday shopping while drinking beer! On Black Friday we will have NINE different bombers available. We will be releasing our Sour Crown Brown that was aged in a red wine barrel with raspberries. There will also be a limited amount of variety 8 packs for only $40 on Black Friday! The 8 pack includes one of each (excluding the Sour Brown). The bottles will go on sale at 11 am when we open. Here is the list:
Special Forces IPA, Crown Brown, Industrial Porter, Ignis Fatuus (Pumpkin Ale), Winter Warlock, Java Porter, "The Dude" White Russian Java Porter, Special Special Forces (Citra Hops) and Sour Raspberry Crown Brown
P.S. Winter Warlock goes on tap Black Wednesday!
2:00 – 5:00 pm ♦ Black Friday Cellar Release Party!
The Bavarian Lodge, 1800 Ogden Ave, Lisle, IL (630) 241-4701
Join us as we open early on Black Friday and dig deep into the depths of our beer vault to release a fantastic selection of rare, dark, and barrel-aged rarities on draft! As always the final line-up is subject to change and last minute surprises are very possible! Check back here for updates… Here's the line-up so far:
21 & Over in the Pub Room, Please. Draft Line-Up Subject to Change Without Notice. Last Minute Surprises Possible!
2:00 – 6:00 pm ♦ Black Friday 2013 at Goose Island Clybourn (Sold Out!)
Goose Island Brewpub, 1800 N. Clybourn Ave., Chicago (312) 915-0071
In Goose Island Clybourn tradition, we've put together something special for Black Friday. Akin to last year, this year's event will feature a ticketed Black Friday package where a Goose Island brewer will lead you through a tasting of these barrel-aged beers:
Bourbon County Brand Stout '13
Bourbon County Brand Coffee Stout '13
Bourbon County Brand Barleywine '13
Templeton Rye Bourbon County Brand Stout '13
Backyard Rye Bourbon County Brand Stout (Templeton Rye BCBS with mulberries, boysenberries, marionberries) '13
Proprietor's Bourbon County Brand Stout (Templeton Rye BCBS with toasted coconut) '13
Plus, attendees will take home a 2009 bomber of Bourbon County Brand Stout and a new edition of our Bourbon County Brand Stout snifter.
*UPDATE* Thank you to everyone who purchased their Black Friday tickets! We have sold out.
4:00 pm ♦ BCS Black Friday at Fatpour
Fatpour Tap Works, 2005 W. Division St., Chicago (773) 698-8940
Fatpour Tap Works has an exclusive tapping of Goose Islands' BCS on Black Friday with the brewery itself. Also, prior to BF, on Wednesday, the 27th – we are tapping Goose's Ten Hills Pale Ale!
For Black Friday, we are tapping 2013 Bourbon County Coffee Stout, 2013 BCS, 2012 BCS, 2012 Coffee, and 2012 Cherry Rye, and kegs of 2012 BCS, 2013 Coffee and 2013 King Henry, the barely wine.
4:00 pm ♦ Firkin Friday at Tribes Mokena
The Tribes Alehouse, 11220 W. Lincoln Hwy, Mokena, IL (815) 464-0248
Two Brothers Night Cat Hoppy Dark Wheat – First time available on cask!
5:00 – 10:00 pm ♦ Bourbon County Stout Tap Takeover
Standard Market, 333 E. Ogden Ave., Westmont, IL (630) 366-7030
We've been waiting patiently for this time of year to roll around again. It's been a long time since we've been able to get together with family and friends and give thanks that Goose Island has released their Bourbon County Stouts! We're celebrating by tapping kegs in the Cube. We will also have some bottles available as well. So shake off that turkey coma and join us!
5:00 – 7:00 pm ♦ 12 Beers of Christmas Kickoff
Durty Nellie's, 180 N. Smith St., Palatine, IL (847) 358-9150
They're back! Ring in the holidays with 12 Beers of Christmas at Nellie's. Try all 12 beers between now and Christmas and take home a commemorative glass and shirt!
At tonight's kickoff party, enter for a chance to win a 3L of Samichlaus Bier. The person with the oldest 12 Beers of Christmas t-shirt takes home a $50 Nellie's gift card!
6:00 pm ♦ Friday High Gravity Series Tappings at Brixie's
Brixie's Beer Bar, 9526 W. Ogden Ave., Brookfield, IL (708) 387-0050
Great Divide Oak Aged Yeti Imperial Stout. 9.5% abv
6:30 pm ♦ Cheese, Beers, and Cheers
Hunter's Brewing, 1535 S. Calumet Rd., Chesterton, IN (219) 728-6729
Join Hunter's Brewing and Indiana Cheese & Specialty for a night of Cheese, Beers, and Cheers!
We will be doing a cheese and beer pairing and will pair 6 artisan, Midwest cheeses with Hunter's Brewing beers.
Cheeses from Red Barn Family Farms, Jacobs & Brichford Cheese, Grassfields Cheese and Prairie Fruits Farm and Creamery
If this wasn't enough fun already, we have to get even more festive…break out those ugly Christmas sweaters for an Ugly Sweater contest!! Get that sweater on and be merry! The ugly sweater contest winner will get a nice gift basket of cheese and a growler of beer.
Tickets are $25 and include beer, cheese, and a keepsake cheese board. There are only 20 seats available for this holiday event so get your tickets today at www.brownpapertickets.com
Through December 1

Thanksgiving Week Dinner & 5 Rabbit Pairings
Takito Kitchen, 2013 W. Division St., Chicago (773) 687-9620
Celebrate Thanksgiving at Takito Kitchen with a three-course farm-to-table dinner prepared by Chef/Partner David Dworshak paired with three different beers from the 5 Rabbit Cerveceria. The dinner will be offered daily during the week of Thanksgiving (Takito will be closed on Thanksgiving Day only). Tickets are $32 per person if purchased in advance via Eventbrite and $37 if purchased the week of the event at Takito. Reservations can be made at www.takitokitchen.com.
Saturday, November 30
2:00 pm ♦ Roscoe Village Pub Crawl
Starting at Four Moon Tavern, 1847 W. Roscoe St, Chicago (773) 929-6666
Making stops at Four Moon Tavern, Riverview Tavern, The Village Tap, and Black Rock! Featuring Great Lakes Christmas Ale!
4:00 pm ♦ A Beer Carol
Drinking & Writing Theater @ Haymarket Pub & Brewery, 737 W. Randolph St, Chicago (312) 638-0700
November 30-December 18, Saturdays at 4 PM, Wednesday at 8:30 PM
Also at: Athenaeum Theatre, 2936 N. Southport, Chicago
December 19-22: Thursday-Saturday at 8 PM, Sunday at 7 PM
Tickets at http://www.drinkingandwriting.com/
A BEER Carol is a live radio play that tells the story of the evil CEO Bud Miller of Milweiser, the large, heartless brewers of swill. Haunted by the ghosts of the four ingredients of beer–hops, barley, water and yeast–and faced with his past, present and his possible ill-fated future, Bud Miller must decide if he can change into a better human being and a better brewer.
Through December 3
Upland Sours Release Lottery
Online, through Upland Brewing Co., 350 W. 11th St., Bloomington, IN
Note: Times for this event are in Eastern Time! On Tuesday, November 26th, Upland Brewing Company will open an online lottery for the release of two of its sour ales: Cherry and Raspberry fruited Lambic-style ales. Due to labor intensiveness, a long brewing process, and the seasonal availability of local fruit, these ales are released infrequently and in limited quantities. Consequently, lottery requests will be restricted to one bottle per style per person. The lottery, at UplandSours.eventbrite.com, is now open, and closes at noon Tuesday, December 3rd. Preferred pick-up location must be specified at the time of entry; both the Brew Pub in Bloomington and the Indianapolis Tasting Room are options. Lottery winners will be notified via email on December 4th and will have the opportunity to purchase the sour ale they selected at their preferred location from December 9th to December 23rd. Those who choose to pick up their bottles in Bloomington may do so Monday through Thursday 11am- midnight, Friday and Saturday 11am- 1am, and Sunday noon to midnight. For people picking up in Indy, the Tasting Room is open Monday through Thursday 4pm-10pm, Friday and Saturday noon to midnight. Please note the Indy Tasting Room cannot sell carryout on Sundays, in accordance with Indiana state law.
Tuesday, December 3
6:00  – 9:00 pm ♦ Stone Brewing Beer Dinner at Wild Monk
Wild Monk, 51 S. 1st St., Saint Charles, IL (630) 549-6657
Five course dinner paired with Stone Brewing beers!
Reception – 6:00 PM, 1st Course – 6:45
$50 per person (tax and gratuity not included.
Reservations call 708-255-2337 or Email info@wildmonkbar.
Thursday, December 5
4:00 pm ♦ Surly's Back Party at Tribes Alehouse Tinley
The Tribes Alehouse, 9501 W. 171st St., Tinley Park, IL (708) 966-2051
So, Surly's back and that's cool. Both Tribes' are tapping Furious on Monday November 18th, but whats also cool is that The Tribes Tinley was one of only 4 of beer bars selected for the welcome back parties! On December 5th at 4PM we will not only be serving up some Surly Furious again, but the Minnesota Crew is also sending us a couple of their specialty kegs for the occasion. We will be tapping El Hefe Negro and Dampfbier. Nothing else more to report on this, but its just nice to have Surly back!
Oh and by the way, Tribes Mokena has a keg of Dark Horse 4 Elf and is tapping that on Wednesday Dec 4th around 4PM – just some brew news you can use….
Thursday, December 5
6:00 pm ♦ Rock Bottom Warrenvile Winter Tartan tapping
Rock Bottom Warrenville, 28256 Diehl Rd., Warrenville, IL 630-836-1380
Come out for the Winter Tartan Tapping and donate to DuPage County Toys for Tots!
6:00 pm – 9:00 pm ♦ Winter Tartan Tapping
Rock Bottom Lombard, 94 Yorktown Center, Lombard, IL (630) 424-1550
Join us for our Winter Tartan Tapping! 25 cents of every pint sold of the Winter Tartan will be donated back to the Deicke Home for adults with special needs. Please join Brewmaster Jim Wolfer in raising a pint to these special folks and celebrate the season. Giving back has never been so drinkable! 50/50 Cash Giveaway! Live Music by Bobby Dunne! Bake Sale brought to you by the Rock Bottom Rock Bottom Brewery-Yorktown staff and residents of the Deicke Home.
6:00 – 8:00 pm ♦ Ten Hills Release Party
Goose Island Brewpub, 1800 N. Clybourn Ave., Chicago (312) 915-0071
Join us for the release of the first beer in our new series of beers featuring hops grown at Elk Mountain Farms in Idaho.
The beer uses Cascade, Saaz, and Perle hops. To accentuate these beautiful hops, we'll be pouring Ten Hills through three different Randalls each with the different hop used in the beer.
Brewmaster Brett Porter and Elk Mountain Farms hop farm Ed Atkins will be on hand to answer any questions you have or just to have a beer with.
6:30 pm ♦ Lucky Monk Holiday Beer Dinner
The Lucky Monk, 105 Hollywood Blvd., South Barrington, IL (847) 898-0500
The hoppy chef and certified Cicerone, Todd Davies, and our own brew master Anthony Carollo, are teaming up again to bring you a meal worth remembering.
$55 per person, 6:30 check-in, first course begins at 7:00. Five courses paired with The Lucky Monk's Fallen Angel lager, Tritica wheat ale, Local Mullet barrel IPA, Bishop brown, and Koval bourbon barrel Solitude stout. Check our Facebook page for more information. For reservations, call 847-898-0600 or contact Jori@theluckymonk.com.
7:00 – 9:00 pm ♦ BYOB Comedy Show "Congrats on Your Success"
Uncharted Books, 2620 N. Milwaukee Ave., Chicago
If you enjoy hilarious entertainment from diverse, literate performers, check out Congrats on Your Success – a free, byob comedy show at Uncharted Books in Logan Square the 1st Thursday of every month.
Free admission, BYOB, plus Free Beer courtesy of Powell Brew House.
(this is not a 21+ event because it's a bookstore, but don't bring children or be a child because everyone will hate you)
Featuring Bill Bullock (CoYS producer), Mike Timlin (Flock Yourself open mic at Bird's Nest), Stephanie Hasz (Shinebox Comedy), Jason Earl Folks (Shinebox Comedy), Liza Treyger (Comedy Central)
Hosted by Congrats on Your Success Producer Rebecca O'Neal!
There will be games, antics, giveaways, beer, music, and, of course, FREE COMEDY!
(Donations encouraged! Goes to performers!)
8:30 – 11:30 pm ♦ Brew N' View: BEERFEST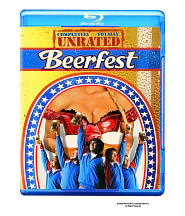 Two Brothers Roundhouse, 205 N. Broadway, Aurora, IL 630-393-2337
In honor of repeal day, stop by the Roundhouse for a beer and cheers the anniversary of the end of prohibition!
Venture on to the tavern for a screening of a fun beer movie, Beerfest
.
Two brothers travel to Germany for Oktoberfest, only to stumble upon secret, centuries-old competition described as a "Fight Club" with beer games.