It's kind of a marathon for me, keeping up with at least a few selected CCBW events, preferring local brews and hard-to-find tappings. Maybe I'll even get to one of these. I suppose we'll put these highlights first: a chance to party at a Cubs game with no Bud Light in sight:
Sunday, May. 19
12:20 – 4:00 pm ♦ CCBW in the Sky
Skybox on Sheffield, 3627 N Sheffield Ave., Chicago
Goose Island Catering and Skybox on Sheffield are amping up the winning combination of craft beer and baseball for a Chicago Craft Beer Week celebration! Cheer on your Cubbies while exploring your palate with three levels of a dozen refreshing, hoppy, and reserve Goose Island beers.
Malty Beers:
Cubby Blue – 5.0% abv. Golden Ale.
Skybox White – 5.0% abv, Belgian Wit.
424 Gold – 5.5% abv, Kölsch style Ale.
Hefeweizen – 4.7% abv.
Maibock – 6.3% abv.
Hoppy Beers:
25th ESB – 6.4% abv.
Silver Jubilee – 8.0% abv. Brewed at the pub to commemorate the 25th Anniversary. A bold Double Pale Ale with a melon-like aroma and flavor, rich caramel malt body infused with a very healthy citrus hop presence.
Upstream IPA – 6.0% abv. A single hop India Pale Ale, hopped solely with Chinook.
Midway IPA – 5.4% abv. A classic Pub beer, hopped solely with Cascade.
Black Candle – 6.5% abv. American Stout.
Loftus Road – 4.4% abv. English Pale Ale.
Reserve Beers:
Brett Barrel Saison – 8.0% abv.
Flanders Red – 6.2% abv.
Magic Number – 9.8% abv. Belgian Triple.
Gomez Imperial Stout – 10.0% abv. Russian Imperial Stout.
All drinks and food are included with admission. Skybox on Sheffield is fully catered with made-to-order food from Chicago's legendary microbrewery, Goose Island.
Enjoy gourmet pub food such as grilled paninis, pub burgers with bacon aioli and beer onions, vegetarian and gluten free options, the taco bar, dessert and much more. With over 140 stadium seats and plenty of room to move around on all four levels, you'll be amazed by our Wrigleyville views!
Tickets available through Eventbrite. Use code: "GooseMe" for $25 off ticket price!
12:00 pm ♦ The Greenbush Brewing One
Murphy's Bleachers, 3655 N Sheffield Ave., Chicago (773) 281-5356
We're hosting a Greenbush bottle launch party during Chicago Craft Beer Week. But we couldn't do it just anywhere, so we're doing it up on a rooftop overlooking the Chicago Cubs playing the New York Mets at Wrigley Field. For $85 per ticket you get:
prime viewing of the Cubs game from the rooftop on Sheffield
your choice of four different Greenbush beers to enjoy during the game
all-you-can-eat food specially paired with the beers (some using them or featuring Greenbush barbecue sauces!)
lots of fun hanging out with your fellow craft beer lovers, plus members of the Greenbush crew
gratuity included
Notes: The rooftop opens 1/2 hour before game time and is open until 1/2 hour after. Greenbush beer will be on tap at Murphy's Bleachers before and after the game. alcoholic beverage service ends during the 7th inning. TICKETS ON SALE NOW AT Brown Paper Tickets.
10:30 am – 2:30 pm ♦ Great FIRKIN Brunch
Old Town Pour House, 1419 N. Wells St., Chicago (312) 477-2800
An EPIC Chicago Craft Beer Week collaboration. Old Town Pour House, Metropolitan Brewing & Two Brothers combine forces to bring you a "Great Firkin Brunch!"
Chef John Madden has created a menu to pair brilliantly with brews from Metropolitan Brewing and Two Brothers Brewing Company. The best firkin part? We'll have a firkin in-house that's filled with a special coffee-infused brew, using Two Brothers NEW coffee line and Metropolitan's Dynamo Copper Lager. You just can't get this anywhere else.
Check the web site for foods and pairings.
12:00 pm ♦ Beasts of the Barrel at Fireside Restaurant and Lounge
Fireside Restaurant & Lounge, 5739 N. Ravenswood Ave., Chicago (773) 561-7433
A neighborhood beer festival featuring some of the very best barrel-aged and wood-aged beers!
Get here early! These beers won't last long!
Noon – 11:00 pm ♦ Bring Your Own Stein Hefeweizen Release/Weisswurst Special
Atlas Brewing Company, 2747 N. Lincoln Ave., Chicago 773-295-1270
Brewed specially for Chicago Craft Beer Week, we're celebrating the release of our German-style hefeweizen with a Bring Your Own Stein special. Bring in your favorite beer mug, and we'll fill up to a liter for just $5! We'll also be offering a special weisswurst platter that will pair brilliantly with the beer, so you can feast like a Bavarian all day long!
1:00 pm – 4:00 pm ♦ Drink Local Chicago – An Awesome Assemblage of Chicago Brewers
Standard Market, 333 E. Ogden Ave., Westmont, IL (630) 366-7030
Come meet 10 (or more) of brightest and best new Chicago area brewers all pouring at Standard Market.
Attending breweries:
Tickets: $20+tax per person. Includes a tasting glass and 20 drink sample tickets. We will also be grilling up fresh Standard Marketmade sausages for purchase.
1:00 – 5:00 pm ♦ Suburban Brewing Trolley Tour
Start at Standard Market, 333 E. Ogden Ave., Westmont, IL (630) 366-7030
Tickets: $45.00 + Handling charge at Brown Paper Tickets.
Celebrate Chicago Craft Beer Week and jump aboard the trolley. Visit breweries, meet brewers, and sample local beers. Event will be from 1pm-5:30pm (Group 1) or 2:00 – 6:30 (Group 2). Pick up and drop off will be at Standard Market.
See the listing above for the list of brewers on tap at Standard Market.
Stop 2: Solemn Oath (Naperville)
Stop 3: Two Brothers Brewery Tour (Warrenville)
Stop 4: Finish at Standard Market
1:00 – 8:30 pm ♦ KBS @ KBS
Whole Foods Lincoln Park, 1550 N. Kingsbury St., Chicago (312) 587-0648
Come visit the 1550 bar to try some amazing beers from Founders! We'll have KBS, DOOM, Old Curmudgeon, Double Trouble, and a few other tasty treats for ya!
1:00 – 7:00 pm ♦ CAN'd craft beer and music fest
Rock Island Public House, 13328 S. Western Ave., Blue Island, IL 708-388-5513
Featuring canned craft brews from 8 fantastic breweries and a 12 pack of punk and ska bands on our outdoor stage!
Breweries: Avery, Ska, Brewery Vivant, Finch's, Oskar Blues, Two Brothers, Revolution, Brooklyn
Bands: The Bomb, The Crombies, Death and Memphis, Dead Town Revival, Calling All Cars, Nightcap, Romeros, Fighting for Scraps, Skank Wolf & The Mange, The Ridgelands, Fornication Station, Strongside.
Doors at noon, bands at 1pm, $10 cover!
1:00 – 6:00 pm ♦ Chicago's Bourbon Trail
Start at Fizz Bar & Grill, 3220 N. Lincoln Ave., Chicago 773-348-6000
No time to road trip to Kentucky for some Bourbon? Come on out Sunday for Chicago's recreation of the Kentucky Bourbon Trail. A trolley will be taking us to five great Chicago bars each featuring a Bourbon & a barrel aged beer.
The Trail:
Tickets are limited, and are $20 from Brown Paper Tickets. The ticket price does not include drinks at the participating bars. The beers and Bourbons will be available at each stop on a per drink basis. The Map Room is cash only.
3:00 pm ♦ Pot Roasts & Rare Stouts
Four Moon Tavern, 1847 W. Roscoe St., Chicago
Every Sunday, the Special is Pot Roast and because it's Craft Beer Week, we're releasing some bottled stouts we've been hiding. Limited supplies of Goose Island Bourbon County Coffee Stout 2012, Fifty Fifty Eclipse Imperial Stout aged in Rittenhouse Rye oak barrels and Founders Kentucky Breakfast Stout will all be available starting at 3:00PM.
5:00 pm ♦ Goose Island Bourbon County Stout Tapping
Tap House Grill, 6010 S. Cass Ave., Westmont, IL (630) 541-8840
Join us at 5pm for the tapping of Goose Island Bourbon County Stout.
5:00 pm ♦ Bell's Hopslam Tapping
The Tap House Grill Plainfield, 24402 W. Lockport St., Plainfield, IL (815) 733-5540
Bell's HOPSLAM will be tapped at 5pm
6:00 – 10:00 pm ♦ Brewer & Butcher Night
Owen and Engine, 2700 N Western Ave., Chicago (773) 235-2930
Owen & Engine is pleased to invite the public to celebrate the twin arts of Brewing & Charcuterie. Sample selections of Chef Kevin Church's extensive charcuterie program all while imbibing rare and regional beers such as 5 Rabbit 5 Lizard Witbier, Local Option Dampf Loc & barrel-aged Kentucky Common, 3 year old Sierra Nevada Bigfoot, 2 year old Bourbon Barrel Aged Stout from Central Waters, and more from Pipeworks, Solemn Oath, and more. The $80 ticket entitles to the holder access to a generous spread of charcuterie, breads from our baker, & accoutrement as well as 10 drink-tickets redeemable for 5 oz. pours of beer. Tickets are available on brownpapertickets.com and, due to space, extremely limited.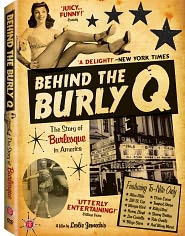 7:00 pm ♦ Burly Q, Burlesque & BBQ! Official Book Release Party
Sheffield's, 3258 N Sheffield Ave, Chicago (773) 281-4989
Burlesque. BBQ. Books. Vander Mill Cider. What more could you ask for in one evening?
Join us as we celebrate! Author of Behind the Burly Q: The Story of Burlesque in America
, Leslie Zemeckis, will give a brief overview of burlesque in Chicago and will be on hand to sign her books. Leslie is an actress, writer and award-winning documentarian.
The evening includes a special release of Vander Mill's The Loving Cup Cider along with burlesque inspired BBQ specials. We'll have a DJ, plus LIVE burlesque performances, a display of burlesque costumes & artifacts and much more!
Bring your friends, this exciting event is open to the public and there is NO COVER.
7:00  – 4:00 pm ♦ Michigan tap takeover at The Owl
The Owl, 2521 N. Milwaukee Ave., Chicago (773) 235-5300
Michigan tap takeover featuring delicious offerings from Bells, Virtue,Dark Horse and Green Bush. 7pm till 4am. Also featuring d.j.'s Steven Lagrue and Dave Mata of Impala Sound Champions 10pm till 4am!
Bell's Raspberry ale, Black Note, Double Cream Stout and Quinannan Falls special lager. Greenbush Sunspot, Anger, Brother Benjamin and Barrel Aged Dystopia. Virtue Red Streak and Dark Horse Blueberry ale.
8:00 pm ♦ Firestone Walker Parabola Tapping
Warren's Ale House, 51 Town Square, Wheaton, IL
Firestone Walker Parabola (13.0) ABV – ON TAP!!!!!! We present Parabola, the first-ever bottling of this barrel-aged Imperial Stout. Just 1,000 cases [22 oz. bottles] were produced. This bold beer features nuances of bourbon and tobacco aroma. Rich dark chocolate flavors meld with charred oak, dark cherry and espresso finishing smooth on the palate. Parabola is best enjoyed in moderation and is a perfect addition to chocolate desserts. ONLY HAVE 1 (1/6) BARREL. IT'LL GO QUICK
8:00 pm ♦ Revolution Tap Takeover with Outer Minds and Sybris
Hideout Inn, 1354 W. Wabansia, Chicago (773) 227-4433
Revolution Brewery is taking over the Hideout's taps for the night while we present two of the best bands in Chicago. Outer Minds and Sybris.
---
Follow me on Twitter, Google+ or my Facebook fan page. For more tappings and events, check my Google Calendar. View my One-Take Beer Review Videos. And see the latest of my 2,600 beer reviews on RateBeer.