Dear Anna,
This is only the second open letter I've ever penned. The first was addressed to your boy Eugenio back in 2015 when he announced news of a possible Overboard reboot. Obviously.
Anyway, this afternoon I received an email from a beloved uncle with only a link in the body. No other words were necessary:
According to The Hollywood Reporter:
The update switches the combo and will see a spoiled playboy from one of Mexico's wealthiest families (Derbez) who falls overboard off his yacht, and is convinced by a single, working class mom (Faris) that he is her husband.
[Breathes into paper bag while repeating 'CHANGE IS GOOD'.]
It's no secret that I harbor some pretty strong feelings when it comes to this American classic. There was the time I invited myself to Jamie Wild's (AKA Greg Proffit) wedding and he responded to me, (no, not with a restraining order). I also shared the full movie script via a GIF-filled ode, composed quizzes and stumbled on an amazing cross-stitch pattern  that ended up on my nephew's baby blanket. My crown jewel is of course the custom phone case that got me a virtual high five from the Queen of Elk Snout herself.
Thus, you understand why we can't have a sloppy remake akin to some 90s dino movie going all 21st Century genetically modified monsters coming at your face, right?
Seriously Faris, we're counting on you.
With that said, I've got a few suggestions for Eugenio, you and my most favorite writers in the entire world (said every fan-girl ever…):
In 2012, I spent more than a reasonable amount of time researching the careers of Overboard's lesser-known cast members and composed a three-part series that still gets a lot of traction from those who truly appreciate this work of art.
While I know you aren't following the original script, why reinvent the wheel? Go ahead and delve into Dean Proffit's psyche via his friends, family and clients. Investigate what motivated young Roy Travis to be such an asshole? Was he simply a moody teen or was something more sinister simmering below? Was Portuguese garbage scow captain Mr. Tunatti secretly in love with the unstylishly coiffed local newscaster, Rose? New characters can pay homage to the OG Overboardians.
Want to fight the power? [Yes, yes you do Anna.] Work with Eugenio to cast the perfect Mrs. Burbridge (Phyllis Smith was spot on in such a role in The OA) and give the proliferation of standardized testing the shit that it deserves. My six-year-old, who still needs bathroom reminders, just took his 10,000th test for the year. Apparently he scored in the 98 percentile for his sick interrupting skills.
Back in 2015 I suggested your beau as a college-aged Travis. I've reconsidered my position and am confident in his ability to instead knock-out a solid "Billy Pratt" type character. Think about it, Chris. For real.
The BUHBUHBUH barrel scene is staying, right? Deleting it would be comparable to removing the Miracle Max scene from The Princess Bride (1987 was a SOLID year for Hollywood). I'd argue the same for the pie/hose and bagged lunch scenes but a girl can't get everything she wants.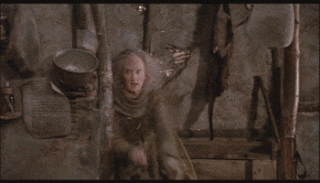 With so much material I'm optimistic that the final product will be one that is as campy and delicious as the 1987 original. And like I told Eugenio,
There is a small cadre of self-described Overboard aficionados (aka 'boardies) at your disposable. Just whisper "Tofutti Klein-ein-ein" into a conch shell and we'll be there to consult on the remake. Good luck and Godspeed.
Or you can always email.
Filed under: movies, news, nostalgia, obsessions
Tags: 80s movie remake, anna faris, chris pratt, Eugenio Derbez, goldie hawn, humor, kurt russell, Lisa Ross, movie, movie remake, open letter, overboard, Phyllis Smith, Tofutti Klein