I've written before about  about how food corporations spin statistics to their advantage, using advertising and marketing to drive sales of cheap, processed goods and how food workers in America frequently are underpaid and rural communities aren't supported. Now, a new initiative rates the top 10 international food companies on their level of corporate responsibility.
"Oxfam's Behind the Brands campaign evaluates where companies stand on policy in comparison with their peers and challenges them to begin a 'race to the top' to improve their social and environmental performance. By targeting specific areas for improvement along the supply chain, the campaign pinpoints policy weaknesses and will work with others to shine a spotlight on the practices of these companies."
The report highlights 10 of the largest multinational food corporations and gives them a ranking based on their response to concerns about land, women, farmers, workers, climate, transparency and water. In the combined score only one company – Nestlé – scored above 50%, and then only slightly – though it should be noted that Nestlé has been the target of activists since as early as 1977.  The majority of rated companies scored 30% or below.
Even more enlightening is how far each of these 10 companies reach: together, they represent an impossibly huge segment of the products we buy every day.  While it may appear that grocery stores offer consumers many choices, take a look at the graphic below – the large majority of the products in our stores are produced by one of these companies. The food industry, where these companies reign supreme, represents more than 10 percent of the global economy.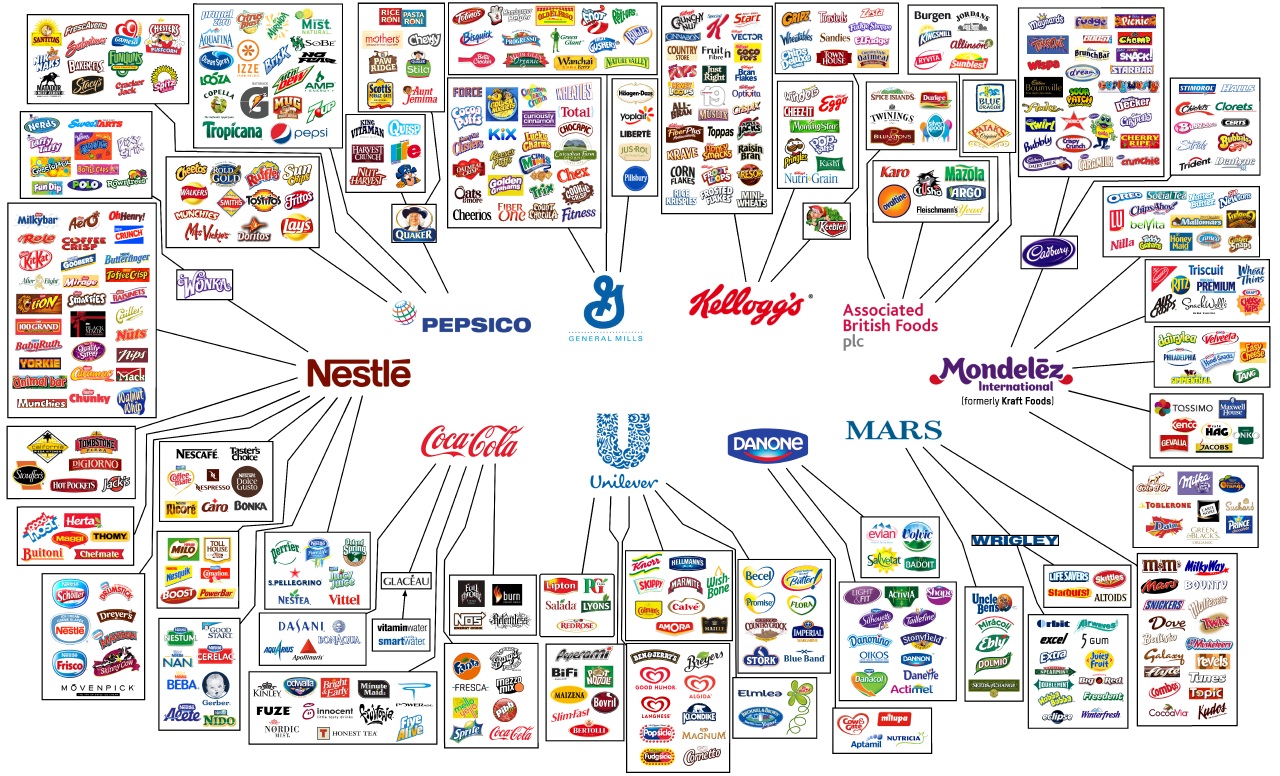 Via Huffingtonpost – infographic by Joki Gauthier for Beyond the Brands, Oxfam
Behind the Brands also provides consumers with a way to take action, and is recording successes of the campaign right on their website. They are directly intervening with the 10 companies they have targeted, and are documenting the responses (or lack of response) from each company.  To date, they list one major success – two of the major players in the chocolate industry have made a commitment to improve their farmworkers policies, particularly regarding women cocoa farmers. The website is updated regularly as the project continues, and interactive features direct your action towards the brands you use the most.
Click here to view the excellent website supporting this project.