Oh yeah, I haven't seen most of the shows that were nominated and that's why I kept checking the clock to see how much longer the show was going to be.  While I still find the television industry interesting (it's what I majored in many moons ago) it's definitely not the same as it was and I can't keep up.   When I studied television it was the big bad cable stations that were taking over the medium (that hadn't changed in fifty years) but now, I don't have Hulu so I didn't rejoice in the Handmade victories.   And really, what is  Black Mirror: San Junipero?    I am SO behind.
Maybe it's because we had a glorious summer-like weekend here in the Midwest, but I'm just not ready for the beginning of the award season.  The Emmy Awards mean it's time to sit inside and watch tv,  but I just want to play outside for as long as possible.
So let's skip the stuff I don't know and focus on the easy stuff:
Kudos to recognizing a little more diversity.  I say a little because although  more minorities were nominated (and won), when the directors/writers/producers gather on stage (whether it's for late night, mini-series, drama or comedy) it's still MOSTLY white men.  Progress made, but much more needs to happen.
Spicer's cameo was funny, controversial and got the best reactions of the night.  I love My Girl/Veep's  Anna Chlumsky.  I could watch her reactions all day.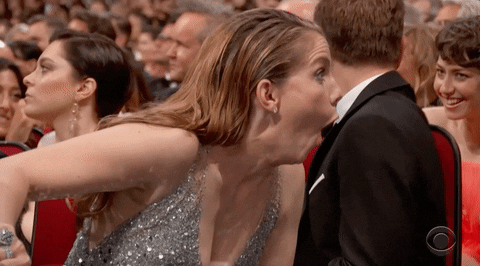 Regarding the announcer… you never notice the announcer until it's  annoying, and he was.  I know he's the guy from Superior Donuts (nice cross promo CBS), but why does every one have to be a star?  Just read the cue cards. Thanks.
"What most awards show do is have the announcer locked in a closet reading from a script on cue," said Jack Sussman, CBS Entertainment EVP, music and live events. "What we will do is have Jermaine be an active part of the show. He will be connected with what's happened on the telecast and what happens next. What we want to do is get a peek behind the curtain in a fun, engaging way."   – Thanks Jack, but don't do it again.
Kate McKinnon.  I told my Sweetie early on in the season that she was going to win for her awesome performances on SNL.  She's the next big thing for many decades to come.
Jane Fonda's ponytail.  She got SO much love for being almost eighty and wearing that fierce thick pony.  So why did it bother me so much?   No, it's not the same reason my father hates her (Hanoi Jane) it's cause I can't forget that she sold millions of exercise videos and promotes looking healthy and hot, but she's had so much work done.  To me it's such false advertisement, "Here, buy my videos and work and sweat as hard as I do, and then watch as I get sculpted to perfection with all the money I made off of you!"  (Bitter much?  Yes.)  That being said, I definitely perked up when I heard the 9 to 5 music!!  Dolly bringing up Dabney Coleman and her sagging boobs?  Hmm.
Stephen Colbert?  I have to admit that I rarely can stay up to watch his show, so I'm not a super fan.  I think he did well with what he was given, but sometime when watching these shows I don't want to think.   I don't want clever innuendos, just make fun of the Hollywood elite and you've got me.  You know what I mean?  His segments with Geoffrey Wright and RuPaul were distracting to me.  Just get to the awards!! Also, was it me or was EVERY joke about Trump and politics?  Isn't there any thing else funny/disgusting happening?
Nicole Kidman, man oh man, she rocked.
When she won and mentioned her team and how they had been there for her through everything I thought she was going to look at the camera and wink so we knew she meant her previous life with Shorty.
She said she had two little girls with Keith, um, hello, what about Bella and Conner?
I love that everyone is talking about the on-the-mouth kiss she gave her co-star, 

 Alexander Skarsgard, when he won.  She's Aussie and he's Swedish – ain't no thing.  That's how they do it over there 🙂

And of course major props for making the award not all about her, but shining the light on domestic abuse.
I NEED TO WATCH THAT SHOW
The ratings weren't great, but the love the women felt in the room was forthcoming into my family room, and THAT was great.