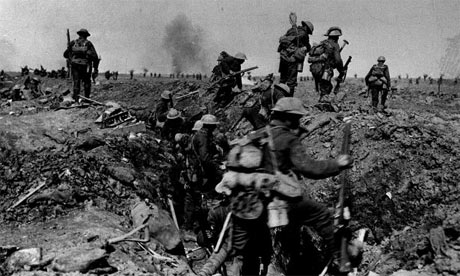 It was 98 years ago today that one of the fiercest, bloodiest battles of World War I was fought: The First Battle of the Somme.
It was trench warfare. And France was the battleground.  The trenches stretched across France from northwest to the Swiss border.
The First Battle of the Somme would drag on for over four months. 420,000 British, 200,000 French, and 500,0oo Germans would  perish in the carnage.
It was the greatest loss of life in any battle in British history.  And all for  a meager 6 miles of territory held by the Germans.
Any wonder why World War I was called the War to End All Wars?  It could be the perfect meme for the horror of war.  If not for World War II.
Among the casualties of the First Battle of the Somme was an American poet fighting with the French Foreign Legion. Alan Seeger. A 1910  Harvard grad , Seeger lived in Greenwich Village for a few years before he settled in Paris  with the Bohemian literary set  on the Left Bank.
At the start of the conflict, Seeger didn't hesitate enlisting  to defend his adopted country.
He died on July 1, 1916, crossing No Man's Land in the first wave of   attacks on the German line.  He had written about such a moment earlier in the war.
"I have a rendezvous with Death
At some disputed barricade,
When Spring comes back with rustling shade
And apple-blossoms fill the air—
I have a rendezvous with Death
When Spring brings back blue days and fair.
It may be he shall take my hand
And lead me into his dark land
And close my eyes and quench my breath—
It may be I shall pass him still.
I have a rendezvous with Death
On some scarred slope of battered hill,
When Spring comes round again this year
And the first meadow-flowers appear.
God knows 'twere better to be deep
Pillowed in silk and scented down,
Where Love throbs out in blissful sleep,
Pulse nigh to pulse, and breath to breath,
Where hushed awakenings are dear…
But I've a rendezvous with Death
At midnight in some flaming town,
When Spring trips north again this year,
And I to my pledged word am true,
I shall not fail that rendezvous."