Today's the birthday of  Franklin D.  Roosevelt.
When our country the Greatest  Depression was dealt,
He found a fresh deck and he opened the seal;
Rebooted  the game with what's called "The New Deal".
New Deal programs with the deepest impact on American life: (1) Social Security Act; (2) Federal Deposit Insurance Corporation; (3) Securities Act of 1933; (4) Federal Housing Administration; (5) Glass-Steagall Act (6) Tennessee Vally Authority; (7) Reconstruction Finance Corporation; (8) Homeowners Loan Corporation; (9) National Labor Relations Board; (10) Fair Labor Standards Act of 1938; (11) Surplus Commodities Program of 1936: precursor of Food Stamp Program.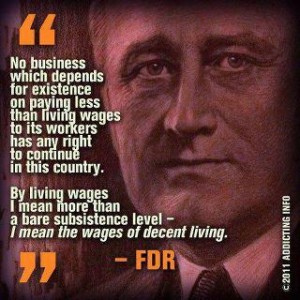 "2012, Newsweek magazine asked a panel of historians to rank the ten best presidents since 1900. The results showed that historians had ranked Franklin D. Roosevelt, Theodore Roosevelt, Lyndon Johnson, Woodrow Wilson, Harry Truman, John F. Kennedy, Dwight Eisenhower, Bill Clinton, Ronald Reagan and Barack Obama as the best since that year." [the dailybeast.com]