-By Warner Todd Huston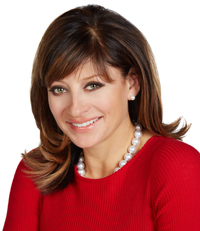 When Fox Business Network (FBN) snagged top CNBC reporter Maria Bartiromo for its own late last year, there was talk about giving her a Sunday morning business news show along with her other FBN duties. Now Fox News is announcing the debut of that new show.
The show is titled Sunday Morning Futures with Maria Bartiromo and will air beginning on the last Sunday of March at 9AM Central Standard Time on your cable's Fox News station.
"Anchored by leading business journalist Maria Bartiromo," the announcement says, "the show will focus on the intersection of commerce and news events, offering viewers in-depth analysis on recent developments in the economy. Each week, Bartiromo will interview business leaders and industry newsmakers on topics such as job creation and investment opportunities, providing viewers with an inside look at how to prepare financially for the future."
In my previous post I noted that Bartiromo had been with CNBC since 1993 and in 1995 became the first business journalist to report from the floor of the New York Stock Exchange. Now she is one of FBN's newest stars.
You can also catch Bartiromo on Opening Bell with Maria Bartiromo weekdays at 8AM central/9AM eastern time on Fox Business Network.
In just seven short years, Fox Business Network has gone from its debut to pulling in 25 percent of the business audience and has been beating CNBC in the ratings time and again.