-By Warner Todd Huston
Well, when I said that CNBC's business coverage was "playing catch up" with Fox Business Network, I didn't know how close to the truth I had it as this month, CNBC copied FBN's coverage from last fall of the amazing growth that Houston, Texas has seen over the last few years.
Back on September 20 of last year I noted that Fox Business Network's Melissa Francis hosted a tour of the growing Texas economy in a series of reports FBN titled "Open for Business in Houston."
At that time, Francis told the Houston Business Journal how amazing the business climate was down in Texas.
"You guys are making hay while the rest of the country is struggling," said Francis. "And people don't understand how much (Houston) has branched out. There's so much oil and gas industry concentrated there, but so much more going on."
Around that time Francis, known as the "Empress of Energy," was also reporting on the gas and oil industry and it wasn't long before CNBC was throwing up its own broadcasts on that topic covering all the same ground Francis covered on FBN.
Well, now CNBC is playing catchup again by copying Francis' Houston theme.
This month, CNBC went down to Houston in a series it called "Houston: Open For Business." That doesn't at all sound like FBN's "Open for Business in Houston," does it?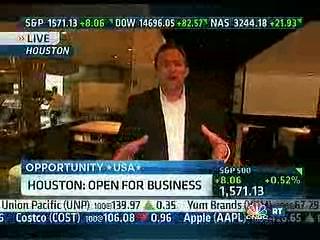 Here is a clip of the CNBC show:
Not too familiar at all, eh?
Playing catchup, indeed. And this time months late.