-By Warner Todd Huston
Rick Santorum visited Illinois last night stopping at Christian Liberty Academy in Arlington Heights, a Chicago suburb, for a 7PM rally that drew over 2,000 people who came to hear the presidential primary candidate speak.
The place was packed with all the gym bleachers filled and most of the balcony seating also filled, not to mention standing room only on the gym floor. The capacity seating of the place was 2,500, but one is tempted to think that they allowed a bit more than capacity to rally for Rick.
An array of elected officials and long-time activists appeared to support the candidate. The crowd was energetic and Santorum signs were waved enthusiastically at many moments during Rick's address.
On the dais before Sen. Santorum took the podium were such notables as Al Salvi and his wife Kathy, former Illinois politician Penny Pullen, State Rep. Tom Morrison, and New York Times writer Brad Thor.
Senator Santorum took the stage to raucous applause and gave a speech laden with allusions to the founding fathers, the economy, and religious freedom. He also bashed President Obama over Obamacare and his abject failure to fix this economy.
There was only one interruption when three gay activists near the entrance screamed out some inaudible taunts, gave each other a kiss, and were quickly escorted out by police. The disturbance lasted about a minute.
The speech was very well received, though it seemed obvious that the candidate was beginning to lose his speaking voice. Santorum's voice was occasionally raspy.
(I have video coming, but it will take me some time to do, so I'll post it later)
Photos of the Night

The Podium Awaits

Wonderful little musicians

Al Salvi and wife Kathy address the crowd

Penny Pullen encourages us

Santorum speaks

The tableau

packed house, view left…

… and view right

Much sign waving
A few Candidates Show to Press the Flesh…

Rich Grabowski, Running for Congress (3rd District) and me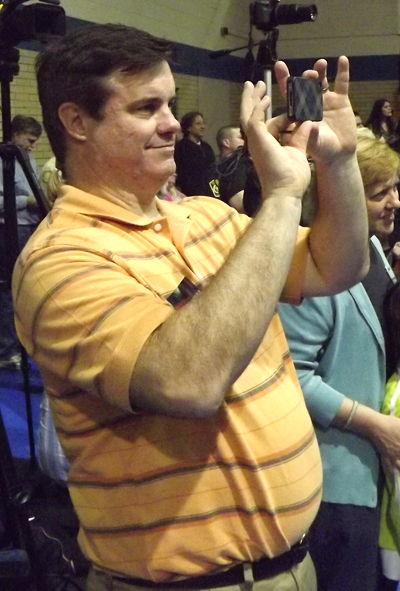 Dan Sugrue (Running for State House, 59th District) snapping a few pics

Jerry Ramirez (running for Will County Board, District 9) and Janet Silosky (running for State House, District 98).

Silosky and Santorum campaign operative Jon Zahm
The Protesters
Interestingly, there weren't really that many protesters. No more than 25 or so, well behaved and quiet, standing across the street from the entrance to the rally. In fact, for most of the time there were more cops and media than protesters.

Protester being reprimanded by a Catholic woman

The "Santorum is a snob" guy

There they are, over there!

Another one that doesn't understand the Citizens United decision

Lesbians saying they are more tolerant by h8ing on conservatives

A few more