-By Warner Todd Huston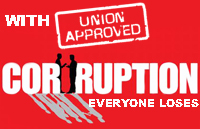 Two union organizers that represent the Illinois Federation of Teachers were able to secure millions in state pensions by working one day as a teacher here in Illinois. This outrageous abuse of the state pension system is exactly why government unions should not be allowed to exist.
The Chicago Tribune has the story of Steven Preckwinkle and David Piccioli who took advantage of a loophole to enrich themselves off the backs of the taxpayers written into law just for them by pliant Democrat politicians.
The crony legislation enabled the unionistas to quickly get state teaching certificates, work one day as a substitute teacher, then count their years as union operatives to qualify them for pension benefits from the state.
Preckwinkle (no relation to Cook County Board President Toni Preckwinkle), for instance, will get something in the amount of $108,000 a year in pension benefits… all for working one day for the state.
Naturally, this little payoff law was written by Democrats who were steeped in campaign donations from the Illinois Federation of Teachers.
It is also pretty clear that these two crooks were given a heads up that they could benefit from this cronyism sponsored by Democrats. Both men began the process of getting their teaching certificates and otherwise preparing to take advantage of this law before it was even written. And they both satisfied the requirements of the law in the short window allowing for such things.
Unsurprisingly, neither union thug is willing to talk to the press about their thievery.
This is the perfect story to illustrate the fact that government unions are nothing but corruption from beginning to end. The fact that union thugs can have paid-off Democrats write special laws to give said union thugs millions in tax money goes to prove that the whole situation is built for graft and corruption.
A union member should not have cate blanche to write laws that allow him to raid the public treasury. Unfortunately, that is the only possible outcome when allowing government unions.
This is why government unions are antithetical to good government, disdainful of democracy, and entirely destructive. Government unions should be shut down and made illegal.
Sadly, many Illinois Republicans also supported this bill proving how corrupt that party is, too.
Filed under: Budget, Democrats, Economy, Education, Government, Illinois, Jobs, Liberals, Pensions, Regulations, Taxes, Teachers Unions, Unions