-By Warner Todd Huston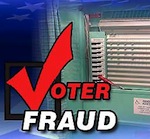 The leftists are at it again trying to steal the election to make sure that Judge Prosser firmly loses any recount possibility.
It appears that ballots are being illegally destroyed before they can be put into a recount in at least one county and in another the vote totals are not making much sense.
According to the initial counts, Judge Prosser lost reelection by only 204 votes to left-wing legal activist JoAnne Kloppenburg. There will naturally be a recount with a vote total this close. The votes in Dane County are particularly worrisome. It seems that some 10,000 ballots cast in that county had no other vote on them except for the vote for the Supreme Court race. This screams vote fraud. This screams that some leftist stuffed the ballot box with thousands of votes for Kloppenburg.
The AP total board shows that Kloppenburg got 133,513 to Prosser's 48,627 votes.
Dane County is the county where the State Capitol, Madison, is located and is notoriously for left-wing activism.
The other problem is Mequon County where officials are trying to destroy ballots before the recount is held. If this is really happening this would be extremely illegal.
The left is doing its level best to make sure this election is stolen well. For some history on the vote fraud by the left in Wisconsin, check out a piece in The Daily Caller.