-By Warner Todd Huston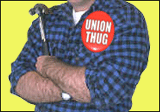 A few stories around the web concerning the union thugs in Wisconsin.
In Fond Du Lac, Wis. (just north of Milwaukee) a few GOP lawmakers had to skip the Saint Paddy's Day parade because of death threats issued by union scumbags.
So much for the Democrat's "new tone."
"We've taken them all seriously and we're happy to say that none of them have panned out yet here in Fond du Lac, so we're still vigilant," Deputy Chief Kevin Lemke said.
Meanwhile, the Washington Examiner pegs the situation exactly right in its Saturday editorial:
Democracy could be found in Wisconsin this past week, but not among the screaming protesters running wild throughout the Wisconsin capitol. While Wisconsin's elected representatives — minus 14 Democratic state senators who fled the state — were working hard on the job the people sent them to do, thousands of screaming protesters provided America with a preview of the union mobocracy coming soon to a legislature, city council or school board near you.
And not to be outdone Human Events posted the "top ten ugly moments" in the Wisconsin union battles.
Here we find such gems as the Democrat lawmaker that told his GOP colleague "you are f***ing dead" for daring to vote for fiscal sanity, the 14 Democratic Senators that fled the state to thwart the election and the democratic process both, the many Hitler signs carried by so-called teachers, and more.
So much for liberals and Democrats being the "civilized" party, the one that is "tolerant" of everyone, eh?