-By Warner Todd Huston
Union animals escalating violence across the country…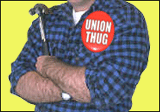 BigGovernment.com has the startling tale of a Teamster Jacket-wearing union goon attacking a Tea Party member at a protest held in Sacramento, California.
Naturally, even as this union scumbag was manhandling a Tea Partier, he was yelling through a bullhorn that Tea Partiers are "fascists."
The union thug was later issued a citation by Sacramento police for his physical assault.
I hate to say this, but I am afraid that these union thugs won't be happy until someone is seriously injured at one of these protests. Unonistas cannot restrain the abject hatred they feel for Americans and the union left's long, violent history augers that someone is going to get hurt sooner rather than later. I dearly hope that my fears are never realized, but it's certainly hard to deny the distinct possibility. I certainly don't want anyone hurt, here, not on any side of this budget debate.
SecularStpidest also has posted what it is claiming is an interview with the another guy that got manhandled in Atlanta, Georgia by a union thug…
Update
LaborUnionReport thinks it has identified the tough in question. He might be Richard Andazola a union rep at a Stockton Safeway Foods. (TV News 10 also ids him)