-By Warner Todd Huston
I am here tonight at the Illinois Republican Party celebration of Ronald Reagan's 100 birthday. The event is being held at the Hilton on the Mag Mile, Michigan Avenue, downtown Chicago. Tonight we'll be seeing a small retinue of stars in the GOP firmament. Senator Mark Kirk, Former Speaker of the House of Representatives Newt Gingrich, Congressman Mike Pence (Indiana), former Penn. Senator Rick Santorum, former Ambassador to the UN John Bolton, with closing remarks by Illinois State Treasurer Dan Rutherford.
It is a packed house with over 600 diners enjoying the evening.
I've also had the good fortune to have been at the press availability for some of the above and deepending on how good my video is, I'll be adding those in the next day or so. I spoke to Santorum, Bolton, Kirk, State Party Chair Pat Brady, and a few others. Not sure how that video will turn out, though. It was awfully noisy in there.
I also had a chance to have a few words (though not on tape) with newly minted Representatives Joe Walsh and Bobby Schilling.
I may pop back in with some more reports as we go on tonight. As I write the program is underway. In the meantime, here are some photos to enjoy.

Former UN Ambassador John Bolton and myself — the mustache club, apparently!

Illinois Senator Mark Kirk and myself

17th District Rep. Bobby Schilling and myself

8th District Rep. Joe Walsh and myself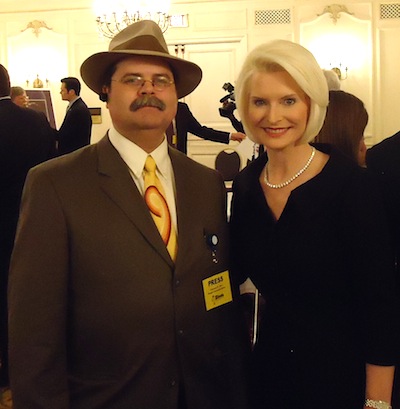 Callista Gingrich, wife of Newt Gingrich and me

Former Senator Rick Santorum

Illinois State GOP Chairman Pat Brady