-By Warner Todd Huston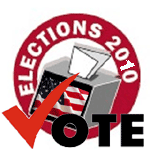 Chuck Goudie recently reported that voter registration is way up in the Republican dominated suburban Chicago and collar county areas this year while voters in the city itself has fallen slightly over last year's registration numbers. The uptick in the suburbs seems to show that enthusiasm for Republican voters is much higher than that of city Democrats.
There has been a spike in suburban and collar county registrations and while city registration is 60,000 down from 2008, statewide registration is up from levels of four years ago.
Outside of Chicago there has been a spike in registration compared to 2006. In each of the collar counties, the numbers of registered voters is up: in DuPage, Will, Lake, Kane and McHenry counties the increase totals almost 110,000 new voters.
This seems to tally well with polling by Gallup and others that shows that Republican voters are far more enthusiastic about this election than Democrats with people identifying as Republicans higher than previous years and Republicans leading in generic ballots.