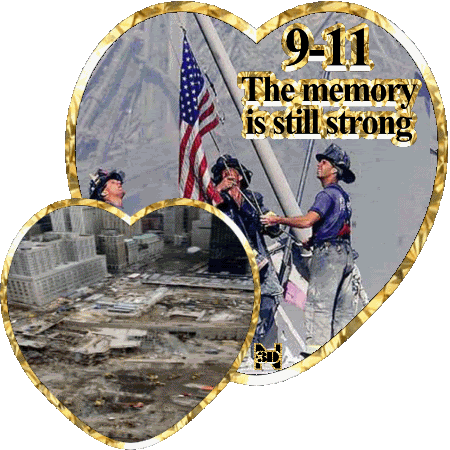 This morning, as we begin to observe the terrible day of September 11, 2001, let us not fall into mere rote actions and unthinking memorial. We cannot forget that this is not some long past, historical situation that we can comfortably relegate to remembrance on a single day of the year, the rest of our days to go on as if it is but a distant memory. We must keep at the forefront of our minds that we are still in extent danger of another 9/11 at any time and it is only because of the hard and dangerous work that our men and women in uniform are doing every single day that keeps the next towering inferno from our TV screens. The inhuman enemy that caused those Towers to fall, those planes to tumble from the sky, are still out there planning anew. 9/11 is fresh still. Let us remember with a keen pang of loss and rage lest we complacently imagine we are back to a 9/10 world when we are not.
Let us now take a moment to remember those innocents who lost their lives so unexpectedly ad illegitimately that day. And let us thank the many thousands of our first responders who risked it all by jumping immediately to give aid to their fellows.
Let us also pause to remember the many men and women of our armed forces who have lost their precious lives fighting this evil connected to those that perpetrated 9/11 on this peace-loving nation of ours. May their dear sacrifice not be in vain.
Finally, let us also remember those of other nations that lost their lives as they stood boldly beside us in the pursuit of the end of this evil. Those British citizens, Canadians, Australians, Germans, French, Afghan, Iraqi, all those stalwart friends who stood beside us yelling "no more," and demanding that radical Islam be caged.
9/11 is in our hearts and minds and we say with a unified voice, never again.