-By Warner Todd Huston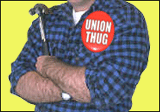 Pay close attention, Delaware. Your Congressman, Mike Castle, just voted for the $26.1 billion union bailout. Castle was one of only two Republicans to vote yes on this bloated union pay off (the other was Louisiana's Cao).
On a 247 to 161 vote, the House passed the $26.1 billion Education Jobs and Medicaid Assistance Act. Democrats claimed that it would "save" the jobs of teachers, police and firemen across the country. In truth this is just a union payoff.
AFL-CIO union chief Richard Trumka was thrilled with Tuesday afternoon's vote. "Today's vote means that hundreds of thousands of teachers, firefighters and public safety officers will keep their jobs," Trumka claimed. "It will prevent layoffs and provide aid to struggling state and local governments so that critical services aren't cut … With today's vote, House Republicans showed they value Wall Street and tax cuts for the rich over teachers, police and firefighters. This is yet another example in the laundry list of anti-jobs votes they've taken." Why the states needed this new money is hard to understand. They still have $30 billion in the last teachers bailout that has yet to be allocated. Well, maybe it isn't so hard to understand when you realize that unions will be the biggest recipient of this money and we are just ahead of an election. Now Democrats can tout their payoff to said unions to pander for votes.
In fact, it is obvious that this was a union payoff in another way. The House was already on recess for the Summer when the American Federation of State, County and Municipal Employees (AFSCME) pushed Speaker Pelosi to reconvene the House in order to push this massive payoff.
In return, the unions promised to kick their campaigning for Democrats into high gear in the coming months.
No, this wasn't much of a back-room, sweetheart deal between pliant Democrats and grasping unions, was it?
So come on, Delaware, vote ChristineO'Donnell in November. Let's get rid of the corrupt bargains for which Mike Castle is famous.