-By Warner Todd Huston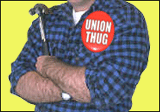 Last week the Washington Times had a story that should enrage every true American. The Democrat Congress is allowing Big Labor's needs to come before the needs of our troops. The supplemental budget that Congress is considering is supposed to be about funding the troops and their efforts in Iraq and Afghanistan, but Democrats are more interested in how many payoffs for Big Labor they can stuff into the thing then in funding the troops.
Like most supplementals, this bill began with a singular purpose: paying war expenses. It since has been larded with billions in wasteful projects and programs designed to attract the vote of the left-of-center members with no fondness for the military. Among the House-approved giveaways are a $10 billion bailout for big-spending local governments, loan guarantees worth $9 billion for purported renewable energy, $3 billion for black farmers and American Indians who sued the government and $1 billion for summertime "youth activities."
Even worse is the language to nationalize our first responders, policemen, and firemen. (As we talked about HERE)
This outrageous action would force all police and firefighter's work rules under federal control and prevent all local governments from being able to make their own local rules and regulations for their own police and fire departments. This bill would essentially cause all state and local governments to have to deal with Washington-based union regulations when setting budgets, hiring and firing, and writing work rules for first responders.
These new rules would wildly inflate state and local budgets and eliminate all local control. Voters would be unable to affect their own police and firefighters, local politicians would be looking to Washington to guide them, and union leaders would see their power and personal wealth skyrocket.
And all of this is being stuffed into the bill to fund our troops. Obviously Democrats care more about unions than they do our troops. Even terrorism seems to be less important to Democrats than the needs of union thugs. It is an outrage.
(Originally posted at TheUnionLabelBlog.com)