-By Warner Todd Huston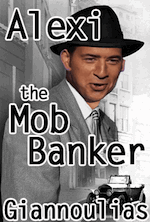 The Hill is reporting that Democrat Senate candidate Alexi Giannoulias is having trouble raising money, which is amusing because as a failed banker he gave away millions to a pair of mobsters that never paid back the "loan"
The Hill reports that Giannoulias "struggled to raise money in the aftermath of his family bank's collapse in April."
Giannoulias has raised only some $900,000 since March 31 — the bulk of it in June. His Republican opponent, Mark Kirk, collected close to $1 million that same month. And Kirk was dealing with his own scandal — the fallout from inaccuracies in reporting his Navy service record at the time.

Giannoulias raised less than half of Kirk's total, and the Republican now has almost a four-to-one cash on hand advantage.
If you'll recall — and the Hill notes — that VP Biden recently ambled into town to raise finds for the Democrats "mob banker" but apparently even "no body messes with" Joe Biden isn't able to help Giannoulias.
This could be major trouble for November Interestingly, even with the negative focus on Kirk's bio flubs the polls have remained slightly favorable for GOP candidate Kirk. This, too, bodes ill for Giannoulias' chance in November.