-By Warner Todd Huston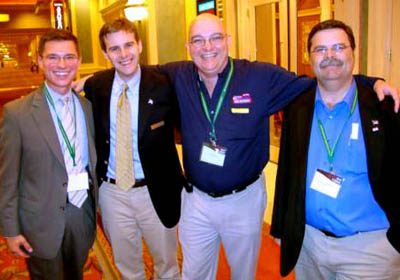 Pictured from the left: Robert Bluey [Heritage Foundation], Guy Benson [Chicago Radio Host], Ed Morrissey [HotAir.com], and Warner Todd Huston [PubliusForum.com]
I just flew in from Las Vegas where I attended Americans For Prosperity's RightOnLine 2010 conference. As always, it was an uplifting experience, educational, and a whole lot of fun. I caught up with old friends, met with business partners, and made new friends.
For those unaware of what this whole RightOnLine thing is, think of it as an activist's training program. If you attend you'll find sessions and panels that range from such introductory programs as "Blogging 101" ad "podcasting 101," to more in depth online activities as "Citizen Journalism" and "Global Warming and Energy Policy." It really is a worthwhile endeavor and if the conference ever comes to a town near you, please do yourself a favor and attend.
This third annual RightOnLine conference was spearheaded by AFP's Erick Telford who has been at the helm for all three such conferences. Here is Erik Telford's segment on Fox News as he discussed what we were doing in Vegas (he appears toward the end of the segment)…
I happened to sit on a panel titled, "Old Media, New Media, and the Role of Citizen Journalism." I was on the dais with ACORN whistleblower Anita MonCreif and Dan Gainor of the Media Research Center. We talked about things to watch out for in the Old Media, how to attack their bias, and what might be coming up for the New Media in the future and how to become a part of it all.
Right after that panel I joined Anita MonCrief to unveil her new website project EmergingCorruption.com, a site dedicated to rooting out and exposing government corruption and a new platform for citizen journalism and activism.

Anita was only one of the many celebrities of the conservative world that attended RightOnLine 2010. We also heard from Mike Pence, Congressman from the great state of Indiana, Michelle Bachman of Minnesota, and Sharron Angle running in Nevada to beat Democrat Senate Majority Leader Harry Reid.
Mike Pence
Michele Bachman
Sharron Angle and myself
Also in attendance was the Wall Street Journal's John Fund, President of Americans for Prosperity Tim Phillips, Redstate.com's Erick Erickson, HotAir.com's Ed Morrissey, Fox News' Jim Pinkerton, Judge Andrew Napolitano from Fox News, and several others.
Also there were some online kings like Jon Henke, political consultant and Internet expert, Jim Hoft of Gateway Pundit, assorted RedState bloggers like Caleb Howe, several of Breitbart's writers, and many, many others.
Additionally I got to meet in person my co-host of "Life, Liberty and the Pursuit of Conservatism" radio show, Ann "Babe" Huggett as well as our frequent musicologist, Gus Griswald. This is a case of how the Internet is an interesting beast. Ann, Gus and myself have been working together for years, but since they live west of the Mississippi and I east, we've never met face-to-face. So this was a first for us despite that we've known each other for years.
Pictured from the left: Myself, Morgen from Verum Serum Blog, Jim Hoft, John from Verum Serum, and John Schulenburg from Infidels Are Cool
Finally, there were two well known comedians. Evan Sayet and Stephen Kruiser, famed comedian and a member of the RedEye TV show crew.
Pictured from the left: Evan Sayet, myself, Stephen Kruiser
Finally, here is what Channel 8 News, Las Vegas, had to say about the weekend. I spoke to the reporter for about ten minutes, but when we were done I told the guys standing next to me, "Watch them just use the 'we're gunnin' for you Netroots' line and that is all!" Sure enough, at the end of the report there I am. Check it out…
My thanks to Joe Walker and Erik Telford for helping to arrange my participation.