-By Warner Todd Huston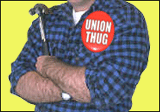 Back in April we reported that unions in North Carolina banded together to try and start their own political party (as if the Democrats weren't in thrall to them anyway). Well we are happy to report that the new North Carolina Families First Party failed to get the required number of petition signatures to authorize the effort.
This is not stopping the SEIU-based group from trying to punish North Carolina Democrats that aren't sufficiently left-wing enough to suit them, however.
The Washington Post is reporting that the Service Employees International Union has recruited a candidate to run against first term Democrat Rep. Larry Kissell. Kissell was a "no" vote on Obamacare earlier this year.
According to the Post the unions were initially targeting three North Carolina Democrats, but have scaled back to just trying to defeat Kissell in the face of not getting enough petition signatures to legitimize their new party.
This primary will also be interesting to watch for the GOP side, too.
Two Republicans are competing in a June 22 runoff. Tim D'Annunzio, a conservative activist backed by some "tea party" groups, faces Harold Johnson, a former television anchor favored by the GOP establishment.
We have seen GOP Party establishment guys lose in Illinois and Iowa already as the Tea Party candidate over took them in primaries in those states. Let us see if North Carolina's GOP establishment is stronger than the Tea Partiers there in this primary.
(Cross posted at TheUnionLabelBlog.com)