-By Warner Todd Huston
And for the award for the bowing-est president evah goes to: Barack Hussein Obama. Give him a round of applause, folks.
Yes, ladies and gentlemen and Democrats, too, this most supplicating of all presidents is at it again, bowing to the Chinese in a recent meeting. What is wrong with this man?
Here are the "best hits" of our weakling president lowering himself and our nation in front of kings, tyrants and foreigners the world over…

Bowing to Saudi tyrants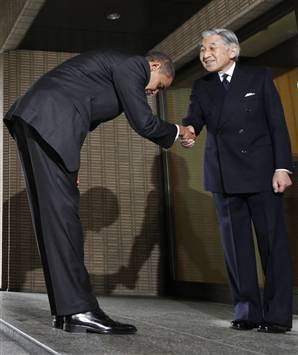 Bowing to foreign emperors

Bowing to communist dictators

Bowing to communist representatives

Bowing to simple mayors of U.S. cities

And today we get more bows to Chinese dictators
Seriously. What is wrong with this man?
This president is making us less safe every day. Let's hope the work Bush did holds us over until we have an opportunity to oust this most dangerous of presidents in 2012.

This just in, the Obama Bow gauge.