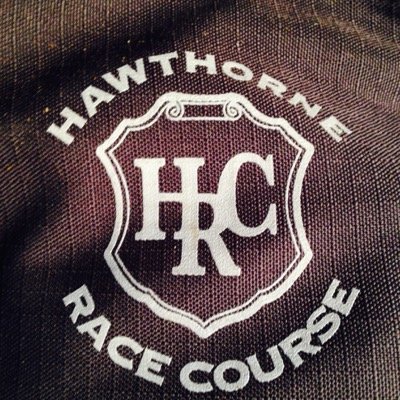 We head into closing weekend at Hawthorne Race Course of the Spring 2015 meet. This weekend, the Illinois-Breds get a chance to shine.  The older routing horses get their moment in the sun as Hawthorne presents the Milwaukee Avenue Handicap and the Peach of It Handicap.  While these stakes were lumped together in the past (typically with other Illinois-bred stakes events) these stakes this year became stand alone events this year.  They each will be contested at a mile and a sixteenth for Illinois-breds on the Hawthorne dirt for a purse of $50,000.
Hawthorne's simulcast feed is also free to watch on phones and tablets using the Horse Races NOW mobile app.  Note that these races are part of a one-off twilight card with first post at 5:00 pm CT.  Along with (true) night racing, a brewfest is scheduled in the grandstand area as well.
In addition to the stakes action from Hawthorne, be sure to check out our other previews.  Nicolle Neulist breaks down the G3 Excelsior Handicap from Aqueduct whereas Paul also breaks down the G3 Last Tycoon Handicap from Santa Anita.
All races in this piece are scheduled for Saturday April 25.  Morning lines were not available at original publish time.
Updated on April 22 to include morning lines.
Hawthorne Race Course — Race 6 — Milwaukee Avenue Handicap — One and one-sixteenth miles on dirt — post time 7:00 pm CT
Although Milwaukee Avenue is a diagonal street in Chicago's trendy Wicker Park neighborhood, this race doesn't pay homage to that or its brunch bars.  Rather, it pays homage to a horse named Milwaukee Avenue (by T.V. Lark).  An Illinois-bred who earned nearly $375,000 back in the late 1970s, his claim to fame is being the runner-up in the G2 1977 Hawthorne Gold Cup.  Notable winners include Wiggins (2006, 2007), a multiple winner of stakes both at the state-bred and open level.  2013 Milwaukee Avenue Handicap runner-up Coalport took down the 2015 G3 Connally Turf Cup.  The winner of that race, LUV BANDIT, sees the starter in the 2015 iteration and won the 2014 Lightning Jet Handicap.
On paper, the race projects a two-speed number with VALIANT CITY and EMPIRESTRIKESAGAIN projecting to be the front speed….or so it seems.  While Manny Esquivel's first instincts aren't to push from the gate, he'll do it if instructed.  But if VALIANT CITY takes back, that puts EMPIRESTRIKESAGAIN as lone speed, yet being on the rail at Hawthorne can be a dubious proposition.  It certainly was for I GOT IT ALL, who was on the rail last out in the G3 Commonwealth.  He made his rally in upper stretch and flattened out, but that day saw closers and rally-wide types rule the day.  Perhaps the radioactive rail at times seen at Hawthorne was at Keeneland, geiger counters and all.  I GOT IT ALL cashed a third-place check in open company in the Essex two starts back in the Essex and had a solid winter stint in Arkansas.  The thinking is that Keeneland race isn't his best, and perhaps he'll be in the right spot this time on the stretchout.  But he'll have to run down EMPIRESTRIKESAGAIN.  Projected in this corner as controlling speed, he's gotten into a nice form groove on the dirt at Hawthorne after fumbling around on Arlington's polytrack.  The rub against him is post position: the rail can be unfriendly at times at Hawthorne.  Still, his three dirt starts last winter and this spring show the form he's had, and he's done it against allowance company.  It's start two of the year after he was freshened for the winter.  Tim Thornton takes the mount for Anthony Mitchell.  LUV BANDIT won this race two years back and was second in this race last year.  Trainer Scott Becker turned him back to a sprint last fall and he annexed the Lightning Jet.  Versatile enough to win both at six panels or eight and a half, he likely will make his rally from the back half of the field.  With a short field and a pace that does not project wickedly quick that could be an issue.  But he's kept himself in fire form in the winter by beating Grade Three-placed Hattaash three back at Oaklawn.  Last seen in the Molaro Handicap around one turn last out finishing second.
Selections:
#6 I GOT IT ALL (8/5)

#1  EMPIRESTRIKESAGAIN (8/1)

#2 LUV BANDIT (5/2)

Longshot: The water gets deeper here for #3 MY BORSALINO (10/1) who could have been had for $25,000 two back at Oaklawn.  But he may be at his peak in this event and that could be enough to get him a piece of it.  MY BORSALINO, despite being for sale two back and three back for even less, was a winner of two starts down at Oaklawn over the winter and carried that Arkansas form north to be second in a two-other-than Illinois-bred allowance to EMPIRESTRIKESAGAIN last out.  MY BORSALINO fits on having strong currnent form, and also fits on liking the surface; with ten starts, three wins, and eight podium finishes.   Edgar Perez has the mount on this entrant for Brian Williamson-trained and Vanier homebred.
Hawthorne Race Course — Race 8 — Peach of It Handicap — One and one-sixteenth miles on dirt — post time 8:00 pm CT
Peach of It (Navajo – Best of Peaches, by Best of It) earned her graded stakes glory in the 1992 G3 Sixty Sails, during her final season of racing.  It saw this Illinois-bred mare earn over $625,000 and win fifteen times in fifty-three outs.  Her Sixty Sails win in the Spring of '92 came as somewhat of an upset, as she was dismissed at 28-1 odds that day at Sportsman's.  Like the Milwaukee Avenue, this race comes a block south from Sportsman's Park to Hawthorne Race Course, where it's been since 2003.  Notable heroines include double winner Julie's Prize (2003, 2004) and double winner Diva's Diamond (2013, 2014), the latter of which would be second in the 2015 G1 Apple Blossom Handicap.
It's often easy to make trip notes in a large field, as the number of horses and paths they take can lead to someone not getting the path they wanted for optimal performance.  It's the kind of thing horseplayers adore: a subjective look at something that increases value.  But trip notes can be made in a five-horse field, and SYDNEYRELLA made a right turn out of the gate, hustled to the lead, and was wide on the second turn.  No matter the field size that's an undesirable trip to have. This space tabs her to move forward second off the layoff, a 29% win situation for the trainer.  And said trainer is part of a team that has four wins in fourteen outs at the meet.  The pace should be honest enough with PRAIRIE VISTA and BRAZYN APPEAL, so she can get a stalking trip behind them as per her win last fall over the surface.  Yet, if she's alone the lead, she can be tough to run down.  That five-horse field where SYDNEYRELLA had her trip saw OUR DOMAIN be second in that upper-crust allowance.  (You may recall that winner was Phaniebdancing and it gave Emanuel Cosme his 1000th win.) OUR DOMAIN doesn't have the greatest of passing gears, but she has been good enough to take to Oaklawn in the winters.  Perhaps the home cooking helped her last time in that allowance, as she does sport an 8: 2-4-1 record over the dirt on West 35th.  It will be start three off the layoff for OUR DOMAIN, so she might be cycling up to her best and the Emigh/Becker jock/trainer combination is an in-the-money propostion two out of three times (including Oaklawn, where they wintered).  Worth noting the blinkers come off for this state-bred stakes.  The "other" Becker is ROSIE MY ROSIE.  She exists a fifth of five in that allowance as a closer that never fired.  More horses in the field to set a better pace would help, as she was a winner at 2-5 against allowance company two back.  The "B" rider, Santo Sanjur, takes the mount on ROSIE MY ROSIE.  Yet this team is just as steady as when Becker is aboard.  But like OUR DOMAIN she's on start three of the form cycle.  Worth noting Scott Becker already has two stakes win at the meet, both in Illinois-bred company.
Selections:
#5 SYDNEYRELLA (7/2)

#2 OUR DOMAIN (9/2)

#4 ROSIE MY ROSIE (5/1)

Longshot: Let's see if Maria Thornton can wake the dead on #1 JULMAE (15/1), who hasn't won since a two-other-than allowance down at Fairmount last summer.  But before you can say outclassed downstate shipper, look at the fact she was second – to fellow entrant OUR DOMAIN – the start after that Fairmount triumph in the big leagues at Prairie Meadows.  It may be the first start of the winter lay for this state-bred mare, but she did run her race fresh to start last year's campaign.  Disregard the poly races at cross-town Arlington, and while she's only got one win in the last sixteen months she can run a race that makes her competitive with this group.  Such race might come with a new pilot.  As an additional note, move this runner up in the wet.
***
You can take "Picks & Ponderings" with you anytime, anywhere. You can get Twitter updates @picksponderings for on-scene reports from Hawthorne Race Course. And you can get "Picks and Ponderings" in your e-mail by typing your email address in the box and clicking "Create Subscription." It's a FREE service, and you'll never get any unwanted spam.