After our family finished dinner and celebrated my sister Maureen's birthday with cake and candles on October 26, 1970, my father took me to Angie's, a popular bar in my neighborhood at 84th and Pulaski. I was only in sixth grade, but that was the only place we could watch "Irish" Jerry Quarry take on the world's greatest boxer, Muhammad Ali, in his first bout after being banned from the ring for dodging the draft. My dad knew I was a big Ali fan and was so excited to see the fight, which everyone in my neighborhood had been talking about for weeks. Somehow, they hoped, Quarry could upset Ali. Most didn't like him because he was outspoken, a draft dodger, and for some, because he was black.
Upon walking into the tavern that evening, the bar was lined with big, strong blue-collar city workers, mugs of beer in hand, a constant murmur, men talking about what Quarry needed to do to upset Cassius Clay, the great fighter's given name at birth.
When the fight started, Quarry came out with plenty of energy, but in the first two rounds, Ali kept picking him apart with left jabs, then followed with hard rights. He was definitely doing damage to the tough Irishman. Every time Quarry made an energetic attempt to throw combinations, the men in the bar got loud, cheered him on, "Kill him! Kill him!" many shouted at the closed-circuit television coverage, the large metal boxed TV mounted high on the wall.
My father and I were standing behind the line of men seated at the bar. I looked over at my dad, who like myself, was just watching in silence. I moved up close to him and whispered, "Dad I'm for Ali." My father just nodded and put his index finger over his lips, letting me know that would be a secret kept between the two of us.
In the third round, Ali hit Quarry with hard punches across the face that resulted in a bad cut over his eye, which ended the fight on a technical knockout. As my father and I left the tavern, we listened to a chorus of moaning and criticisms about the fight and the referee's terrible decision to stop it because of the cut. But I left that evening really excited to have watched Ali exhibit his greatness. In my mind, he truly was the greatest boxer.
As I sat in a large suite of the Washington Marriott 27 years later, two feet away from Muhammad Ali, I watched a smile grow on his face after sharing that story with him. He loved it.
At that time, I was a public relations director for Pharmacia & Upjohn. I had been searching for a spokesperson who could relate his personal experience with Parkinson's and was very lucky to land the most famous man in the world to lead a disease education campaign.
I first met him in April 1997, when we picked up he and his wife, Lonnie, in the Upjohn corporate eight-seat jet at Love's Field in Dallas. I sat across the aisle from him and when flying over Atlanta, he tapped me on the shoulder and pointed down to the spot where he had lit the Olympic torch only nine months earlier. He smiled and said, "Right there. That's where it happened. "For him, that was a wonderful moment to remember. It was also a moment that all Parkinson's patients would remember as his arm shook when lighting the torch, showing the devastating effects of the chronic neurological disease.
After a quick stop in Atlanta, our destination that day was Washington, D.C. where we would conduct a press conference to announce a new Parkinson's study to enroll African-Americans. I had set up an exclusive interview for Ali with Bryant Gumbel on The Today Show. As we entered the NBC building early that morning, we were approached by a familiar-looking man. It was Tim Russert who asked if he could bring his 12 year-old son Luke over to get a photo with the champ. We did and I'm betting Luke Russert has that photo in his home or office. Back then, Muhammad didn't do a great deal of talking. His wife Lonnie did most of the communication. But when Gumbel conducted the interview, Ali spoke like a champ. And that was the moment I realized, he could most definitely speak when he wanted to, but was very selective.
Later that day, at the packed press conference held in the large Washington Marriott ballroom, Lonnie did most of the talking until a reporter from ABC Network News asked a tough question regarding Ali's Muslim faith. As all eyes turned to Lonnie for the answer, the champ jumped into the ring and delivered the answer clearly and directly, like one of his left jabs letting the reporter know he wouldn't be bullied by a controversial question. The reporter sprang back with a follow-up question and received an equally energetic response that landed him back on his chair for a sitting 10 count.
After the press event, we went up to the suite where I had the chance to sit with Ali and talked about everything. He told me about staying out of the Vietnam War, being stripped of his title and the neighborhood he lived in on the Southside of Chicago. Those were tough days for him, not really knowing how things would work out in the future. But he had become a Muslim, changed his name to Muhammad Ali, and was not going over to Vietnam to kill the Vietcong who he said did nothing to him.
He was eating grapes, his favorite snack. I asked him how he would fight Mike Tyson, the most feared boxer at that time. Ali's energy picked up. "Rope-a-dope," he said. "I would do the rope-a-dope, let him punch himself out and then attack." As I watched how much he loved talking about that fight that would never happen, I thought how wonderful it would be if he had never gotten old, if he could have kept boxing, thrilling boxing fans with his incredibly wonderful style of dancing around the ring, throwing left-handed jabs, then picking his spots for a hard right or a series of combinations. If you watch his three fights against Joe Frazier, you know exactly what I mean.
As the champ sat there resting, he dozed off. Drool began coming from his mouth, the effects of Parkinson's. So there I sat, two feet away from the most famous man on earth, who was holding a bowl of grapes in his right hand, head slumped, now sleeping and drooling. His battle was no longer in a boxing ring, but in the Parkinson's arena. I spent a good deal of time with Muhammad and Lonnie over the next year and will always be proud to have worked with one of my childhood heroes, watching him stay positive while living with a neurological disease that has such devastating effects on the human body.
I witnessed his personal battle with Parkinson's at his home in Berrien Springs, Michigan (Al Capone's old summer home) as well as in Chicago at another press event. He would never reveal his pain to outsiders. I'm sure Lonnie knew it all too well. But it was a battle much tougher than the Thrilla in Manila against Joe Frazier or Rumble in the Jungle against the powerful hard-punching George Foreman.
At the launch of Mirapex, Upjohn's new Parkinson's treatment, I created a media event titled: Parkinson's Caregivers: Going The Distance For Patients. I organized the event in a talk show format with a key opinion leader in neurology, Dr. Peter LeWitt interviewing Muhammad and Lonnie, plus Jack and Lydia Reich who were World War II concentration camp survivors. Dr. LeWitt did a masterful job getting them to talk about the daily experience of living with Parkinson's and how to cope with it. The media event drew every news outlet in Chicago and the photo staged at the end with Ali wearing a boxing glove and throwing a punch at Parkinson's was picked up by news outlets across the world.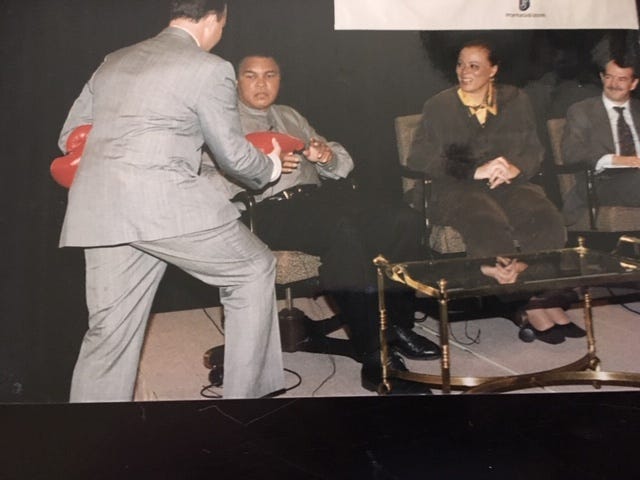 When it was reported that Ali had died on June 3, 2016, I was sad to see him go, but happy he was out of his pain. When people ask me about him, I tell them he had a great sense of humor, would sign autographs or take photos with anyone who asked, loved magic, loved sports and could not have been nicer and more helpful to me. For those of you who aren't familiar with him, I highly recommend you watch the documentary, When We Were Kings.
In 2019, I had the chance to visit his childhood home and gravesite in his beloved hometown of Louisville to bid a final farewell to my childhood hero, Muhammad Ali, the greatest of all time.