Watching the Chicago Bears trade up to the 11th pick in the NFL Draft last night to select Ohio State quarterback Justin Fields, I couldn't help but thinking about how happy that selection would have made Doug Buffone.
Here in Chicago, Buffone is best known for playing outside linebacker on the Bears during the 1960s and 70s. The teams he played on during that era were best known for two players, Dick Butkus and Gayle Sayers. They were incredible football players and so much fun to watch. But when the Bears lined up on defense, playing to the left of Mr. Butkus was a very steady, very dependable linebacker named Doug Buffone. Chicago Bears fans appreciated Buffone back then. He never got the accolades of Butkus on defense, but who could?
Buffone finished playing for the Bears in 1979 and I didn't hear much about him until he joined WSCR Radio, The Score, in the 1990s. By that time, I had already left the Sun-Times, joined the PR ranks, and met Doug at the radio studio on Belmont Avenue when I brought Olympic gold medalist Matt Biondi in for an interview. Doug could not have been nicer to me, so inviting, so funny, like the best friend I never knew, until I had the pleasure of meeting him.
A few years later, I was with Ed Marinaro who was in town for the annual dinner produced by one of my clients, the National Italian-American Sports Hall of Fame. Doug, an Italian to be sure, was there. It was evident immediately that they knew each other pretty well and shared a tremendous sense of humor. Again, I'm talking to Buffone as if he was the best friend I never knew. He was so funny, so friendly, just a fun-loving guy.
A few years later, I once again saw him at The Score, and he and his wife Dana just had twin daughters, a life's event I had experienced just the year before. We traded stories about the challenges of being a parent of twins – which are many – talking for about a half hour about specific anecdotes. I was "Johnny" to him, which is usually the name reserved for my family and close friends, so it felt right every time he said it. I walked away that day thinking Doug Buffone was the nicest guy I had ever met.
Having moved away from Chicago for 15 years, I lost touch with him. When we returned to town, I did have the opportunity to listen to him on the Bears post-game show on The Score. He and Ed O'Bradovich were like two brothers, making their frustrations about the team very clear. It was always reflective of how most Bears' fans were feeling after any game, so it was a popular radio show. They were two former Bears' greats who connected so well with the fans. They were just like everyone else.
That's why I immediately thought of him last night. He would have been the happiest Bears fan on the planet watching his beloved football team draft Fields.
Unfortunately, Doug passed away on April 20, 2015. I vividly remember hearing the news and became very angry with myself for not having contacted him when we moved back to Chicago in 2010. I listened to him each Sunday during Bears season on The Score and took for granted that he would always be here. I attended his wake and funeral at Old St. Patrick's Church with my good friend, Dan Pompei, who had become a nationally-renown NFL writer, honored as the 2013 Dick McCann Award winner by the Professional Football Writers of America for his long and distinguished contribution to pro football through his writing. Dan, like Doug, is a great guy and loyal friend; two great Italian-Americans.
There is so much that can be said about the day. Doug's wife Dana and his six children were incredible. One of his 18 year-old twin daughters, Heather, gave a eulogy I wish someone had taped, because it was really special, giving great insight into Doug Buffone at home with the family, so funny! A story about Doug trying to play plumber and fix a broken toilet, followed by a story about his love for infomercials and ordering a floor polisher which he only used once! Heather had the audience packed in the pews laughing quite loudly. His 23 year-old son Ryan followed with a heart-felt talk about his dad, which he fought through tears to finish. The incredible singing voice of cantor, Rodrick Dixon, will live in the minds of everyone who attended, so beautiful! The eulogies from Dan Hampton and Ed O'Bradovich were heartfelt and memorable.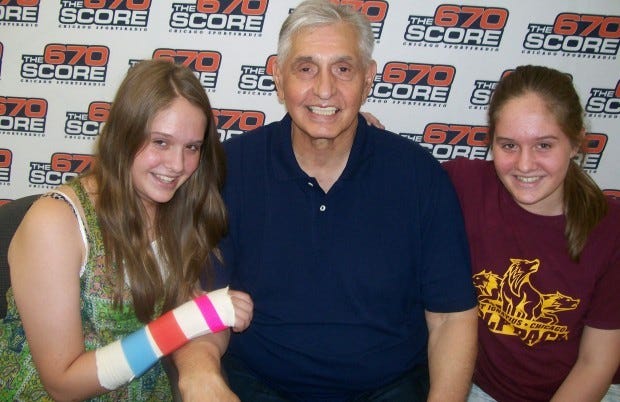 The scene of encouragement provided to Doug's family by friends, former teammates and co-workers was wonderful. I am sure there were others but I watched several meet with the family at the casket to show their respect including Dan Jiggetts, Jay Hilgenberg, Gary Fencik, Dan Hampton, Ed O'Bradovich, Otis Wilson, Richard Dent, Jim Osbourne, Roland Harper, Chet Coppock, Mike North, Dan McNeil, Dan Pompei, Tom Shaer, Mitch Rosen, Garry Meier, George Randazzo, Brian Baschnagel, Kerry Sayers, Ken Valdiserri, Mayor Richard Daley and George McCaskey.
Doug Buffone was truly loved and cherished by his family as well as all of those who attended. During Ed O'Bradovich's eulogy, he said, "I was talking with some other guys in football and we are pretty sure that Doug set some kind of a record for being the nicest guy with no-one saying a bad word about him." That was the message repeated so often that day. Doug Buffone was a human being who never placed himself above others. He was sincerely everyone's best friend. That's why I was there.
And today, I know he is smiling from above looking forward to the first kickoff of the 2021 season and seeing Justin Fields help his Bears.