UIC and Loyola not only share a city, but the bottom of the Horizon League as well. So far this year, in the eleven conference games the Flames and Ramblers have played, the two city teams combined have only won one game and hold 5-11 records. Loyola is the worst of the worst thus far win less in Horizon League games (0-6). Maybe a game against an equally bad team is just what the doctor ordered up to get Loyola it's first win in the division and get it back on track after losing the last four games.
Ideally, a home game would be even better, but while this is listed officially as an away game, the Ramblers are not going too far from. Just a Red Line stops, then Blue Line transfers away to the UIC Pavilion. This should be nice change from the long and tireless bus rides to Cleveland and the rest of northern Ohio. After a week off, Loyola is rested up and energized to go out and grab that first Horizon win of the year.
Loyola (5-11, 0-6 Horizon) at UIC (5-11, 1-5 Horizon)
January 14, 2012 – UIC Pavilion – Chicago, Ill. – 3 p.m. CT
TV: Comcast SportsNet Chicago; www.horizonleague.com
Radio: WLUW 88.7 FM ; www.wluw.org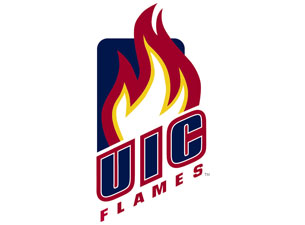 Here's what you've missed…
There hasn't been too much good coming out of games recently for Loyola and Porter Moser. In the four game losing stretch, the Ramblers dropped two games at home, not utilizing the Joe's home court advantage, then dropped a tough OT loss at Youngstown State in which Ben Averkamp fouled out in the extra time, exposing the void Loyola has without him. To cap it off, Cleveland State out shot and out muscled a depleted Loyola squad in the Horizon League Game of the Week, 69-48.
Outside of Averkamp and Gibler, Loyola is not seeing quality play from the supporting cast. Denzel Brito did have a solid performance against Cleveland State, but in order to rack up the wins late this season and salvage the record, Porter needs to instill some life into his guys. Christian Thomas must turn back into a dominant force on the boards and Joe Crisman needs to show the type of leadership he showed early in the year.
About UIC
UIC ranks first in the Horizon League in offensive rebounds (13.3 rpg) and will cause trouble against opponents capitalizing on second chance points….The Flames are playing well at home this year, boasting a 5-2 record at the Pavilion, making it a tough place for visitors, just like the renovated Gentile Arena once was for Loyola….Gary Talton leads the Horizon League in free throw percentage (85%)….Additionally playing into the Flames' home court advantage, they are averaging 64.4 points per home game, while limiting their opponents to just 60.9 points and 39.2 percent shooting.