Unlike football, if your hometown baseball team sucks, you have no desire to watch baseball unless you are over the age of 50.  My dad is a White Sox fan who watches Cubs games despite their shittiness and hating them.  He can"t help himself, he's over 50.  In fact, I think all white dudes over 40 exclusively watch their hometown sports team, Two and Half Men, and reruns of Everyone Loves Raymond.  
Anyway, for those of us who tune out on the MLB season once our teams fall out of the race, we need some rule changes in the good ol' MLB to keep us entertained.  Here are my 5 best ideas.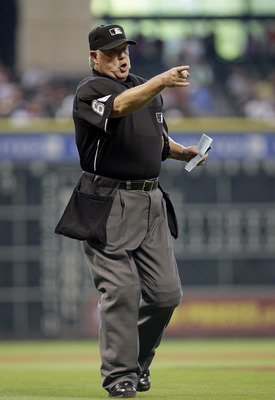 5. No more "warning" the benches:  Currently, the stupidest rule in all of professional sports is when a pitcher throws a 97mph fastball at a batter's head, and both teams get "warned".  So now the next guy on either team who throws at a batter is immidetely thrown out of the game and suspended.  Essentially, a pitcher throwing a temper tantrum on the mound can try and kill a player on the other team, not get punished, and also guarnatee that if anyone retaliates, the retliator, not the instigator will be thrown out.  Is this Russia?  Let's take the warning system out, let the players police the game themselves, and reinstitute a little "eye-for'an-eye" justice.
 

4.  If you charge the mound, and don't throw a punch, you are suspended for 10 games:  I don't know when charging the mound turned into  a shoving match and a lot of empty threats that looks more like two rival frat bros after they bump into each other at a bar: Lots of pushing, crazy eye staredowns,  and calling each other "bro".  
From now on, if you charge the mound, you are fighting the pitcher or you are getting an upaid suspension for 10 games.  Fans don't deserve the massive let down of an empty mound charge.  We need more Kyle Farnsworth sparing Paul Wilson types of fights.  Thank you, Kyle.  That was the one day that being a Cubs fan actually made people feel tough.  
 
3. One pitcher per inning:  No more changing relief pitchers per batter depending on the lefty-lefty or righty-righty match-up.  You guys are professionals; learn how to hit and pitch to both lefties and righties.  It will shorten the game by 30 minutes and get to see way more pitchers have pyschological breakdowns on the mound.  
 
2. 10-run slaughter rule:  If a team is up by 10 runs or more after the 6th inning, the game is called and the losing team gets credited with an additional loss.  So a slaughter rule loss = 2 regular losses.  This will make blowouts way more exciting, and keep both teams trying and playing their best players for every inning of every game.  
1.  Inject some National Rivalries: They say rivalries in baseball have been diluted by the Wild Card system and interleague play.  Even Yankees/Red Sox games have lost some of  the slap-your-sister/wife/girlfriend/dad fervor and urgency they once had.  So let's make it personal.  Remind players why they should hate each other.  When Chien-Ming Wang was on the mound in his heyday facing Ichiro, both fans and players alike should have been reminded of Japan's cockheaded 1895 invasion of Taiwan.  Wang might not even know about it himself.  Or, we could just keep thinking all Asian MLB players are friends, speak the same language, and never witness the first-recorded (surely karate style) Asian-on-Asian fight in MLB history.