I knew it was coming.   It does every Halloween.
There's always some offensive blackface costume followed by denials of racism with a side of righteous indignation for people to "lighten up."
Then the perpetrators claim to not understand why their witty costume caused such an uproar—usually after they lose their jobs or have been publicly shamed.
I didn't expect 2014 to be any different.
Yet this year there's a domestic violence twist to the offensiveness.
I present to you the Ray Rice Halloween costume for Halloween 2014: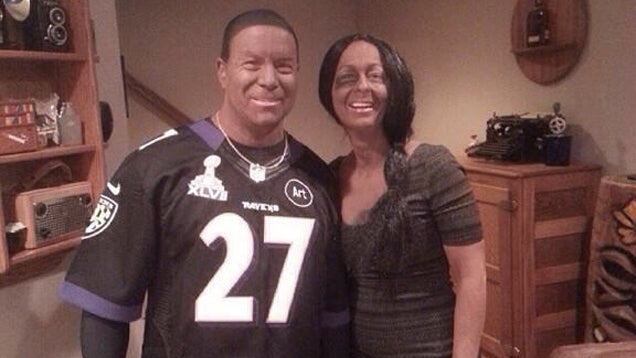 Blackface AND domestic violence—classy.  Unfortunately, that's not the only one.
Any regular reader of this blog already knows how I feel about blackface.
But the domestic violence mockery just takes the insensitivity to a whole different level.
If you ever ponder why our country *still* has problems with racism, bigotry, domestic violence and sexual assault; that picture and the others like it speak volumes.
If you don't get it.  If you don't feel that the costume is wrong, that's your prerogative.  Frankly, I'm tired of attempting to educate people who choose to ignore the hateful and hurtful legacy of blackface.
I already know how this country feels about blacks, it appears that violence against women isn't a priority either.
If you liked this post, "like" I Hate My Developer on Facebook
Type your email address in the box and click the "create subscription" button. My list is completely spam free, and you can opt out at any time.