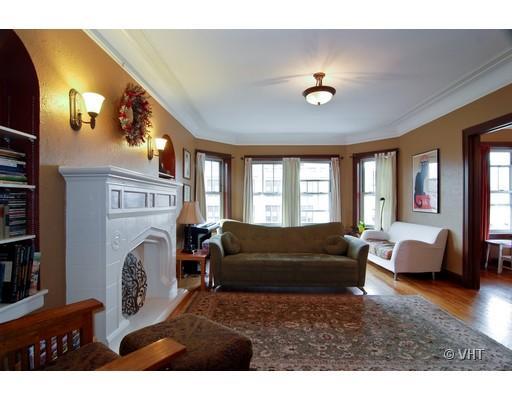 Stable, leafy, sought-after Oak Park hasn't been immune from the price devastation that's plagued condominiums in many of Chicago's suburbs. A search for two-bedroom or larger properties in Oak Park priced at or under $100,000, for example, surfaces fifteen choices.
Eleven 2-bedroom, 1, 1 ½ and 2-bath condos are priced from $46,800 to an even $100,000, and four 3-bedroom, 1-bath units are priced from $44,900 to $79,750.
A 1,550 square foot 3-bedroom at 408 S Lombard has been on the market for 5 months and is currently asking $44,900. That's an 81% discount from its previous sale for $235,000 in 2006.
A vintage 2-bedroom, 2-bath on a cul-de-sac near public transportation is listed at $80,000 – down from $185,000 in March of this year and nearly two-thirds below its last sale at $223,000 in 2009. The home pictured above, at 409 S Humphrey, boasts hardwood floors, distinctive architectural features, a separate dining room and an in-unit washer / dryer. Real estate taxes, at over $5,900 a year, reflect the home's previous selling price.