There are so many ways to lose weight and get in shape out there that it's hard to know where to start!  Magazines, DVDs from the store or online, fitness workouts on your "on demand," apps for your Smart Phone… the list could go on.  So, to help you on your journey, I'm listing my TOP PICKS for a few in-home programs, books, magazines, websites and apps to help you along your way to your goals!  I'm trying to focus on NEW things, for the most part, so that you know what's new and what's HOT out there!
HOME DVD PROGRAMS:
LES MILLS PUMP
You can now take the super popular BODY PUMP class into your home with the new LES MILLS PUMP workout/equipment set from Team Beachbody.  The Body Pump classes have been a huge hit at gyms across the nation, so it's super cool that you can do this at home now, too… barbell included!  The program comes with strength, cardio and flexibility workout routines as well as a complete nutrition guide.  Essentially, all of the pieces you need to have a killer workout in your home are there, no personal trainer needed. This is, pretty much, the newest home fitness product on the market. I have a feeling it will be a top program in 2012.
For more information about Les Mills Pump CLICK HERE (this link will also get you a free bonus workout with the program)
P90X2
This is the program I'm starting my new year with (and I'm already feeling it… a… LOT)! First and foremost, this is NOT a beginner program. Before even attempting P90X2, I'd recommend doing the first P90X (or something that will get you into similar physical shape). Unsure if you are ready for it? CLICK HERE to download a PDF of the Fit Test for P90X2. It will tell you if you are ready for P90X2. If you pass the minimum requirements, then you should be good to go. I LOVE this program as it challenges everything! It's working heavily on strength, combined with flexibility and balance… I mean, it really works balance tons! It will definitely kick your butt into athlete shape! I love the meal plan with it, too. The recipes and layout are much easy to follow and the design is a lot better than the first P90X. I give it lots and lots of stars!
For more information about P90X2 CLICK HERE (this link will also get you a TWO free bonus workouts with the program)
BOOKS:
PUSH: 30 Days to Turbocharged Habits, a Bangin' Body, and the Life You Deserve! by Chalene Johnson
Chalene Johnson is one of my biggest motivators when it comes to not only fitness, but life in general. She is a master motivator and her new book is a labor of love! If you want good reads to complete turn your life around in 2012, I cannot recommend this book more highly!
Check out more info on PUSH here (and be supporting one of the last physical chains of bookstores while you are at it!)
BRING IT! by Tony Horton
If you love him on DVD workouts, then you'll love his book. The book is full of all sort of tips on fitness and nutrition… but it also has fully designed workout regimes that you can do at home or at the gym.
Check out more info on BRING IT here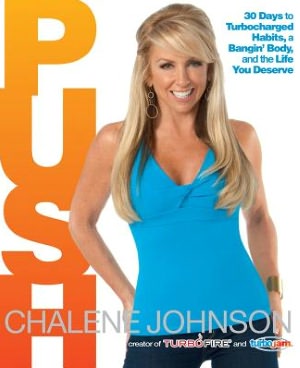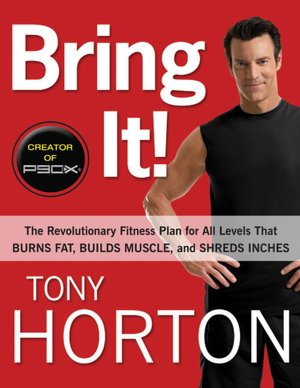 MAGAZINES:
My two favorite magazines for healthy living are…
Whole Living Magazine (subscribe here)
&
Yoga Journal (subscribe here)
The biggest reason I love both of these magazines is that they give you tips for all around wellness… fitness, nutrition, and mental wellness. I'm not a fan of a lot of fitness magazines because they are full of a lot of misleading fluff articles and don't actually lay things out for you in a proper manner. I'm sorry, but there is no such thing as 6 simple moves for a flat stomach. To get a flat stomach requires more than just six simple exercise moves (it's a combo of strength, cardio and nutrition)… it's just a headline to sell magazines. So, invest in something that will educate you a little more fully.
WEBSITES:
PILATES ANYTIME
PilatesAnytime.com is a great resource for full Pilates workouts that you can access online and do at home. They have a variety of levels and instructors, so you can find one who suits you. The bonus is that they offer 15 days for FREE! So head on over and give it a try!
TEAM BEACHBODY
TeamBeachbody.com is a site I use a lot for a number of reason… A.) Fitness tools, B.) Fitness trackers, C.) Fitness tips, D.) Recipes, E.) Goal setting/recording, F.) Online SuperGym for logging and tracking workouts, G.) Daily contests and prizes… and tons more, too. It's full of great info and incentive to get on and stick to your fitness regime.
MY FITNESS PAL
MyFitnessPal.com is tops, in my book, when it comes to a calorie counter/food journaling website. The database is the most complete database of foods I've come across anywhere. If your food item happens to not be in there, then you can add it yourself. Whenever I food journal, this is the site I go to. While I wouldn't recommend making food logging something to do for life (as it is tedious long term), it's definitely a good thing to go back to from time to time in order to get a realistic view of what you are eating and how to improve upon your portion sizes and food choices.
APPS:
MYFITNESSPAL
In addition to the website, My Fitness Pal also has an app. It's great because it will link to/talk to the website, so you can enter your food whether you are on your computer or on the go. Plus, it's nice to have the calorie count with you as you go through the day.
Available through iTunes App Store
FOODUCATE
This app is great for educating you on what you are eating. It has a barcode scanner, so you can scan foods that you have, or foods that you are considering purchasing at the store. It will then give you a grade as to how good (or bad) that food is and why. It's great for educating yourself on the foods you eat. Seriously… I love this app!
Available through iTunes App Store
P90X APP
There is now a P90X app for iPhone. This app is great for P90X users because it allows you to log your workouts into the Online SuperGym, track your weights and reps, record your nutrition, share your results… and you have the option to upgrade from the base app and order actual P90X workout videos to your phone (*note that these are iPhone specific workouts, and not the actual P90X workouts from the DVD… they are the same workout, but shot differently for iPhone effectiveness*).
Available through iTunes App Store
Filed under: Athletic Training, Beachbody, Chicago fitness, Fitness, Fitness Books, Fitness DVD Release, Fitness For Women, Fitness Magazines, Fitness Tips, Fitness Videos, Health Magazines, pilates, Product Reviews, Strength Training, Yoga
Tags: beachbody, best fitness apps, body pump, Bring It, calorie counting, chalene johnson, fitness apps, fitness apps for iphone, fitness books, food education, food journal, fooducate, les mills, les mills pump, my fitness pal, myfitnesspal app, nutrition, online exercises, online workouts, p90x, p90x app, P90X2, pilates anytime, push, team beachbody, tony horton, top fitness apps, turbocharged, weight loss books, whole living, whole living magazine, workout tracker, Yoga Journal, yoga magazine