In 2009 when I was contemplating which marathon to run for my 30th birthday I ended up volunteering at the Chicago Marathon at the mile 18 water station.
How did I end up there?  Well, I'd recently joined the Oak Park Runners Club and they've been manning an aid station for the Chicago Marathon for the past 22 years.
In fact, 22 years ago the Chicago Marathon race director Carey Pinkowski approached the Oak Park Runners Club and asked if they could provide 15-20 people for one of the 8 aid stations on the course.
Today each of the 20 aid stations has over 200 volunteers.
Still, every year Carey comes out to speak to the Oak Park Runners Club about the behind-the-scenes details of putting on an event of this magnitude.
Each year he talks about something a little different.  In 2011 he told us about why they run the course north and then south (to open up the more populated streets sooner).  In 2010 he shared that race employees go door to door handing out fliers telling residents and businesses who live along the course what to expect. He joked that one of the reasons so many people come out to cheer on race day is because they figure they can't leave their house so they might as well get into the spirit of the event.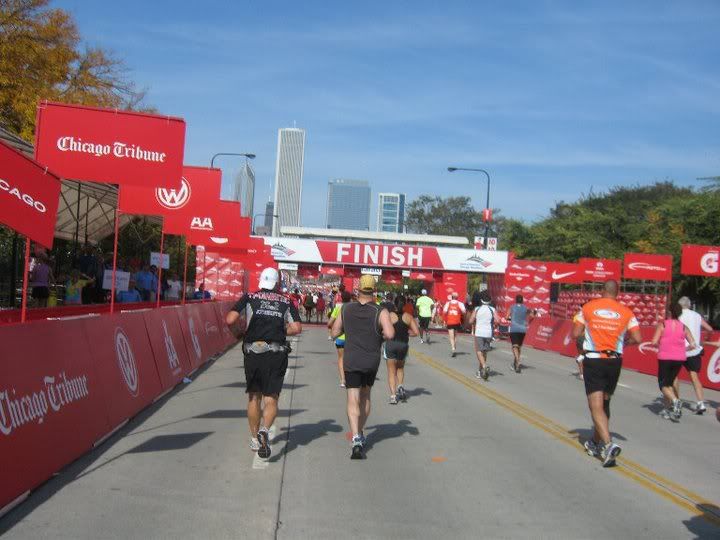 This year, for the 35th running of the Chicago Marathon, they are working directly with neighborhoods along the route to bring out spectators to areas that have traditionally been quieter than others.  He also pointed out that although there are 40,000+ people registered, almost 120,000 people go to the Expo!  Which means that this year the sponsors are actually going to be focusing some of their marketing dollars on race spectators instead of just runners!
Some other fun facts?
*After being unable to compete at the London Olympics, elite runner Liliya Shobukhova will be attempting to win the Chicago Marathon for an unprecedented 4th time in a row.
*Of the elite men running on October 7th, any one of the 8 or 9 of them could win.  It's sure to be an exciting race!
* NBC5.com will be streaming the race live.  Running but your family isn't coming out to watch?  They can watch the finish line on the web and see you cross!
* 10,000 of the 40,000+ runners are charity runners.  In 2011 they brought in 13.4 million dollars.
* Ambulances assigned to the race are GPS tracked so the race headquarters always knows where they are.  The health and safety team will also be using an iPhone app to track water consumption at each aid station so they can let other aid stations know how much water to have ready.
Also, for all you  Chicagoland runners, next year they are considering doing a series of six or seven fun runs throughout the city and surrounding area before the official opening of marathon registration.  At these fun runs runners will have the chance to  register for the race before it opens up to the general public!  So keep your eye out for that next year.
But this year if you want to get involved, whether you're running or not, why not volunteer!  Spots are still open for packet stuffing (hey, someone has to put safety pins in 40,000 bibs) or you can join me at the Mile 18 Aid Station on Taylor Street.