Okay, this is getting serious now.
The Dodgers and Mets, both thought to be early contenders for the services of manager Joe Maddon, have vehemently denied interest.
The Cubs, meanwhile have said nothing.  In fact, according to the Score's Dan Bernstein, they plan to talk to him,
#Cubs plan to talk to Maddon. Could still try to retain Renteria in some capacity, if it works.
We can almost hear Theo Epstein's words…
This is by no means a reflection on Rick Renteria, who has done a tremendous job for us, particularly with our young talent.  It was a difficult decision to move on after just one year.  We believe Ricky will be a fine manager some day, but when you get a chance to get the best manager in the game, you have to seize that opportunity.  We think Joe Maddon is an impact manager and can help us take this team to the next level.
Few managers can impact a team and maximize their talent like Joe Maddon can.  But it is more than that,  He can have an impact as far as players wanting to come and play in Chicago,  As well as Renteira did in his first year, few players will come here specifically to play for him.  Maddon, on the other hand, is not just a proven winner, but he also creates an environment in which players want to play.  He would be like adding a turbo boost to this rebuilding movement.
I don't think you consider this move with any other manager.  Not Joe Girardi.  Not even Terry Francona.  But Maddon is special and I think you have to at least look into making this work somehow while still retaining Renteria in some capacity.  I would give Renteria his choice of staying on the bench, moving upstairs, or moving on to another organization.  Personally, I hope he stays one way or another.
Hinske turns down Yankees
A little blurb I had to mention because, how cool is it that guys are turning down the Yankees to stay with the Cubs?  Apparently, the Yankees wanted Eric Hinske to be their new hitting coach.
Remember when we said the Cubs will be passing the Yankees by 2015?  i think it may have already happened in some respects.  The Cubs are becoming a preferred destination.  As we mentioned in our last piece, friends of Maddon would be very interested in coming to manage the Cubs (per Peter Gammons).
After 3 frustrating rebuilding seasons, it's becoming cool to be a Cub.
Tribune Video
I did a video for the Tribune.  Actually couldn't do a "video" because I am not in my home.  So I did it by phone and sent them an old picture so you can imagine me saying those words.  Anyway, I talked to them before some of the recent news came to light, but you can hear some of my thoughts on Maddon, Renteria, Lester, and Hamels.
 UPDATE:  Buster Olney is now saying that rival executives may want to have the Cubs investigated for tampering should they land Joe Maddon,
Rival executives believe that if Joe Maddon winds up with the Cubs, the Rays will investigate the issue of tampering.
Tampering charges are rarely, if ever, are ever founded, but it's nice to know our rivals care.  It's good to be relevant again.
UPDATES: 5:30 PM
All via Twitter
David Kaplan tweets: I've spoken with handful of solid baseball sources since the Joe Maddon news broke. Yes, Cubs are frontrunners but several teams interested.
Joel Sherman tweets: #Mets #Dodgers execs now on record to no on Maddon. Been told no by #Braves #Bluejays teams thought could be in play. All pointing to #Cubs
From Jeff Passan:  One Maddon confidante believes he wouldn't have opted out without a sense of what the market would bear. And he wants to go big market.
Regarding Passsan's tweet…what big market is left except for the Cubs?  The Dodgers are out.  The Mets are out.  They Yankees and Red Sox don't need a manager.  The Angels are likely set with Mike Scioscia.
As Sherman says, "All signs pointing to the Cubs" right now.  I've gone from thinking this was just a curiosity to the gut feeling that the Cubs make this move.
UPDATE: 8:25 AM (10/25)
Another big market team, the Los Angeles Angels, have said they are staying with Mike Scioscia.
Meanwhile, a small market team, the Minnesota Twins, say they will talk to Maddon.  As I said earlier, I can't imagine Joe Maddon leaving the Rays to manage the Twins.  He'd be in the same situation financially (as far as the team, anyway) and he doesn't even get the nice weather.
As far as my own stance, I want to clarify something.  If the Cubs feel hiring Maddon is best for the team, then I am all for it.  When I say I feel for Renteria, it doesn't mean it would get in the way of making the best decision.  It just means that if the Cubs do decide to bring on Maddon, that they treat Renteria with the respect that he deserves.  And based on the way we have seen Epstein and Hoyer conduct business in the past, I have no doubt that they will handle this with class.
9:3o PM
Alan Nero, Maddon's agent, was on The Score with Bruce Levine and Wayne Randazzo.  Randazzo summed up the interview well in this tweet,
Not an update, but a Twitter follower re-puprosed an old tweet of mine about Cubs back channels.  The "Joe" was originally Joe Girardi, but it works just as well now for Joe Maddon.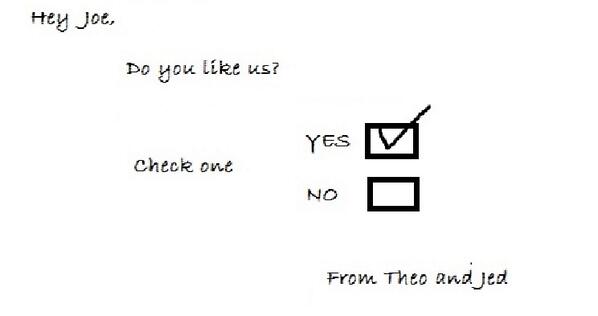 Just a thought here but the Cubs silence speaks volumes.  Every other potential landing spot with the exception of the Twins, who are the longest of longshots despite being the only team with a current opening, have spoken up to declare that they will not make a managerial change.  The Cubs have not done so to this point.
10:00 AM
Not everyone in the industry is happy with this potential move.  I spoke to one source who believes it shows a lack of loyalty on Epstein's part and that he would not work for him for that reason.  Yes, this is an upgrade but it does not necessarily put the Cubs in a favorable light around the league.  We already know rival execs have considered filing tampering charges.  The Cubs undoubtedly know this and it will be something they will have to balance.  The Cubs would have to feel strongly enough about Maddon as an upgrade to deal with the PR hit they may take for this move.