The Cubs two Class A affiliates, the Kane County Cougars (Class A), Daytona Cubs (high Class A), and Iowa Cubs (AAA) have announced their rosters.  The Tennessee Smokies will release theirs tomorrow.  You can click on the links for the complete rosters. Albert Almora is not yet on the official roster but he's expected to start the year in Kane County when he's healthy.  Other than Almora, here are some of the players I'm excited to see at Kane County  this year.
Kane County Cougars
Pitchers
Top prospects
Pierce Johnson
Jose Arias
Tayler Scott
Lendy Castillo
Johnson may not be in Kane County long.  He is the Cubs top pitching prospect, working with a 92-94 fastball, a hammer curve, a cutter, and a change.  Jose Arias can also reach the mid 90s but isn't as advanced, though he showed improved off-speed stuff this past fall.  Scott is the most projectable of the bunch.  He can pitch in the low 90s and throws a big curve, and still has room to grow.  Castillo is a bit of a surprise this low and you have to wonder if the Cubs would like to develop him as a starter.  His secondary pitches still need a lot of work for that to happen, however.
Sleepers
Brian Smith (L)
Nathan Dorris (L)
Justin Amlung
Brian Smith is a rare power lefty (92-93 mph, power slider) in the Cubs organization but command and lack of a 3rd pitch probably makes him a bullpen guy.  Nathan Dorris is another lefty who can pitch in the low 90s, has a big curve, some projection left, and the athleticism to repeat his delivery and develop good command.  Justin Amlung is a polished 4 pitch pitcher who throws in the low 90s and projects as a bottom of the rotation starter.
Position Players
Top Prospects
Jeimer Candelario (3B)
Marco Hernandez (SS)
Gioskar Amaya (2B)
Dan Vogelbach (1B)
Trey Martin (OF)
Candelario is one of the best pure hitters in the system.  He has a good approach and quick hands from both sides of the plate.  He hits line drives now but my project for 20 HR power down the road. Defensively he has the soft hands and strong arm to stay at 3B, but it will depend on whether he can retain enough range as he fills out.  Marco Hernandez is a SS with solid tools across the board.  He also offers good athleticism and a rare lefty bat.  Amaya is another good bat who plays solid defense and has above average defense.  He is an instinctual player who adapts quickly.  Dan Vogelbach (featured below) is a tremendous power hitter who has better all-around hitting skills than you might think, including a strong feel for the strike zone.  Trey Martin is a long-limbed, athletic player who has a chance to develop power down the road.  He can play CF in the majors right now.  He eats up ground with long strides and has an above average arm.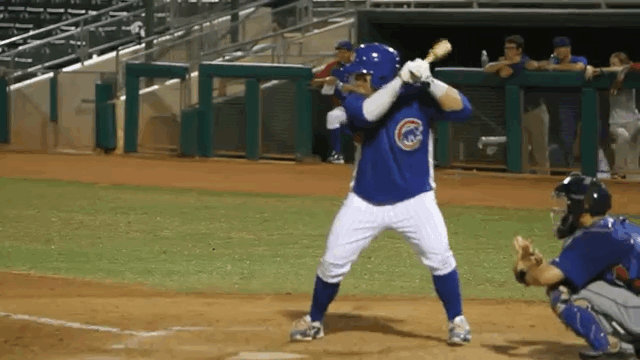 Sleepers
Rock Shoulders (OF-1B)
Wilson Contreras (C)
Chadd Krist (C)
Rock Shoulders has a good approach and should combine with Dan Vogelbach to provide some great batting practice shows. At the plate he shows good discipline although he will strike out. He is a good enough athlete to play the OF.  Wilson Contreras and Chadd Krist give the Cougars an interesting catching tandem.  Krist is the more polished player and has a chance to reach the majors as a backup.  Contreras is more raw, but also more athletic with a higher ceiling.