I dunno about you, but being able to shoot a bow and arrow seems like the most bad ass skill you can have.  You might be saying, "Yeah, yeah, whatever", but consider this:  Cartoon Robin Hood?  Bad ass.  Real Robin Hood?  Didn't actually exist but still bad ass.  Hawkeye?  Bad ass (but that's mostly because of his name).  Katniss Everdeen?  Bad ass.  Paris from the Trojan War?  Kind of a dweeb, but he still managed to kill Achilles.  Geena Davis?  Bad ass.  Merida from Brave?  The baddest bitch of them all.  You get the picture.
An archery club, 2020 Archery, offers a 5-week beginners' archery course every few months, so I signed up shortly after moving to London.  I figured it was a great way to meet friends, and I always thought it would be cool to do archery.  They have a range, but the course is in the gym of a high school in Bermondsey (south London).  There were eight other people in the course, and the majority of them seemed to be in their 20's/30's (Yay for potential friends!).  Everyone was super nice, and the fact that none of us had tried archery before was a great way to break the ice.  Nothing like self deprecating humor to ease the nerves.  Besides us, there were about ten other people who were doing a "have a go" session where they just shoot for a few hours.  They were pretty intense, wearing QUIVER HOLDER BELTS and cool shit like that.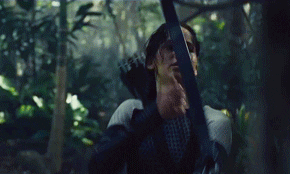 We were in a high school gym, so we had to do some extensive set up.  First off, a huge tarp had to go across the back fall to catch the arrows.  Then, we had to roll to the gym these wheel-shaped coils of rope (called "the boss") onto which you stick your paper targets.  A long black tarp, "the line" as it's called, was rolled out, and that's where you stand to shoot.  Little tubes to hold the quivers were spaced apart on the line.
Once set up, Dicken, our instructor, took us through basic safety tips and explained the bows and arrows to us.  We had to put on this forearm guard and leather flap on our "shooting fingers".  He also tested our eye dominance (I'm left eye dominant) to determine which eye we closed when we shoot.  The bows aren't too complicated, and neither are the arrows.  There are a million safety rules, though, from how you load your arrow to how you pull it out of the target, and we also learned the whistle cues:  1 whistle = okay to shoot, 2 whistle blasts = safe to collect arrows, and yelling "Fast!!!!" means to stop whatever the heck you're doing.
After going through the basics and safety rules, Dicken showed us the proper way to shoot: stand parallel to your target, feet shoulder width apart, with your bow arm extended, slightly bent and elbow turned out.  He also showed us the proper way to pull the bow, which is with your elbow flared out and the string as far back as "your index finger hooked in the corner of your mouth" (picture a little kid making a face).  My first couple turns, I was holding that thing with a death grip, but once Dicken said to hold it as if I was pushing the bow away, I felt more comfortable.  He probably said that 50 times already, and I only managed to understand on the 51st.  After he gave us individual guidance, we split into two groups with two people per target, getting three arrows to shoot per session.
Okay, so I didn't really expect much out of myself except maybe to shoot myself with an arrow or watch it plop to the ground two feet in front of me.  But the reality was:  I. didn't. do. That.  BAD!  In fact, I was pretty decent!  F yeah!  I did NOT expect that.  I even improved and got more comfortable with every round.  The bow is slightly heavy, but once I fixed my grip it was very manageable.  I was shooting pretty high at first, but Dicken kept giving us great tips to fix our aim, so that even improved throughout the night.  I only missed the "boss" once, and the target maybe three times.  Learning how to shoot a bow and arrow isn't all that complicated; it's the exact repetition that is tricky.  I know that will come with time though.  I had a lot of fun, and I'm already looking forward to next week's class.  Shooting was super intoxicating, and I definitely felt like a bad ass…
 Other London Stories:  Imperial Wars and Pub Tours
We did this awesome Beer Tasting/Historic Pub tour in the West End last Sunday, and it was super fun.  A little too much fun.  First off, the weather was absolutely perfect: 75 and sunny with a light breeze.  EVERYONE was outside, be it camped out on the green spaces or just walking around the city.  Our good friend from DC, Ryan, was visiting from Belarus (he's there on a prestigious government fellowship to learn Russian), so we started off our day at the Imperial War Museum.  We were running low on time, but we are DEFINITELY going to return.  It was the most interactive museum I've ever visited, and I don't mean in a kitschy "animatronic people and flashing lights" kind of way.  The set up, displays, and actual artifacts were just incredible.  We only had time to go through the WWI exhibition, but I think I learned more about that war in one exhibit than I did my entire history education.  I really thought that, because it's called Imperial, that it would be the ENTIRE time Britain has been an Empire; the reality is that it covers only from WWI to modern conflicts.  I guess that's less overwhelming for the non-nerds (or should I say AWESOME PEOPLE) of the world.  Seriously though, you've gotta go when you come visit me in London (see what I did there?).  Even the building is cool looking.
Our tour was meeting in Trafalgar Square, so we decided to walk the mile or so to our location.  We sat on the steps of St. Martin's in the Fields Church, and I called my mom to wish her Happy Mother's Day.  While I was on the phone, our tour guide, Matt, showed up a few minutes early and introduced himself.  He had an infectious smile and a hint of an Australian accent (None of us picked up on that until he told us that he used to move between England and Australia), and after introductions with our other tour attendees, he had us on our way to the first pub.
It turned out that the other two people on the tour happened to be from the Midwest:  Shannon from Chicago and Jocelyn from Madison.  They grew up together in Wisconsin and had us rolling with their stories of life in their small dairy town.  Their high school mascot was, I shit you not, The Cheesemakers, and the mascot used to be a Pac Man style wheel of cheese with googly eyes.  We were also cracking up at their stories of their friend's house being known as "The House That Cheese Built" because their dad was THE master cheese maker.  Everyone got along great and spent the majority of the tour laughing.  We went to four official pubs on the tour:  The Harp, The Porterhouse, The Lamb & Flag (from 1628!), and some Belgian bar whose name I forgot.  The Harp and Lamb & Flag were definitely traditional English pubs:  set up like a house (because they used to be houses), flowers out front (that custom dates back to the Romans when they would put vine leaves outside taverns that served wine), dark wooden furniture, cool shit on the walls, and plenty of cask ales on tap.  The Porterhouse was a brewery that had a very industrial feel to it, and the Belgian bar was more modern.  They were all great spaces though, and Elliot and I made a mental note to return.
The pubs were walking distance from one another in the West End/Covent Garden, so while we walked, Matt pointed out different sights.  He explained how the West End didn't become associated with theatre until the Elizabethan age, and Covent Garden emerged as a spot where people would gather for outdoor plays.  We walked past Charles Dickens' house , now a TGIFriday's (Please sir, may I have some more potato skins) and learned that the plight of the working people really wasn't on the rich folks' radar until Dickens wrote about it.  Because the rich people lived in Western London (and still do), they didn't get the full experience of the stink in the East.  The wind blows easterly, and with open sewers comes 'ERMUHGAHD I WANNA PUKE' moment.  Once the folks in charge read Dickens, plans were put in place to revise the sewer system.  So thanks for that, Chuck.
Matt not only shared different backstories behind the beers we tried (an IPA, Porter, Lager, Pilsner, Wheat, and Cherry) but gave us insight into the pubs themselves.  For example, we didn't know why English pubs had such simple names.  That goes back to the Middle Ages-Medieval Times when very few people were literate, and pubs would distinguish themselves by posting a picture outside their doors.  The pubs eventually became known by their pictures, hence why you have places like "Lamb & Flag".
When the tour ended, none of us, Matt included, was ready to go home, so he took us to another traditional pub, The Crossed Keys.  That's when Sunday Funday took it up a notch.  We spent the rest of the afternoon…and evening talking about how people perceive Americans and different customs and quirky habits.  Matt told us that Americans automatically get on the defensive when telling him they're American by saying, "But we're nothing like Donald Trump!"  Pretty hilarious because Ryan and I were talking about that earlier in the day.  We all, amidst the flowing drinks, learned more about one another: Matt told us about life as an actor, Shannon talked about her kids, Ryan talked about Belarus, Elliot and I talked about life as ExPats, and Jocelyn, in the only serious moment of the day, shared how her mom, who was her best friend, passed away from pancreatic cancer.  Her European trip (London was just the first stop) was a way to heal.  After losing Gramps to that fucking disease, I know how horrible an experience she must have endured, and I hope she has the trip of a lifetime.
I randomly found that pub tour as a gift for Elliot, and neither of us had an inkling as to how much fun we'd have.  Matt was a great guide, Shannon and Jocelyn were the best fellow tour mates you could imagine, the beers were good, the atmosphere was historic, and the laughs were plentiful.  One of the best Sunday Funday's I've ever had…
Other Random Observations/Updates
People ask "You okay?" or "Are you okay?" instead of "How are you/How you doin'?".  At first, it threw me into a panic because I thought I was giving off Resting Bitch Face vibes, but now I'm getting used to it.

The @ symbol on a British keyboard is where " usually is, so I do a lot of @Are you okay?@ when I type at work
We got a phone line installed!  The next step, in theory, is to get the broadband switched on and we'll have internet.  In theory.
We went back to Borough Market to get more of that pasta sauce, but they didn't have the kind we liked.  The lady gave me her card and texted me when a shipment came in.  I had to take an uber to and from work to pick up ten bottles of sauce.  So now I have a tomato sauce dealer.
Thirsty for more? Subscribe to Court's Excellent Adventures by typing your email address in the box and click the "create subscription" button. My list is completely spam free, and you can opt out at any time.
On Facebook?  Be sure to like Court's Excellent Adventures:  https://www.facebook.com/courtsexcellentadventures (Not to be read as "Court Sex Cell ENT Adventures")
Filed under: Ex Pat Life, Holy Crap, London, Working Out
Tags: Archery, ExPat Life, Fat Tire Bike Tours, Historic Pub Tour, Hunger Games, Imperial War Museum, London, Sunday Funday, West End