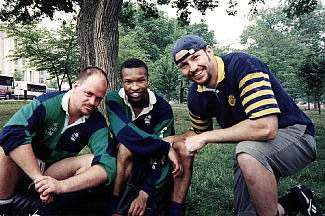 It is 15 years, since the attacks on 9/11 happened. I remember where I was when it happened, like most everyone who was old enough to comprehend it at the time. My high school library, watching the morning news network, when it was interrupted. I didn't get what was going on at first. It wasn't until I was about 20 minutes later, in my history class, watching coverage with our principal on the speaker system trying to explain what was happening. I remember coming home, and watching the attacks again, and again, on every network and show. I remember the complete silence of my neighborhood, living just 3 blocks from Midway Airport. It seemed like the entire neighborhood, city, and nation just froze.
Being not quite 18 yet, not yet introduced to rugby, and not yet knowing how many LGBTQ people would not only be some of my close friends, but the years ahead of change and issues they would face. Mark Bingham, who has been called on of the heroes of that awful event, would be honored and really make a change for many people. Mark Bingham, was running late that early morning on  United Airlines Flight 93 from Newark to San Francisco. He was the last to board the plane.  Bingham was sitting right behind the cockpit, in seat 4D, when the plane got hijacked, her made one phone call to his mother, saying "This is Mark Bingham, I love you". Mark is one of the men who tried to stop the hijackers. He has been called a man who would protect others, having stopped a mugging, and in articles fried of his said he would have seen this as a time to help. We do not know how the group of men who fought the hijackers decided what to do. We do know that Bingham a rugby player, along with a judo champion,  a college quarterback, a weightlifter and  a former paratrooper, these five people stopped even more people from being killed. We know that they stopped tat plane from it's larger target in Washington, DC, bringing it down in a corn field instead.  There are still over 1100 families who still have no confirmation the the deaths of people on that day.There were almost 3,000 people that were confirmed who died, and over 6,000 injured. So how do you make something great out of such a tragedy.
Since that awful day, Mark Bingham is the first real gay man who the Untied States has honored, as well as the entire rugby and LBGTQ community.  On September 17, 2001, in a ceremony for San Francisco Bay Area victims of the attacks, John McCain gave his partner, Paul Holm a folded American flag. The Mark Kendall Bingham Memorial Tournament , known as the Bingham Cup, an international rugby union competition for predominantly for gay and bisexual men, part of the International Gay Rugby Association Board (IGRAB), was established in 2002 in his memory. He was honored with the Author Ashe Courage Award, and has a documentary called "With You"  in 2012 about how his memory has been a part of LGBTQ rights.
The Chicago Dragons, have been participants of the Bingham Cup, and even put in a bid for Chicago to host the tournament. Teams have honored his courage in Washington, San Francisco, London, New York, Dublin, Minneapolis, Manchester, Sydney, and most recently, Nashville, TN. The largest tournament had over 800 registered participants from 29 teams in nine countries participating. At the time of his death, there were around eight gay-inclusive rugby clubs worldwide, now in America alone there are 17, not to mention the much more open culture of lesbian, gay and bisexual players, on any team.