Contributing writer Lisa Mrock reviews Curbside Splendor Publishing's reading/concert series, Words+Music for Chicago Literati. 
It's not often one can listen to famous people for free unless they're paying attention. Since I work a lot of jobs that somehow equate to most of my week being spent on a computer, I keep my eyes open and keep a close watch on Facebook and Twitter, which is how I came across this fancy poster.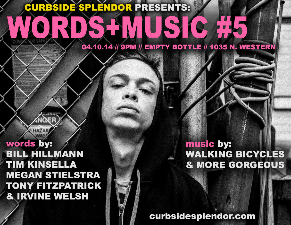 It's small, but you get the picture. (A pun has been achieved.)

A lineup like that could fetch some serious cash, but it was free if the person chose to RSVP online. Being a poor college student, I did that in a hot second, though Curbside Splendor is worthy of monetary support. (I've shelled out hard-earned money for them in the past and have never regretted it.)
The reading took place at the Empty Bottle, a hole in the wall around Ukrainian Village. It's a bare bones venue with quirks – it's got a bar, some stools and chairs, four tables not including a pool table, and a couple arcade games. The bathroom stalls don't have locks, at least the one I used didn't. The space can maybe fit 300 people, and that's being generous. I don't know how bands perform there, but they do it somehow. Props to them. That said, it's a great space for a smaller-scale readings. The crowd there was a sizable one of at least 50 to 60 people that filled the space nicely so everybody had ample room to move about back and forth between the bar and the area near the stage.

The Empty Bottle also comes with the standard Old Style sign.
First up to perform under the blue moon lights of the stage was Tim Kinsella, introduced by Curbside Splendor Editor-in-Chief, Jacob Knabb as, "a guy with hair." Kinsella, an accomplished musician as much as he's an accomplished writer, read from his latest novel Let Go and Go On and On, a fictionalized account of cult actress Laurie Bird's life. The crowd shifted from the bar toward the stage as Kinsella began reading about cockfighting, the importance of giving a chicken a strong name, and how the chickens looked. (One looked like a "dimwitted cyclops bailiff" when looking at its profile.) Kinsella's reading of the piece was soft-spoken, modest, and bashful, not even reading from his book, but from sheets of paper (some published authors prefer to read off sheets of paper to give themselves the illusion their work is still in draft form). At some points his modesty got to be too much and I wished he took more ownership of his work, giving little quips like, "Oh man, this is the worst." At the same time, his modesty helped him connect to the audience in other quips like, "This is weird," which every person was thinking during his comparison of the chicken to a court bailiff. Weirder was the audience paying attention to anything having to do with cockfighting. Kinsella's poetics made cockfighting and chicken breeding sound interesting and, dare I say, damn classy.

Tim Kinsella, picture courtesy of ourstage.com
Megan Stielstra read from her upcoming essay collection Once I Was Cool. And now, a complain – when the hell is this book coming out? Jesus Christ, I've been going to these events in search of this damn book. Curbside Splendor's booth at AWP didn't have it. This event didn't have it. About 30% of my reason for going was to get my hands on this book. Come on, guys. You're killing me. What killed more than that was Megan's reading from the book. In the segment, she talks about waking up one morning, realizing she's officially an adult, then immediately buying tickets to "The Magic Flute" and digging to the bottom of a drawer for ecstasy a friend gave her "for an emergency, like I was going to Africa and these pills could fend off malaria." Stielstra delved into being high as a goddamn skyscraper in the symphony hall, only to run into her old college professor. An ethics professor. Who she had an affair with. The nature of the relationship is shown through lines about being stoned through the entirety of the relationship and sentences like, "We were always on top of sheets." Being one of the masterminds behind the series 2nd Story, it's no surprise her performance was powerful, allowing us to get stoned with her and laugh at orange juice cartons while also falling in lust with her ethics professor one moment, and cringing at his receding hairline the next. She led us through the mind of her 18-year-old self by way of dwelling her voice on the bombshells and running her voice past the weirdness and hilarity in a matter-of-fact kind of tone. My only complaint was her performance was too short.

Megan Stielstra, picture courtesy of Julie Sadowski
Chicago artist Tony Fitzpatrick grabbed the stage next. Those who are familiar with his artwork know of his fascination with birds and nudity, and he read about those things and more, beginning with his habit of waking up and watching the birds in his yard every morning. He informed us of the history of the starling, a bird brought over by the English (known to force other species of bird out of their homes), and endeared them to everybody when he stated, "Starlings are like Irish brothers – to win a fight, you gotta bring the whole family… To kick ass, you gotta bring ass." From there he spoke of doodling in grade school and high school, getting suspended ("Ouch. Boo hoo."), and how through drawing he learned to "drown out the noise." As he read, his art was projected on a white screen behind him, though all eyes were on him. The no-bullshit aroma that emanated from his reading was refreshing. It wasn't a performance in the normal sense as it pertains to the live lit scene around here, but it was straight up sittin' at a bar, shooting the shit over whiskey kind of storytelling, no frills about it. Just the facts, and why they matter.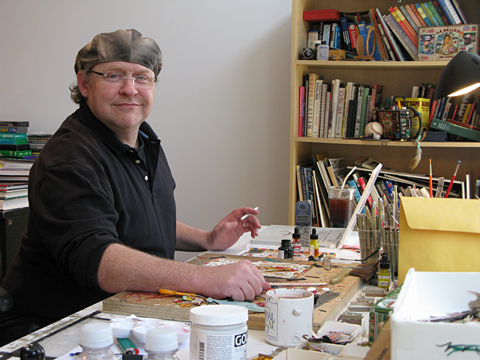 Tony Fitzpatrick, picture courtesy of artnet.com

Taking the stage in a low rider bike was Bill Hillmann, who wins major points for style. Knabb introduced him by telling of Hillmann's antics at AWP earlier this year, riding the same low-rider around the tradeshow floor and passing out fliers. ("They didn't know what to do with him there.") He read from his new novel The Old Neighborhood, a story of Joe Walsh, a teen who's fallen into the world of gangs, violence, and drugs. Hillmann took us through a night of Joe's life where a friend is shot near the sternum, blood "radiating" around him in a circle. Descriptions like those strike enough fear in people, but when spoken by Hillmann, they were outright dangerous. From the sound of gunfire to the journey toward the hospital, he read it from the seat of his low-rider with the idea of normalcy – this is how things go in the lives of these characters – that contributed to the rise in tension, not having to resort to any theatrics. There were a few slip-ups here and there, but overall it was an honest performance. Our breaths were caught in our throats the whole time, and those final lines, "I'm gonna kill somebody… I'm gonna kill somebody… I'm gonna kill somebody…" are still knocking around my head.

Bill Hillmann

The final reader of the night was Scottish author Irvine Welsh, famed author of Trainspotting, Ecstasy, and Filth, all of which have been adapted into the films, the first having been nominated for an Academy Award and the last having won James McAvoy the Empire Award and BIFA Award for Best Actor. In celebration of Filth's stateside release in theaters, he read from the book a section where Bruce Robertson and his sort of friend Clifford Blades, who he affectionately calls "Bladesy," have a night on the town drinking, talk shit about a Bohemian they see on the street, "A spungent, alcoholic, jakey cunt," (Welsh informed us that a "jakey" is a Scottish punk), and then discuss Bladesy's marital problems, which Bruce says can be solved through sex – "Keep [women] well-fucked and they'll do anything for you." The segment showcased the characters' personalities, so we gathered that Bladesy is a doormat and Bruce is an unstable, misogynist we love to hate, and Welsh performed it beautifully in his subtle, understated way that makes every "fuck" and "cunt" that much more potent.

Irvine Welsh, picture courtesy of Lit Reactor

After the readings, the trailer for Filth was shown and then the featured bands performed to end the night in a rollicking fashion. The stories and performances were great, there were arcade games, and the drink prices weren't so bad. Only criticism of the night as a whole is that Megan Stielstra's book isn't available yet, and I won't stop complaining until it's in my hands.
Lisa Mrock is a born-and-raised Chicagoan who likes eating unhealthy food. She is currently sitting on her bed listening to Kanye West. Find more of her work at The Something Blog.