By David Schuster
The timing was too delicious to pass up. I was just coming from the Vinnie Del Negro firing press conference and I had time to kill before a Sox game so I decided to take in "Death At A Funeral." Honestly, I'm not sure which was more boring, the press conference or the movie. And both were on par as far as length, each checking in at about ninety minutes.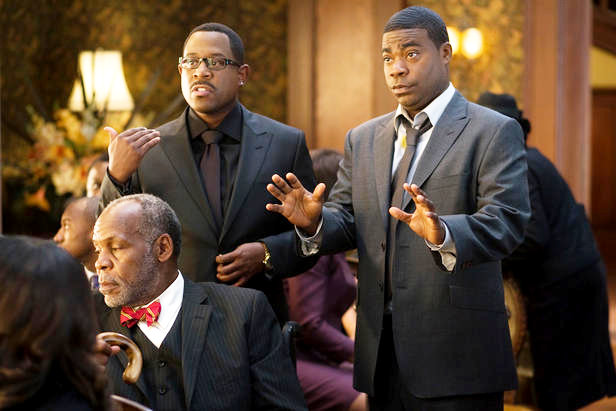 Once again if you saw the trailer to this particular movie then you saw all the funny moments. The rest of the flick was an exercise in a large cast pretty much preening for the camera.
"Death At A Funeral" is a comedy about a man who passes away and the two sons have the funeral at their home. Chris Rock and Martin Lawrence are the brothers who both have writing in common. Lawrence does it professionally and Rock does it as a hobby. The other thing that they have in common in this movie is that neither is the least bit funny. If I go to see Rock and Lawrence in the theater then I want what they both do best and that's dirty humor. I've been to a concert with Rock and he can dish it up as good as anybody. However in this dribble remake he is refrained and actually plays the most serious character in the cast.
Even at an hour and a half the movie drags on with one (supposed) slap stick misadventure after another before they finally get around to the funeral itself.
Danny Glover and Luke Wilson are both incredibly miscast ,but I'm sure
they'll thank their agents for the easy money. And here was another
sighting of Tracy Morgan in this movie and on my scorecard he is still
batting zero in the humor department. Is this guy ever funny? And you
know when a movie has bottomed out on any material when they resort to
(pun intended) potty humor. They actually spend about ten minutes on a
scene in the bathroom that is beyond tasteless and, worse yet, not even
funny.
So if you're thinking about going out and seeing a movie to try and give
your laugh bone a workout you might want to pass on this nonsense. That
is unless you're coming from a boring press conference like I was.
Rating: a weak single – one star for "Death At A Funeral"