It's a little bit like a first date, meeting a cast for the first time. I remember the same butterflies in my stomach, the same giddy, anxious, excited feeling as LTYM Chicago 2015.
Except unlike a first date, where all you have is small talk and googly eyes and a thin façade of the person you want to be, you don't have that at the first rehearsal for Listen to Your Mother.
On our first date, we shared our hearts and souls.
Which for me meant revealing, once again, to a room full of almost strangers, that I'm the parent of a transgender child. Would they accept and support me? Would they understand the discrimination, hatred and judgement that I risked, every time I stood in front of an audience and talked about my child? Would they open their hearts to me and my family, even if their faith or beliefs or knowledge might hold them back? Would they stand on my side, if lines were drawn?
I listened, intently, as they shared their stories. Stories about mothers and children, miracles and heartbreak. Stories about having patience and losing patience, holding on and letting go. I wept with them and I laughed with them and I hung on their every word.
Because every word was the story of their lives. Their triumphs and their joys, their wins and their losses. Every sentence wove together to create a tapestry as rich and beautiful as the lives of these women. And every woman there was radiant and beautiful.
From the moment each woman took to the stage to open her heart to us, I knew, without reservation, that I loved her. As I watched their lives unfold before that podium, I realized that I was far from the only one risking everything.
We all risked rejection and contempt. We all risked censure and judgement. Yet, like moths drawn to the flame, we risked it anyway.
And that made me love them all the more fiercely.
By the time I stood before them to share my story, the idea that they would reject me no longer mattered because now they were a part of me, and me of them, in a way that could never be undone. We had now touched each other's lives.
That's what sharing stories does for people.
Maybe they wouldn't understand the decisions, the sometimes very hard and difficult decisions that I've had to make as a mother. Maybe they would disagree, on principle or faith. Maybe they've never met a mom like me with a child like mine.
But they listened.
They listened and they let themselves be changed, because of it.
In a few short weeks, I'll have the honor of sharing a stage with these amazing, talented, dignified and graceful women. I'll have the fortune of being a part of their story, and the joy of including them in mine.
I couldn't be prouder to call myself a cast member of Listen to Your Mother St. Louis 2016. I was on a first date with my best friends.
And I can't wait for our second one.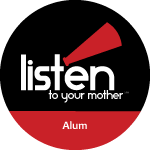 Interested in learning more about my son? Read Portrait of a Transgender Child.  You can read my latest post here: Transgender Day of Visibility 2016
I'd love to hear your story. Please email me at affirmedmom@gmail.com if you want to share.
 If you like what you've read, don't be shy about hitting the Share button and following me on Facebook at Affirmed Mom or follow me on Twitter @affirmedmom.
Type your email address in the box and click the "create subscription" button. Don't forget to wait for the confirmation email. My list is completely spam free, and you can opt out at any time.