I've been remiss in mentioning this and it's coming up this weekend, Saturday, January 21, 2012 from 9 A.M to 4:30 P.M.
The Illinois Smallmouth Alliance is putting on a Fly Tying and Fishing Show to be held at:
St. Charles Borromeo Church
Holy Family School
145 E. Grand Ave.
Bensenville, IL 60106
Click on this for a map of the location.
If you're into fly fishing and fly tying and you don't have the budget to skip town to Colorado, Montana, Patagonia or New Zealand, it might be worth checking this out. Their handout says that it will have a Midwest focus.
I found an announcement for the show on the Northern Illinois Fly Tyers website, so click on their name to take you to the announcement.
I've noticed a growing interest in fly fishing our local waters and there are some names on the show list that would make it worth stopping by.
My friend Bob Long, Jr. will be there and it's well worth your time to strike up a conversation with him.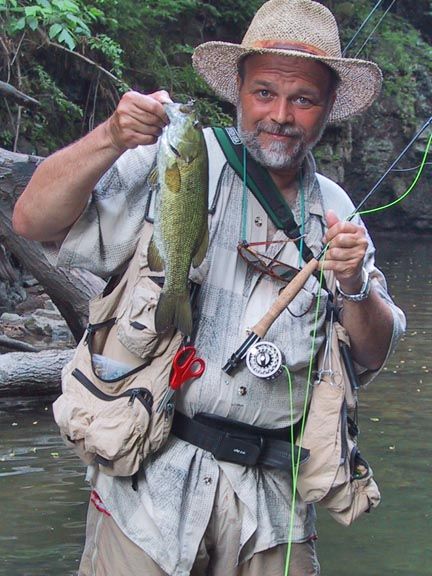 A couple of guides I've been paying attention to, Dustan Harley and Austin Adduci, will be on hand.
There will also be daylong fly tying demonstrations. Two tyers mentioned that I know are Rich McElligott and Bob Davenport. Rich ties some flies that I find especially intriguing and Bob was a long time employee of the former One More Cast Fly Shop, whose reputation around here under the ownership of Joseph Meyer speaks for itself.
It's not mentioned anywhere, but I believe this whole event was organized by John Loebach of the ISA. Would be worth your while to track him down at the show and strike up a conversation about fly fishing our local rivers.
Admission to the event is $10 and kids under 10 are free.
Filed under: Announcements, The Fishing Stories
Tags: austin adduci, bob davenport, bob long jr, dustan harley, fish the dupage, fish the fox, fly fishing, fly tying, fox river fishing, illinois Fly tying and fishing show, Illinois smallmouth alliance, joseph meyer, ken gortowski, one more cast, rich mcelligott, waterdog journal