No, I'm not going to write much about either of those, I think, other than the Autumnal Equinox happened on Friday, September 23rd.
I guess this is more of a fishing report, we'll see where it goes.
To celebrate the Autumnal Equinox, us pagans celebrate things like this, I went fishing, drank three beers one night instead of two and spent as much time outdoors as possible over the past week.
Which is what I prefer.
On the 23rd itself, I stood in the middle of a set of riffles with arms outstretched. You don't see it, but the riffles always create a bit of a mist. In that mist are scores of negative ions and I wanted to absorb as many of them as possible.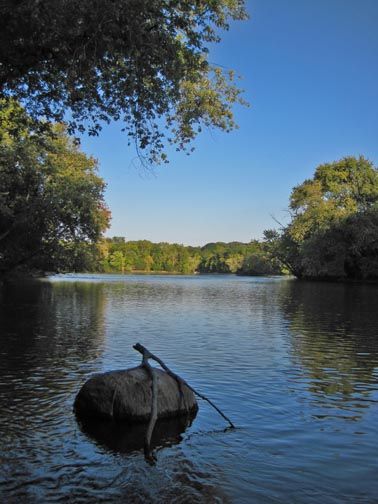 I laughed, I waved my arms to catch more of them, did a little dance and plunged my hands into the swift water and let them soak. I could see people slowing down on the bike path to watch me. I waved, I laughed, I waved them over to join me.
That didn't work.
______________
My two week hiatus from work is over, the economic damage has been done and it will take a good month to recover, but I couldn't have asked for a better time to have the time to be out on the Fox River.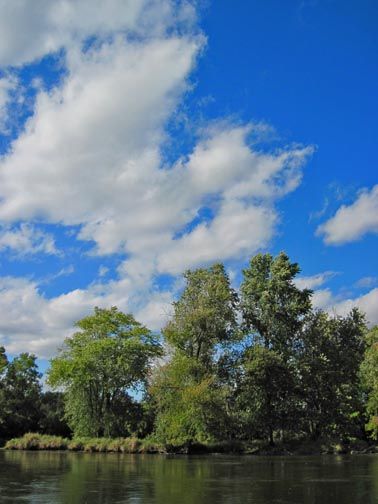 The smallmouth bass bite has been the best I've seen since the flood of August, 2008.
This past week I was only able to get out a couple of times, but I guess 5 hours each time makes up for the lack of days on the water.
The past weekend was spent manning the booth for Heartland Outdoors Magazine at the Northern Illinois Hunting and Fishing Days. Two days of hanging around outside and enjoying the company of other avid anglers and hunters.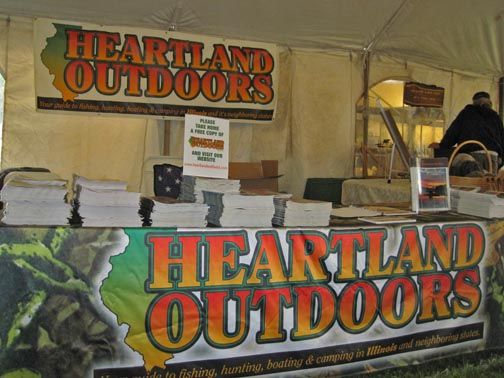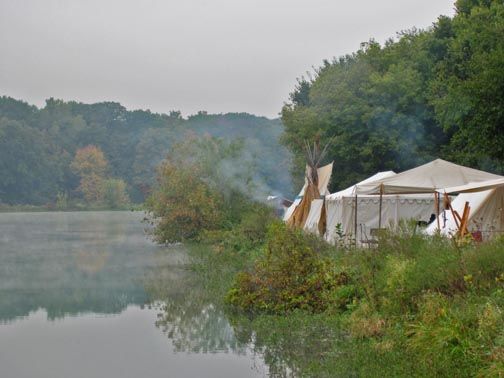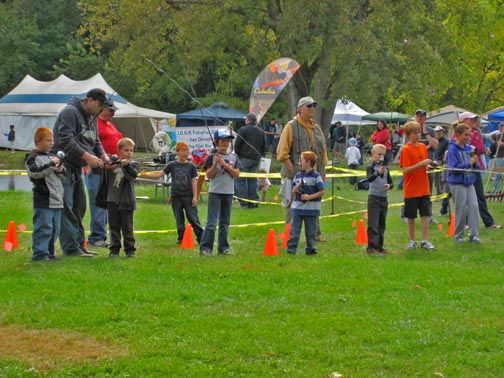 The trip home was a sure sign of the Autumnal Equinox. Crisp, rain threatening skies and the endless fields of soybeans slowly drying.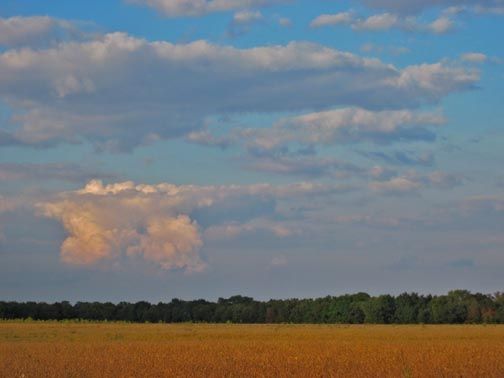 ____________
Started out last Wednesday fishing the south shore of one stretch of the Fox for over a half mile. This was a smart move.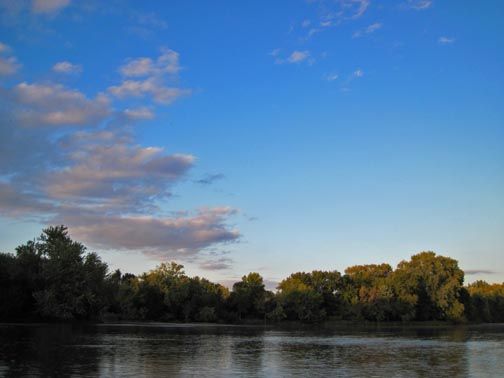 Wound up catching 44 fish and missing another 46. One of the 44 caught was still another white bass.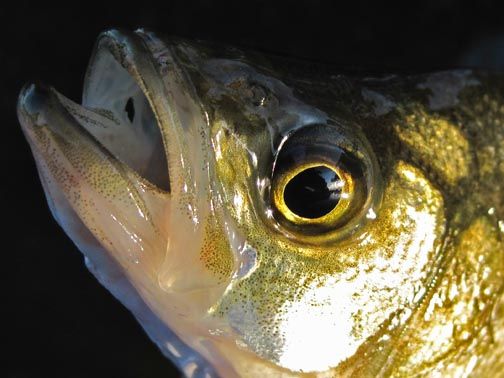 Over the years I've been able to determine what kind of fish I'm tying into by the type of bite I'm experiencing. At one point I knew I was into a school of white bass. That's where the one came from.
Odd part is that in the 12 years of fishing this 7.5 mile stretch of river, I don't recall ever catching a white bass. In the past month I've caught one almost every outing. I've caught white bass in the stretches between all of the other dams, but never between Montgomery and Yorkville.
But then, now they have a way up here. The kayak chute in Yorkville. No more dam to prevent fish from migrating up stream. They still have to put up with the crap water in the pool above the dam for a good mile and a half, but it doesn't seem to stop them from going further up.
Another bonus is a couple of other species. While fishing the same stretch the day before I had a clean bite off. That means fish with teeth. One of the land owners I talk to on a regular basis told me recently that he has been catching more pike and walleye than ever before. In this stretch, I've never caught either.
This could be good for the future.
I'm not picky about fish size and the fish caught this day ranged from a hungry four incher to one that probably topped out a bit over 18 inches.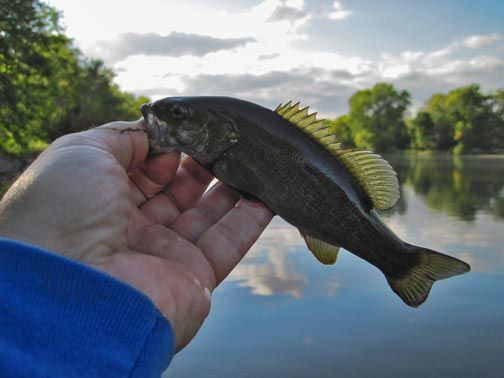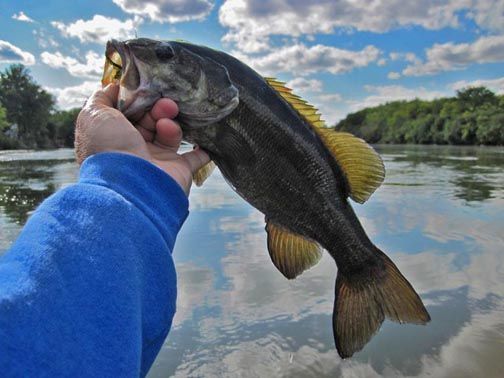 And everything in between.
I used to measure and document every fish I caught years ago, but I gathered all the data I need and now I just catch fish.
_______________
Friday I made a huge mistake. I decided to go fish a more urban stretch of the river. Within 20 minutes the noise of Route 25 along the river was driving me nuts, but I kept fishing.
A couple of hours later, my neck hurt, my shoulders were tight and my ears wouldn't stop ringing. I caught 16 smallies and missed another 14, but it wasn't worth it. Ended the trip with an hour of daylight left. I never do that. Far too much noise. I'm spoiled by the quiet I've surrounded myself with. There's a good chance I won't be going back to that stretch any time soon in spite of the fish.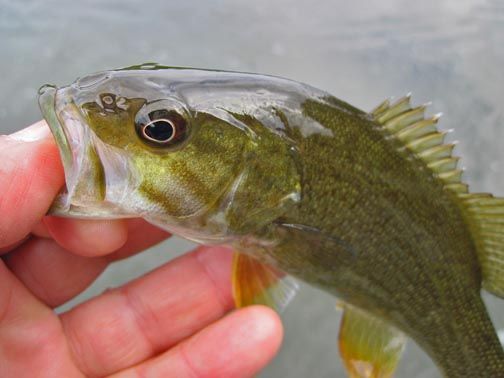 I still find what I think are interesting things to photograph even if my surroundings annoy me. I focus on the beautiful, hopefully. The small stretches where, with a little stretch of the imagination and the right camera angle, man doesn't tread. Some times that works.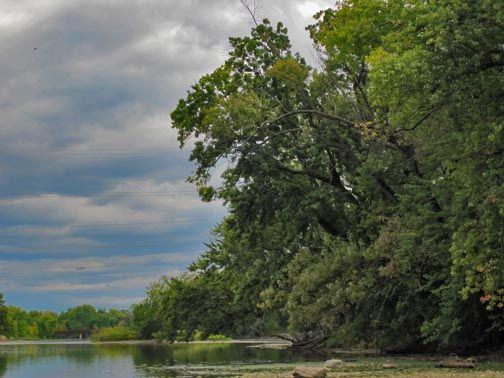 I wandered onto an island before leaving. I've been recording the remnants of an old house and a car that I first came across almost 10 years ago. Every year they get a little more run down. I've heard numerous stories over the years of people that once lived on many of the islands down this way. Would be a treat for me.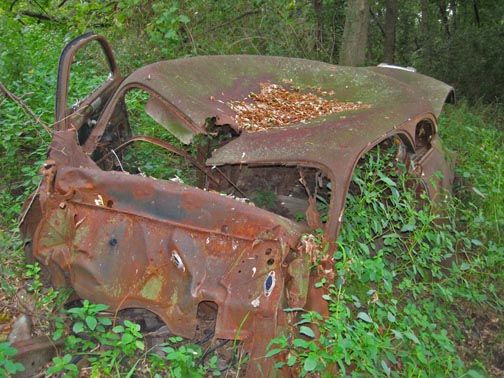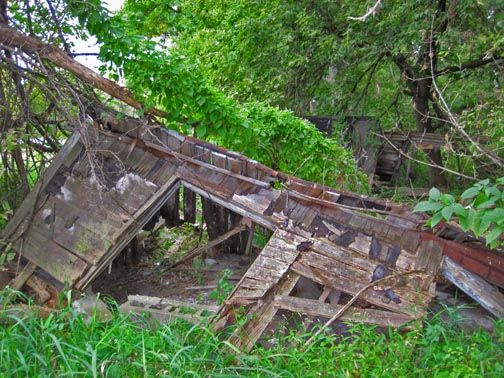 _________________
All up and down the river things are starting to change quickly.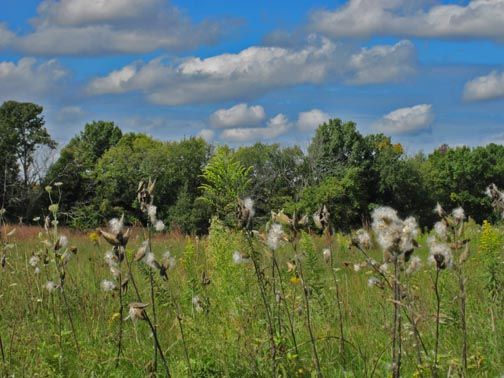 Every day more colors show up on the different maples. The reds of the sugar and norways, the golds of the silvers.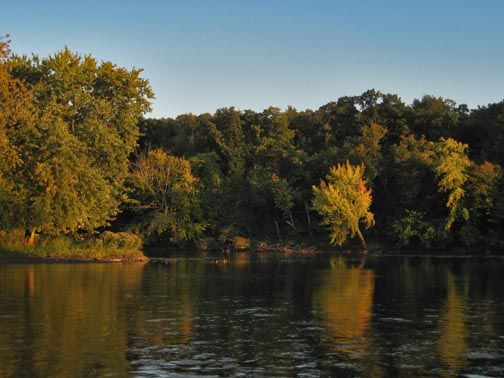 One of the most beautiful and one of the first to turn bright red is the Virginia Creeper, a vine of all things.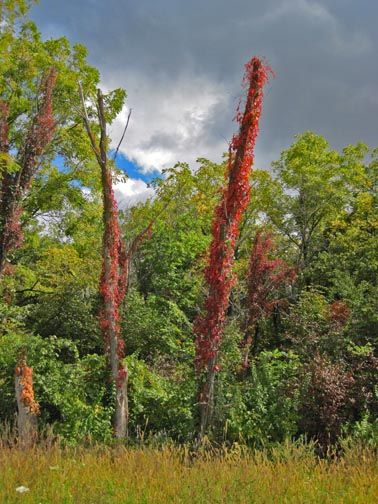 The next two weeks things will be changing quickly. You have to get out, go for a stroll. Everyone thinks you have to travel to do that. There's a good chance there are long stretches of woods along rivers right near where you live. You just have to go look.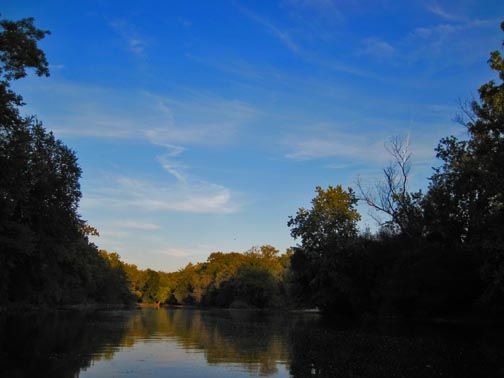 ____________________
As I write this Monday night, we've had nothing but rain for the past 18 hours. The river went from flowing at 400 cfs, which is low, to 1940 cfs, which is that borderline point. I can't tell anglers to go out wading now. The experienced could, but not so much the others. I go out in water at this level all the time and don't think twice about it, but I'm not all that terribly bright when it comes to that and you shouldn't do what I do.
Problem is, they're calling for a couple more days of rain.
With the amount of fish I've been catching you would think at high water they would all be pushed along the shore. This could be a good thing. You may not have to get your feet wet. Walk the shore and fish tight to it and they just might be there.
The coming week is going to be a crap shoot and you really won't know what to do till the rain stops. The river could drop fast or just sit there. Hopefully I'll get the time to find out for myself where all the fish go.
All depends on whether or not they make me work the weekend.
_______
I'm finishing this write up Tuesday night.
During the day Tuesday the rain had already become erratic at best. First thing this morning the Fox gauge in Montgomery read just shy of 2200 cfs. 8 PM and it's already dropped to 1880 cfs. The hit on the river level was no big deal and even though we may get spits of rain the next couple of days, I don't think it's going to amount to much.
Down Yorkville way the clarity didn't look all that bad.
Looks like I'll be lucky to get out over the weekend. I'm sure I'll be able to free up a couple of hours, I better.
This could be good and there's only one way to find out.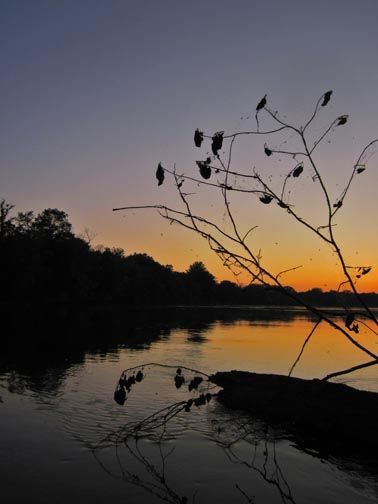 __
Filed under: Fox River, Just Stories, The Fishing Stories, Wandering
Tags: autumnal equinox, end of summer, fall colors, fish the fox, fox river fishing, heartland outdoors magazine, ken g, ken gortowski, Northern Illinois Hunting and Fishing Days, silver springs state park, summer, sunset, waterdog, waterdog journal