I was able to get out fishing on Friday and at 6:30 PM I found myself wading the Fox River in North Aurora. The last few hours of the day are my favorite time to be in the water. If I fished till dark, I would have over two hours of fishing under my belt. Perfect way to end the day.
Forty five minutes later I was done. The sweat was pouring down me so bad, down into my waders, that I thought I had pissed on myself.
To make matters worse, violent storms had been tracking through the area all day. They were mainly staying just to the north. I had heard that one of the storms may have dumped 6 inches of rain further up stream. It all had to flow down stream sooner or later.
While I was out there for that brief time, I could see the water level rising. A bare set of rocks on the river bottom when I started was now covered with a couple of inches of water. It's very disconcerting to be standing out in the middle of the river while it's rising. I know too well how fast the river can come up. I didn't care to find out whether or not I was going to make it back to shore if I stuck around just a little too long.
I did manage to catch one dink smallmouth for my troubles.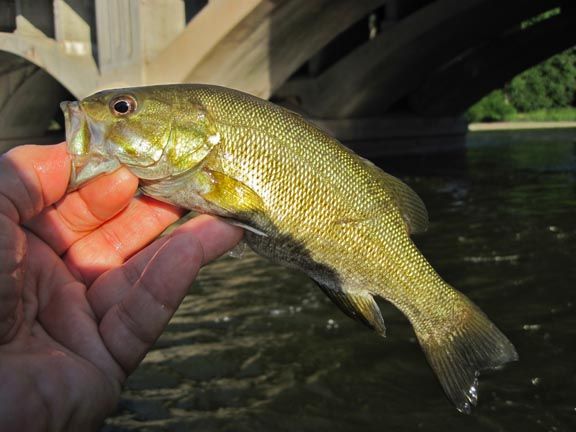 By Saturday afternoon more storms had come through, all of them north of where I am in Yorkville. Down here it drizzled, not enough rain to even get the ground wet underneath the trees. The river was now high, fast and muddy. The plan had been to go do some exploring of sections I've never waded before. It will have to go on the back burner again.
I had noticed that the bulk of the storms had missed the two small watersheds of the two small creeks near me that I like to fish. Of course I had to go check on them and they were in perfect condition. Came up a couple of inches, but were running crystal clear.
Rather than go fishing the last light of the day, my wife and I went caterpillar hunting at Silver Springs State Park. We found our first 3 monarch caterpillars of the year. Last year we raised well over 50 of them.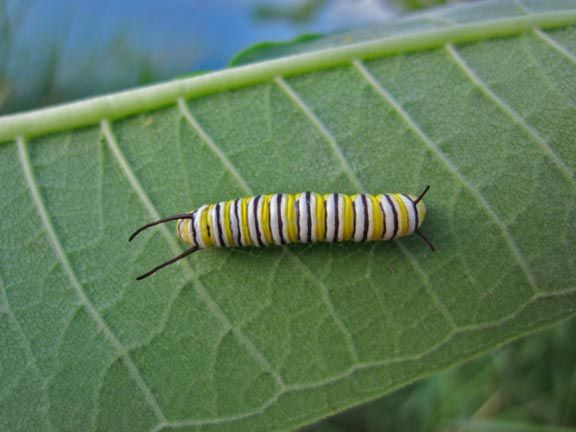 We also came across a slew of white furry caterpillars that loved chowing down on milkweed leaves as much as the monarchs. We brought a number of them home to see what happens. Distant vague memories tell me that furry caterpillars tend to turn into moths. This could be interesting.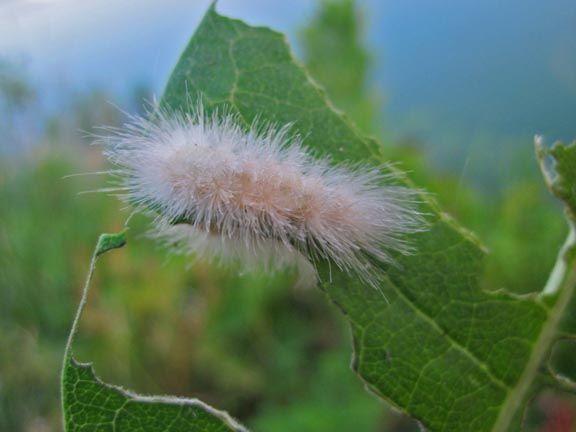 One other caterpillar was found, but it blended in well with it's surroundings and looked so intimidating, that I decided to leave well enough alone.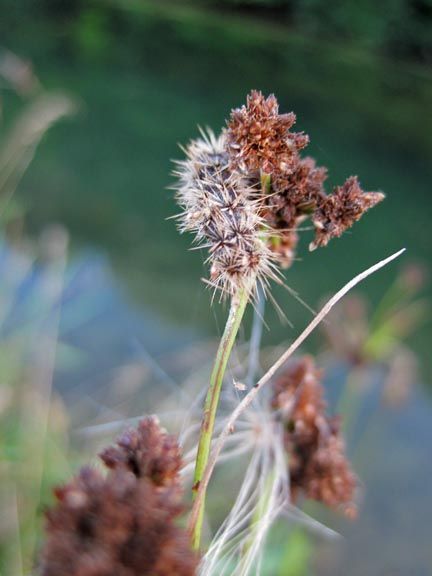 Around 11 PM Saturday night a very small violent storm blew up directly over the two small watersheds of the two small creeks I like to fish. Lightning flashes could be seen off to the north. A quick check of The Weather Channel showed storms appearing out of nowhere directly to the north of me. Not a good thing. Hopefully the ground would suck up that small amount.
I was up before sunrise for the possibility of fishing one of the creeks. Out on my picnic table was a 6 inch tumbler. It now had an inch of water in the bottom. Not a good sign.
As a just in case I stopped at an old abandoned bridge that crosses the creek far downstream from where I wanted to fish. Why drive further if things were no longer perfect.
Things were far from perfect. They must have had a lot more rain just a little further north. The creek was much higher and had turned to mud, unfishable.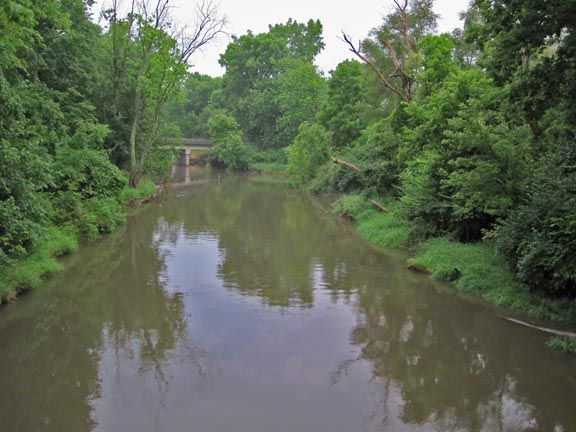 I had checked the radar before leaving the house. Two storms were converging to form one huge one and I only had about an hour and a half before it started blowing through. I considered going to a nearby fishing spot, but decided that fishing mud wasn't all that appealing.
I hung out around the bridge for awhile. Wandered off down the little road that once was the purpose for the bridge.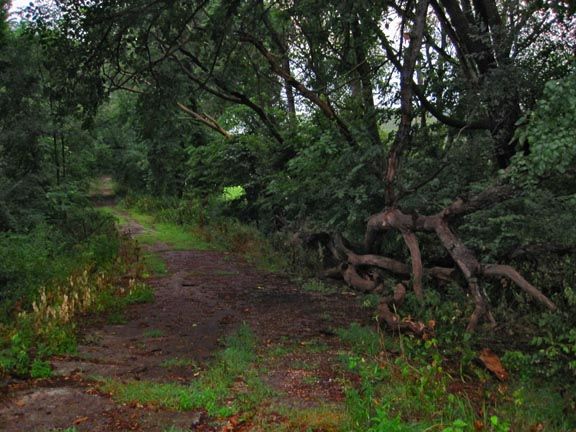 Back in my artist days these old bridge structures were an attraction. I did a few pieces a long time ago made of concrete, wood and rope. Then I would put them out in the open and let them rot away.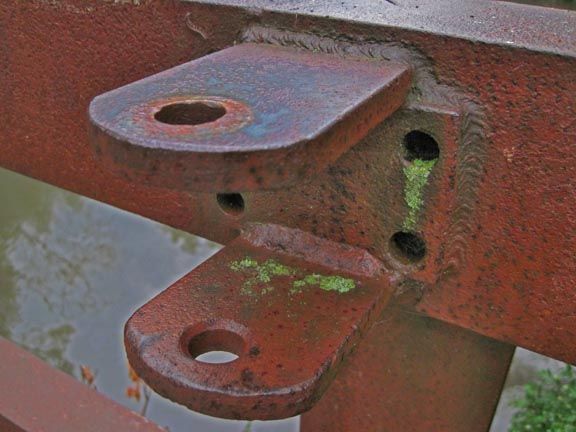 I'd like to see the Picasso face in downtown Chicago left to rot away. The surrounding buildings made of the same steel are meant to last 75 years. They can all go at once.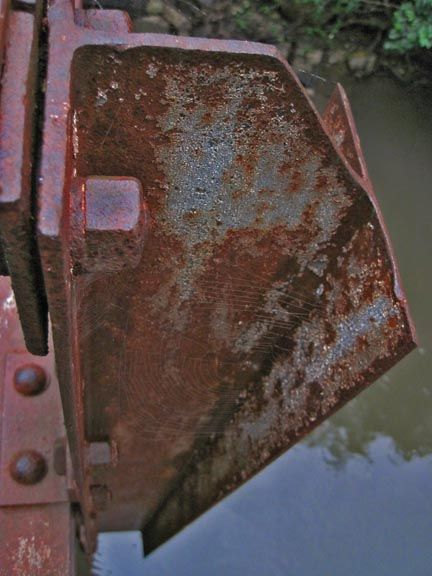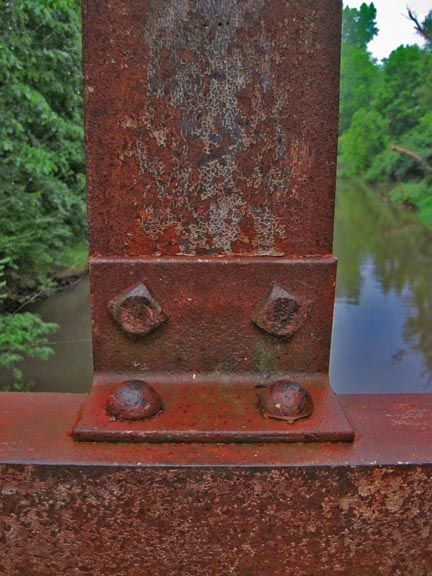 There was no point in going home, may as well watch a storm blow through.
Back at Silver Springs I sat on a bench facing west. Clouds were swirling over head from all directions. A black squall line was off in the distance trying to get through. I sat it out till the lightning was hitting a little too close for comfort.
Back at home I sat just inside the garage with the big door open. Perfect seat facing north. Before the rain started I had emptied the tumbler.
Two hours later I measured 4.5 inches of water in the tumbler.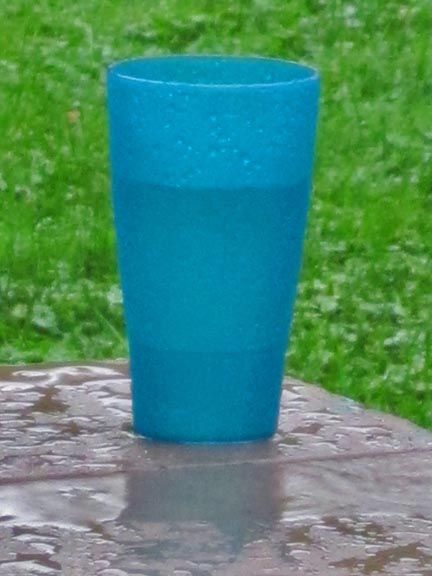 It had come down in buckets with an excellent light show. For an encore, the storm dropped half of my neighbors tree on his front lawn. I don't know if trees don't make noise when they fall in the forest and no one is around to hear it, but they make one hell of a noise when you're standing only 100 feet away and you watch it come down.
This storm also broke the water gauge in Montgomery. It's been stuck at the same spot since Sunday morning so there's no way of knowing how much the river came up.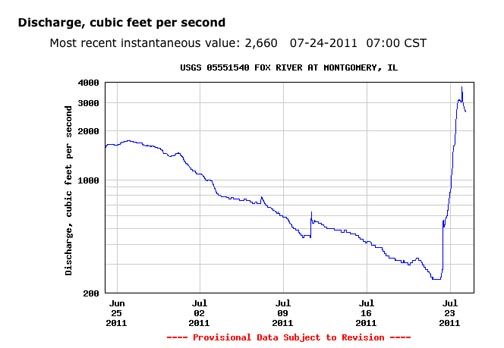 The gauge up in Elgin shows the river flowing just shy of 3200 cfs. Down in Montgomery it tends to flow a little faster.
Tuesday after work I thought I would stop to fish. Before putting on my waders I wandered down the steep bluff to the rivers' edge. Definitely still high, fast and muddy and I decided I wanted no part of it. Less than a week earlier the river was at the lowest point I had seen it since 2005. I had just waded all over this section of the river with no regard to water depths. I had no interest in wading just a few feet out from shore. I knew I could catch a few fish, but I was tired of fishing like that. I could wait. Water has to come down sooner or later.
_________
The two little creeks near me that I like to fish don't have USGS gauges on them. They have to be checked visually. Based on the speed at which other waters are coming down, I can make a pretty good guess on how they look. It's 10:30 PM Tuesday as I finish this. I have a flashlight in the car. The spot where I make my visual check of the creeks is only 8 minutes away. I can be there and back before I finish one of my cheap crap cigars.
I've estimated that I can get to one of the creeks after work before 7 PM. That leaves over an hour and a half for fishing. Just enough time to cover about a quarter mile. This is starting to sound like a plan for Wednesday evening, isn't it.
Filed under: Fox River, The Fishing Stories
Tags: art, bridges, caterpillars, creek fishing, fish the fox, fox river fishing, hectic schedules, high fast and muddy, ken g, ken gortowski, monarchs, storms, summer, wadauwant, waterdog, waterdog journal