I am still in shock.  This last Tuesday night I received an email I never thought I would get.  Chalk this one up to total self doubt, but to my surprise I am happy to announce that I am joining the cast of this year's Listen to Your Mother production here in Chicago.
YAY!
To say I was excited is an understatement.  My head was spinning.  I was giddy as a little girl.
Now if you don't know what Listen to Your Mother (LTYM) is all about, much like I was until last year, LTYM is an amazing collection of women and men all reading their own personal stories in front of a live audience and all the stories have one common thread.  All these stories depict one of the infinite aspects of the treasured institution of motherhood.
Each of the 32 LTYM productions across the country also helps raise money for local causes.  One of the reasons I wanted to be part of this years cast is their connection with Recovery on Water (ROW).
"ROW is a rowing team that gives survivors of breast cancer the unique opportunity to interact, become active in their recovery and gain support from fellow survivors." Recoveryonwater.org
My life and the lives of my kids have been touched dramatically by breast cancer.  Anything I can do to help women in this time in their lives - I am all in.
Now to say I wasn't nervous going into the audition would be a lie.  I really wasn't nervous until I walked into the room to do my reading.  The room was fairly bare with only a table and the two co-producers of the Chicago production, Melisa Wells and Tracey Becker.  As much as their genuinely friendly smiles put me at ease, I was still out of my element.
I have performed on stage at the Laugh Factory.  I have taught everything from CPR, to training new paramedics to teaching about how to frame your own artwork.  You get me started on any number of subjects I can talk for hours.  But reading in front of someone was totally new to me and my nervousness took me off guard.
Seeing my friend Kim Dale there for her own audition did help ease my nerves just a bit.  I also knew that several of my friends were also going to be there and probably going to be going through some of the same emotions I was experiencing.
Part of my nerves came also from sharing that I am transgender.  You might think that I write about my experiences being transgender all the time and how difficult could it be, but this was different.  I am always nervous when I share that part of my life in person.  Granted that Tracey and Melisa had already read my essay, but I was still nervous.
All those nerves got the best of me and after the audition I started Monday morning quarterbacking.  I questioned myself endlessly.  Could I have rehearsed more?  Was my story too diverse from what they might be looking for?  Would I personally fit with the production?
Well as I said, I was surprised Tuesday night when I got the email telling I was chosen to be part of this years cast.  I was also glad to see that I will have fellow ChicagoNow bloggers and dear friends, Crystal Intini, Julie Vassilatos and Kim Dale, to share the stage with.
The next step is the rehearsal process and the opportunity to meet and get to know each of the other writers.  After reading many of their personal blogs, I can't not wait to hear the the stories they will be sharing.
Now if you want to know something about my essay, you'll just have to stay tuned or come May 4th and hear all the great essays and support a great cause.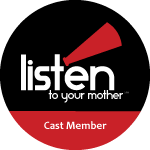 You can order your tickets here
If you would like to follow me, you can find me on Facebook at Trans Girl at the Cross and at Twitter @Megganrenee
Want More? Receive updates right in your email box. It's free and will never be used for spam. I don't roll that way.
Type your email address in the box and click the "create subscription" button. You can opt out at any time.