How much do fathers matter?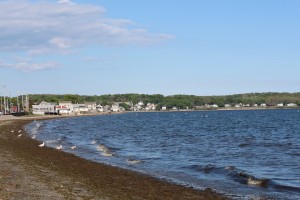 Did you ever ponder this question?
As Father's Day approaches and more and more stories appear on my screen about fatherhood, I am thrown into moments of thoughtful memories.
All of these anecdotes force me to wonder if my father would ever have written down his thoughts about being a dad. I wonder if he pondered upon the thought of whether fathers matter or if in fact he mattered.
For many years, he did enjoy writing long missives to me on legal yellow paper, usually filled with so many printed words that the sight of yellow legal paper would make me sick to my stomach. It still does...somewhat of a PTSD reaction. It was that kind of relationship with my dad, me and yellow legal pads.
A child of divorce, my two parent home was made up of my mother and grandmother, so I essentially had two moms to look after me and I loved it.
As the baby of the family, (my brother was 12 years older) I was doted upon and felt beloved...just a tad spoiled. My grandmother was always home and my mom worked. For sometime, she had two jobs and I only saw her at breakfast before I left for school. She traveled into NYC and I went in the opposite direction on the train to Marymount Academy, a private exclusive girls prep in Tarrytown, N.Y.
If fathers matter then mine mattered on the weekend, which is when he and I shared time.  In court, my brother chose not to visit with him but I had to go with my father each Saturday to visit my grandparents and sit around being bored while everyone spoke or argued in Italian. If you ever watched the Sopranos, dinner at my grandparents was like Sunday with Tony at the table...there was a lot of loud talking and arguing. Such a contrast to my life with my Irish grandmother and mom!
Remembering my young years, these father-daughter visits cause me to smile amidst the sad melancholy feelings. I always knew and understood that my life was not the same as my cousins and friends, whose parents were not divorced. I longed for a "Father's Knows Best" home. But as I would learn after many years, there would be no Robert Young coming in the door of a house on a perfect street asking me how my day was at school or calling me "Kitten".There would be no serious conversations about the meaningful stuff of a child's life or tucking into bed after a story or two. Those would not be my memories.
However, there would be visits to my dad's office in Brooklyn, skating at Rockefeller Center and eating at many fine restaurants in NYC. He always took me to his favorites, of which there were many, where he knew every maitre'd by name. Those were special times where I would be served "kiddie cocktails" and my favorite desserts.
My forever favorite "date" with my dad was going to the beach. In the summer, we would be regulars at Jones Beach. He loved West End, it was not as crowded and he would always hang red shorts on our umbrella so I would not get lost among the many blankets and towels that made a mosaic on the sand.
Little did he know, that I longed to join some of the other families, who were enjoying sand castle creations and picnics. Although I was lonesome, I grew to love the long afternoon shadows on the sandy beach and the smells and sound of the tide. I always took solo walks swishing my toes and looking for the perfect shell to take home and show my mom.
The "gift of the sea" was given to me by my dad. I am forever grateful to him for sharing this love with me...it has helped me through many a difficult time in my life. I will always return to the sea for my dose of peace and mindfulness as needed.
Sadly, as I grew into adulthood and my father grew into old age, we became estranged from each other for many reasons that seemed inevitable as I look back.
I changed and he changed...we did not ever have a grown-up closeness like the kind of bond I enjoyed with my mother and grandmother. As my independence grew and as I expressed myself in the world as I knew it, he became impatient and angry with me. We would never be the father daughter on the beach ever again.
He would continue to enjoy the sea till the end of his life on the west coast of Florida and I would continue to enjoy my love of the sea on Martha's Vineyard.
Today many years after my father death...his love for the ocean and the sea has remained alive through the marvelous loop of parenting that lives in my heart and the hearts of his grandchildren and now his great-grandchild.
This Father's Day my prayer for my dad is this "May he always be enjoying the everlasting sounds of the sea in warmth of God's Light".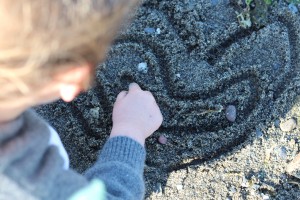 He mattered to me as my father and I know when I hear the ocean waves he is there at my side listening to that same beautiful peaceful sound.
Fathers Matter!