If you love beer, or love someone who loves beer, or you both love beer, there should be a place here for you!
Through February 14

Lobster Fist
Poor Phil's Shell Bar, 139 S. Marion St., Oak Park, IL (708) 848-0871
We are proud to announce this year's collaboration with Revolution Brewing for Lobster Fist! 2/5-2/14 we will have specials on lobster, lobster rolls, snow crab legs, and of course, plenty of Revolution beer on draft!
Friday, February 13
Valentine's Day Sausage Fest
Links Taproom, 1559 N. Milwaukee Ave, Chicago (773) 360-7692
Make your Valentine's Day plans extra romantic with a Sausage Fest. Links Taproom is showing their softer side with a weekend long celebration. Dine on a specialty Valentine's Day Meat and Cheese Platter and as always, sausages galore! Satisfy your sweet tooth with a Valentine's Day themed brew. No reservations needed. Just come on in, pull up a stool and maybe meet the man/woman/beer of your dreams.
Complete List of Valentine's Day Draft Offerings at Links Taproom
3:00 pm ♦ Quit Stalin… Be Mein!
Local Option, 1102 W. Webster Ave., Chicago (773) 348-2008
Come celebrate the romantic occasion at Local Option:
Featured Drafts (More TBA):
Brouwerij Boon Kriek
Goose Island Beer Co. Vanilla Rye, Bourbon County Stout,  Backyard Rye
Half Acre Beer Co. Quakerbridge
Hoppin' Frog BORIS, DORIS, Café BORIS
Three Floyds Brewing Co. / Mikkeller Majsgoop
Three Floyds/Half Acre Anicca
4:00 - 7:00 pm ♦ Beer Sampling at Kenwood Liquors
Kenwood Liquors, 12037 W. 159th St., Homer Glen, IL (708) 590-8210
Abita, Founders, and Lucky Buddha
6:30 - 7:30 pm ♦ Meet Werk Force!
Sovereign Restaurant, 24205 W Lockport St, Plainfield, IL (815) 556-8577
Brandon Wright, Owner and Head Brewer of Werk Force Brewing will be here to answer questions, hang out and dissect/fuss over his beer!!! He will also be pouring his biggest fans Ultra Premium Super Mild from a cask on our beer engine!!
OATYLOCHS (Golden Scottish Ale) will also be on the Sovereign taps.
Please come out and show your support for this AMAZING local, Plainfield brewer!!
7:00 pm - 1:00 am ♦ Mardi Gras Chicago at Moxee
Moxee Kitchen & Mad Mouse Brewery, 724 W. Maxwell St., Chicago (312) 243-3660
Celebrate Mardi Gras in Chicago at Moxee February 13 through Fat Tuesday, February 17. Amazing Cajun and Creole dining specials, handcrafted New Orleans and Mardi Gras cocktails, plus four, count 'em, 4 Mad Mouse brews now on tap! And what would Mardi Gras be like without live music? No Marid Gras at all! That's why Moxee's Mardi Gras has got Jacob Sander Jazz Combo on Friday, February 13 and on Fat Tuesday, Moxee is pleased to host the RED LINE BLUES OUTFIT, a six-piece rockin' blues band.
Dig into our three course Cajun-Creole Combo menu for only $24. Make your reservations today for Moxee's Mardi Gras Chicago celebration!
7:30 pm ♦ Press Your Luck on Friday the 13th
The Beer Bistro, 1061 W. Madison, Chicago & The Beer Bistro North, 1415 W. Fullerton, Chicago
We have two rare versions of Bell's Special Double Cream Stout you are going to want to "double down" on: Nitro draught and Cask. Press your luck on this Friday the thirteenth: beat the Bell's rep in Blackjack to win Bell's prizes. Double Down with Double Cream Stout!
Double IPA's for Single People (and Hoppy couples)
Jerry's - Wicker Park, 1938 W. Division, Chicago (773) 235-1006
Valentine's Day is adored by some, feared by others and reviled by many. At Jerry's we use it as our annual excuse to drink big, hoppy brews. February 14th. Double IPA's for Single People (and Hoppy Couples). When life's got you down, the Hop is here to sweep you off your feet. We'll try not to make you cry, but you shouldn't be so sensitive anyway.
The beers:
Sixpoint Brewery Resin, Half Acre Beer Co. Navaja, Surly Brewing Company Abrasive Ale, Victory Brewing Co. Hop Ranch, Three Floyds Brewing Co. Cimmerian Sabertooth Berserker
Saturday, February 14
Valentine's Day Festivities in the CUBE
"The CUBE" at Standard Market, Westmont & Naperville
Celebrate with your sweetheart, or solo, in the CUBE. Chocolate fondue will be flowing, and we'll have special menus in Westmont and Naperville.
The Westmont CUBE will feature a beer-blending station with Boulevard Chocolate Ale and Liefmans Cuvée Brut—a chocolate covered raspberry in a glass!
Beer and Cupcake Pairing
Lake Bluff Brewing Co., 16 E. Scranton Avenue, Lake Bluff, IL 224-544-5179
For Valentine's Day this year, we are hosting a beer and cupcakes pairing cupcakes and four of our favorite LB Brews or four of your choice! We will be matching our Velvet Hammer Imperial Robust Porter, Mike's Everyday Rye Amber, Derailleur IPA, and Black Squirrel Bourbon Stout with various and delicious cupcakes provided by Jolly Good Fellows! Please contact Pato@lbbrew.com if you are interested in this event!
Double IPA's for Single People (and Hoppy couples)
Jerry's - Andersonville, 5419 N. Clark St., Chicago (773) 796-3777
Valentine's Day is adored by some, feared by others and reviled by many. At Jerry's we use it as our annual excuse to drink big, hoppy brews. February 14th. Double IPA's for Single People (and Hoppy Couples). When life's got you down, the Hop is here to sweep you off your feet. We'll try not to make you cry, but you shouldn't be so sensitive anyway.
The beers:
Sixpoint Brewery Resin, Half Acre Beer Co. Navaja, Surly Brewing Company Abrasive Ale, Victory Brewing Co. Hop Ranch, Three Floyds Brewing Co. Cimmerian Sabertooth Berserker
10:00 - 11:00 am ♦ Ticket Sales for 2015 KBS Tap Room Release
Founders Brewing Co. Co., 235 Grandville Ave. SW, Grand Rapids, Michigan
More details from the Kentucky Breakfast Stout webpage.
"We will be selling this product in our taproom using a controlled five-day, pre-ticketed release, similar to previous releases. Tickets go on-sale Saturday, February 14, 2015 at 11am EST. At Eventbrite
Keep in mind, tickets for this event are in very high demand, and we expect tickets to sell out quickly.
Each ticket reserves the right to purchase up to TWO 4-packs of KBS (max of 8 bottles total), at $20 per 4-pack (tax and deposit are included), ONLY on the date specified on your ticket, and ONLY by the person listed on the ticket. All reserved KBS 4-packs are to be picked up at the brewery in Grand Rapids, MI during pick-up hours (Noon-9pm EST).
You may buy ONE ticket for ONE of the following days:
~DAY #1. Tuesday, March 10, 2015
~DAY #2. Wednesday, March 11, 2015
~DAY #3. Thursday, March 12, 2015
~DAY #4. Friday, March 13, 2015
~DAY #5. Saturday, March 14, 2015
By purchasing this ticket, you are securing your rights to purchase up to (2) 4-packs (8 bottles) of KBS, ONLY on the specific date listed on your ticket. All ticket holders for any given date are required to make their purchase only ON THE DATE listed on their ticket, IN PERSON, or will forfeit the opportunity. Refunds will not be issued for unused or lost tickets.
Any allotted bottles that are not purchased on their given date will be added to the reserve inventory, which will be released at a future unannounced date in our taproom.
Due to overwhelming feedback regarding the ability to reduce scalping, we have returned to the "Name Specific" tickets. Each ticket is assigned to the purchaser and CANNOT BE TRANSFERRED - NO EXCEPTIONS. If you are not sure if you are able to complete your purchase on the date specified on your ticket, do not purchase a ticket.
All proceeds from ticket sales will be contributed to the Grand Rapids White Water initiative.
There is a strict limit of one ticket per person for the entire five day release. Any tickets ordered with duplicate attendee names will not be honored and refunds will not be offered."
10:00 am - 11:00 am ♦ Voodoo Valentine's Day Party at Lottie's
Lottie's Pub, 1925 W. Cortland, Chicago (773) 489-0738
Valentine's Day falls on Mardi Gras weekend this year and Chicagoans who visit Lottie's on Valentine's Day will enjoy $15 Rogue Voodoo Doughnut (750 ml) as well as Mardi Gras specials including $5 20-ounce Hurricanes, $5 20-ounce Hand Grenades, $4 Abita pints and $7 Jambalaya. Lottie's will also give away free Voodoo dolls while supplies last.
10:30 am - 3:00 pm ♦ For Friends, Lovers, Loving Friends, & Friendly Lovers
Pizza Rustica, 3908 N. Sheridan Rd.,Chicago 773-404-8955
A Fun & Delicious Brunch/Lunch for Valentine's Day! Soups, Salads, Red Fruits & Chocolates w/your choice of our Prime Rib Carving Station or Fresh, Plump Oyster Bar; $30
North Shore Vodka Build-Your-Own Bottomless Bloody Mary Bar (with Lager topper!) or Bottomless Prosecco Mimosas, $15
Draft Craft Brews $5
North Shore Distillery Free Artisan Spirits Tasting 11am-1pm, plus Flex Pass Theater Ticket Giveaways (a $150 value) from Profiles Theatre & Theater Wit. Reservations: 773-404-8955
11:00 am - 3:00 pm ♦ Valentine's Day Beer Pairing Brunch
DryHop Brewers, 3155 N. Broadway Ave., Chicago (773-857-3155
Three courses, paired with DryHop beers. Prix Fixe menu is $24 with Beer Pairings, or $16 without. Check Dryhop's Facebook page for menu and further details.
11:30 am ♦ 2nd Annual Best of the Midwest Craft Beer Event!
Smokey Barque BBQ, 20 W. Kansas St., Frankfort, IL (815) 277-2502
18 Handles of Craft Beer Goodness, including Three Floyds, Founders, Greenbush, Revolution, and Goose Island. Live Music by Big Wig Mechanic. Caribbean Food Specials (Plus Our Regular Menu). For Reservations Call: (815) 277-2502
12:00 - 4:00 pm ♦ Polar Beer Festival 2015 (Sold Out)
Rock Bottom Restaurant & Brewery, 1 W. Grand Ave., Chicago (312) 755-9339
Rock Bottom's 5th Annual Polar Beer Festival on Saturday, February 14th
Proceeds will benefit the Illinois Craft Brewers Guild.
Sample a variety of Strong Winter Ales from some of Illinois' best breweries on our rooftop!
$40 per person (plus fees at BrownPaper Tickets) gets you in the door to sample the brews and also includes a complimentary commemorative glass and appetizer buffet.
2:00 - 4:30 pm ♦ Lake Effect Brewing Co. Tour
Lake Effect Brewing Co., 4727 W. Montrose Ave., Chicago (312) 919-4473
Want to see how a small local brewery operates? Want to learn about the brewing process? Want to sample the latest hand crafted beers from Lake Effect? Then be part of one our tours!
You get an up close and personal tour with the actual brew master and get a number of beer tastes, including upcoming releases and from time to time, rare vintage beers. Tour includes an inside look at a working brewery, bottling area, barrel room, and urban farm. Tours happen every Saturday at 2PM and again at 3:30PM and last about 1 hour. Tastings are done at the end of the tour at a local pub – The Phoenix Bar – just steps from our brewery.
The Brewery tour is free, tasting flight is separate and will be charges at the Phoenix Bar.
Must be 21
Tickets are free, up to one hour before the tour, at Eventbrite.
2:00 - 7:00 pm ♦ Brew Of Hearts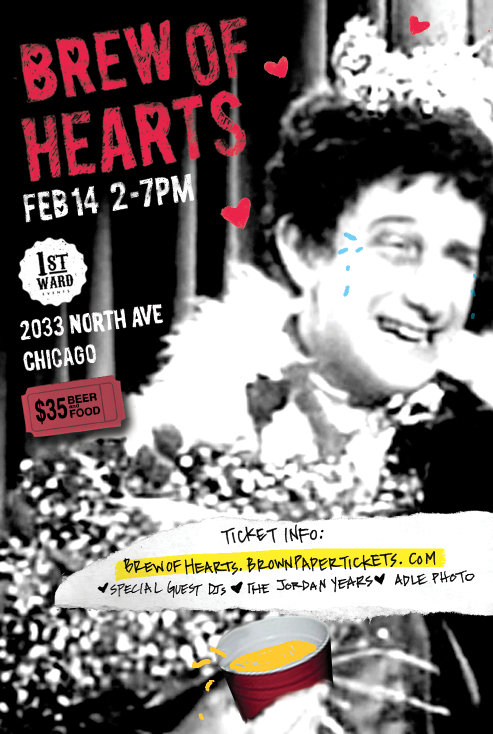 First Ward Events, Damen & Milwaukee/North Ave (Blue Line), North Milwaukee Avenue, Chicago
Don't spend another dull Valentine's Day doing the same dull s**t.
Come out and party with us and celebrate your love of crazy awesome unique beers!
From the fine folks who brought you the brew haha, brew heyhey, brew hoho, brew Springsteen, iron brew, under the influence, over the influence, brew Hahahahahahahahahaha, brew lala, and the brew hoho come The Brew Of Hearts.
We will have an awesome list of Brewers and the amazing Jordan Years will be playing live for your dancing and swooning pleasures.
We will also have dj's, a photobooth by AdLe photos to remember your night, and many other surprises you've come to expect with a Won Kim party!
$35 plus fees through Brown Paper Tickets.
Brewers so far: Transient, Goose Island Beer Co., Brooklyn Brewery, Kimbell, Soma Ale Works, Rude Hippo, Inebriated, Middle Brow, Begyle
2:00 - 5:00 pm ♦ Beer Sampling at Kenwood Liquors
Kenwood Liquors, 12037 W. 159th St., Homer Glen, IL (708) 590-8210
Deschutes
3:00 pm ♦ Northdown's 2nd Annual: I'm Sour On You!!!
Northdown Cafe & Taproom, 3244 N. Lincoln Ave., Chicago (773) 697-7578
Pucker up buttercup, it's on.
Sours on tap: The Bruery​ Rueuze, 3 Fonteinen​ Zwet.be, Cantillon​ Iris 2014, Prairie Artisan Ales​ Funky Gold Amarillo, Haandbryggeriet​ Haandbakk, Nøgne Ø​ Kriek of Telemark, Off Color Brewing​ TBA, Boulevard Chocolate Ale (not a sour).
Spend the night with your one true love, sour beers. Additional beers to be added so stay tuned. Beers subject to change, but highly unlikely.
4:00 pm - 12:00 am ♦ Valentine's Day Beer Dinner at Two Brothers Tap House
Two Brothers Tap House, 30W315 Calumet Ave, Warrenville, IL 630-393-2337
Join us at the Two Brothers Tap House for our 7th Annual Valentine's Day Beer Dinner. Along with noteworthy beers from our cellar, Chef Tommy and his team bring a passionate 6 course dinner for the lovers of the night, along with a live jazz band to serenade.
Doors open at 4:00 pm, with a cash bar, live music and passed appetizers.
Dinner begins with the first course at 6:30 pm. Tickets are $100 each, plus fees, at Eventbrite.
4:00 - 8:00 pm ♦ The Power of Sour
Western Exhibitions, 845 W. Washington Blvd., 2nd Flr., Chicago
Marz Community Brewing is excited to bring you an anti-Valentines Day event at Western Exhibitions.
We have been dying to do an Art of Marz Brewing event with Paul Nudd, one of our favorite painters, trouble makers and friends along with his gallery, Western Exhibitions. Paul made the painting of the "Bubbly Creek" monster which adorns our Bubbly Creek Berliner Weiss bottles. For this event we are releasing a limited edition four color silk screened print made especially for this Power of Sour event. And Paul's work will also be on view.
To enjoy Paul's art Marz will be sampling out our expanding line of South Side Sours. Our sour ales are made with a strain of Lactobacillus plantarum discovered by Marz Brewer Al Robertson, and isolated by Omega Yeast labs. It's our secret weapon in converting beer drinkers to a style of sour ales that are tart, mildly acidic, delicious and made here in Chicago.
During the Power of Sour event we will provide complementary pours of our Bubbly Creek Berliner Weiss, The Duchess de Bridgeport sour brown ale and our brand spanking new Gose style beer called Ruby's Tears. Sampling glasses will be provided by our sister project, Mash Tun Journal.
A suggested donation of $10 will get you one of the prints made by Paul. You can also reserve ahead for $15 plus fees through Eventbrite.
5:00 - 8:00 pm ♦ Firewater BBQ Valentine's Day at Pollyanna
Pollyanna Brewing Co., 431 Talcott Ave, Lemont, IL 630-914-5834
Nothing stokes the Valentine's Day fires like Firewater BBQ at Pollyanna Brewing Company! $12 per person. Tickets at the door.
MENU: Hickory Smoked Hand-Pulled Pork, Angus Beef Brisket, Chuck Norris House-Blend Smoked Sausage, Fresh Butter Rolls • French Rolls, Choice of Kettle Chips or Coleslaw
5:30 - 6:30 pm ♦ 2nd Saturday Cask Tapping: with Metropolitan Brewing
Clementi's Pizzeria & Bar, 602 W. Northwest Hwy., Arlington Heights, IL 847-253-3544
Join us at Clementi's every 2nd Saturday of the month as we invite a local brewer for a cask tapping. The month of February we are featuring Metropolitan Brewing. They are bringing their Generator "K" Doppelbock.
We will also feature other awesome Metropolitan Beer on draft that night. For the home brewers, you will have an opportunity to meet the Metropolitan brewers. Facebook Page.
6:00 pm ♦ Valentime's Day Pig Roast
Tap House Grill, 6010 S. Cass Ave., Westmont, IL (630) 541-8840
$11.99. Draft beer specials all day, with a special tapping of Pig Minds' Who's Joe Daddy.
6:30 pm ♦ The Poor SOB Valentine's Dinner
The Garage, 116 N. Aberdeen, Chicago 312-344-1784
Face it – Valentine's Day is a bit overrated. Lucky for you, Solemn Oath is partnering up with the fine folks of The Garage to bring you not one, but two, freakin' awesome dinner options for V-Day so you won't be bummed out this year. The first option is a Beer-Hall-Style dinner at 6pm, and the second is a rowdy pig roast at 9:30pm, $55 for either. If you're feeling both, you can reserve a spot at each for a discounted rate of $100. We or may not force you to read some scandalous lines from a novel that is being released in movie form that same day… hmm…
7:00 pm ♦ Sweet and Sour Valentine's Party
Sheffield's Beer and Wine Garden, 3258 N Sheffield Ave., Chicago (773) 281-4989
This year join our very own Matt Doan and TJ Kerber will be slinging drinks and playing some SWEET tunes in our back Smoker Room Bar!
For the romantics among you we'll have some SWEET tunes and for the rest of ya, we'll have an awesome lineup of SOUR beers! We'll be announcing the lineup soon so watch this space!
7:00 pm ♦ Fat Cat's Valentine's Day Barrel Aged Tasting
Fat Cat, 4840 N. Broadway, Chicago (773) 506-3100
Announcing Fat Cat's Valentine's Day Barrel Aged tasting, featuring rare aged cider and beer. Everything gets better with age! Bring your best gal, best friend or worst enemy, there is nothing more romantic than bourbon and beer. Aging beer creates a richer, more complex flavor and yields a higher alcohol content. Get your tickets now - contact ChicagoEvents@Rocketmail.com, 773-575-0301. Tickets $25 plus tax and gratuity. Featuring Dogfish Head, New Holland Brewing and North Coast to name a few.
8:00 - 10:00 pm ♦ Valentine's Day at Scorched Earth Tap Room
Scorched Earth Brewing Co., 203 Berg St, Algonquin, IL
Valentine's Day evening at Scorched Earth Brewing... featuring our new Chocolate Imperial Stout, locally hand-crafted chocolate truffles and two Indie bands - Amber Flight and Oliver Kiss. Set the date - with your date!
6:30 - 9:30 pm ♦ Revolution Brewing Dinner
The Butcher's Tap, 3553 N. Southport Ave., Chicago
Looking for a break in your normal routine? Come join us for a Revolution Brewing Dinner! Indulge in 4 courses paired with 4 stellar beers from Revolution (Fist City Chicago Pale Ale, Jukebox Hero Black IPA, Anti Hero, and Eugene Porter). Enjoy a can of Bottom Up Wit and souvenir pint glass when you arrive! Our wonderful Revolution guro, Jess, will explain the flavors as well as the process of how each beer came to be! Seating is limited so grab your tickets today! $35 each, plus fee, at Eventbrite.
Chef Sean Currie, sous chef at Dawson, has put together a menu that skillfully pairs every course with each beer to highlight the vast array of flavors and aromas.