Monday, October 20
3:00 - 5:00 p.m. ♦ "Best Bars in America" filming
The Green Mill, 4802 N. Broadway St., Chicago
Esquire Network's cable show "Best Bars in America," based on their magazine listings, is now filming its second season. Their producer emailed me to pass along this request:
On Monday 10/20, we will be filming at Green Mill in the late afternoon, and we want to make sure that the bar has some great ambiance.  We are hoping that you might be able to post some info on your blog to get some people out to fill up the bar.  I know Monday afternoon isn't the easiest time to get people to a bar, but any help would be appreciated!  :)
So hey, why not knock off early, head uptown, grab some brews, and pretend you don't notice the cameras and boom mikes.
Franklin Tap Pumpkin Beer Festival
Franklin Tap, 325 S. Franklin, Chicago (312) 922-8025
October is Breast Cancer Awareness Month, and loop-located tavern Franklin Tap will bring awareness to the cause by partnering with The Lynn Sage Foundation's "In Good Taste" campaign. From October 1 though 31, Franklin Tap will feature an array of pumpkin craft brews on draft (outlined below) with a portion of the proceeds being donated to The Lynn Sage Foundation, a Chicago-based organization committed to finding a cure for breast cancer.
Pair your pumpkin beer with Chef Glenn Pistorio's tavern menu, featuring appetizers, soup, salads, sandwiches and more.
Pumpkin Beer Festival special for October 20-24: Dogfish Head Punkin Ale, $6; October 27-31: Southern Tier Pumpking, $7
6:00 - 8:00 pm ♦ Barley's Angels Fall Beer Event at Pizza Rustica
Pizza Rustica, 3908 N. Sheridan Rd., Chicago 773-404-8955
Leaves are changing, the weather is getting brisk—fall is here! The Chicago Chapter of Barley's Angels is excited to welcome the new season with the first event of the fall at Pizza Rustica! Fall wouldn't be complete without some pumpkin brews so at this event, Barley's Angels will taste a variety of seasonal beers (Trick or Treat!)
Ladies who love beer can join the Angels at the rustic Italian eatery for with snacks (mini aranchini & pizza!) and, of course, lots of tasty brews.
Featured Beers: Crown Valley Imperial Pumpkin Stout, Clown Shoes Bourbon Pecan Porter, Parallel 49 Salted Scotch Ale, Tyranena Painted Ladies Pumpkin Ale, Hinterland Cherry Wheat, and Pumpkin Cider.
TICKETS: $20 per person and available at Brown Paper Tickets. For more information, visit the Facebook event page.
Tuesday, October 21
5:00 pm ♦ It's Tuesday! Whats on the Randall??
The Tribes Alehouse, 11220 W. Lincoln Hwy, Mokena, IL (815) 464-0248
Every Tuesday we will be pouring one of our already awesome brews through Randall the Enamel Animal. Ask your server what's on!
6:00 pm ♦ Solemn Oath Season of the Viking Beer Dinner
Nobel House, 305 W. State St., Geneva, IL (630) 402-0452
A five-course beer dinner celebrating the "Season of Viking," pairing food with beers from Solemn Oath Brewery. Menu available at the Nobel House Facebook page. Call for reservations and pricing.
Welcome Beer: Oktoberface
1st Course: Pickle Plate w Fall Vegetables, Herring Egg, Quail Egg, & Blood Sausage (Oubliette)
2nd Course: Compressed Beet Salad w Cranberry Walnut Vinaigrette (Butterfly Flash Mob)
3rd Course: Split Pea & Ham Soup (Kidnapped by Vikings)
4th Course: Smoked Venison Tenderloin w Demi and Acorn Squash Ravioli (Psycogaze)
5th Course: Swedish Pancake w lingonberries, Fig, and Aquavit Compote (Man vs Internet)
7:00 pm ♦ Founders Beer Dinner
Heaven on Seven - Naperville, 224 S. Main St., Naperville, IL (630) 717-0777
We're teaming up once again with one of our favorite breweries, Founders Brewing Co. of Grand Rapids, Michigan. We'll be serving up seven delicious courses paired and prepared with eight craft beers. Founders will be raffling off some awesome swag during the dinner and the brews are all amazing.
Welcome Beer: All Day IPA (enjoy All Day Beer Pickles on tables)
Honey-Chipotle Beer Braised Chicken Wings, Harvest Ale
Pumpkin-Chorizo Soup, Red's Rye IPA
Beer Brined Lamb Chop with Beer-Quinoa Pilaf, Dark Penance
Beer Braised Pork & Hatch Chile Enchiladas, Curmudgeon
Malt Crusted Salmon with Bacon-Beer Sweet Potatoes and Scotch Ale Gastrique, Dirty Bastard
Stout Braised Short Ribs over IPA Mashed Potatoes, Breakfast Stout
Goat Cheese and Raspberry Cheesecake with Beer Caramel, Rubaeus
As always, reservations are required. The cost $60 per person plus tax and gratuity. There is a 'no beer' option for $45. The regular menu will not be offered. Click this link for reservations.
7:30 - 8:30 pm ♦ Tony Magee in conversation with Josh Noel
Lagunitas Chicago Tap Room, 1843 S. Washtenaw Ave. Chicago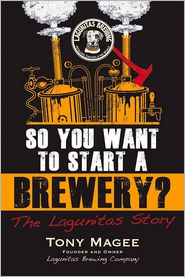 Twenty years ago, erstwhile musician/printing salesman Tony Magee founded Lagunitas Brewing Company in Petaluma, CA. It's now the fifth-largest and one of the fastest growing craft brewers in the United States, with—as Chicagoans know—a second brewery right here.

Come hear from and meet Tony as he discusses his book, So You Want to Start a Brewery?: The Lagunitas Story
, which illuminates the triumphs and pitfalls of a premier craft brewer and his path to success with Lagunitas. With his trademark wit, Magee's takes beer lovers and entrepreneurs behind the scenes, sharing colorful insights on the growth of Lagunitas, with Josh Noel, Chicago Tribune beer writer. The book event takes place at the basement of the Lagunitas Chicago brewery. Lagunitas samples will be available. RSVP is required, but free at Eventbrite.com.
Wednesday, October 22
A One-of-a-Kind Flight Night with Brooklyn Brewery
Dusek's Beer Cellar, 1227 W. 18th St., Chicago (312) 526-3851
Andrew Maxson of the Brooklyn Brewery will be hosting a special flight night, featuring three very special beers: Sorachi Ace, Silver Anniversary Lager and Companion.
In addition to flights of these extremely limited Brooklyn offerings (we'll get to that in a second), Andrew will be giving away glassware and holding a raffle for Brooklyn prizes including a copy of The Oxford Companion to Beer
, edited by Brewmaster Garrett Oliver.
An essential addition to any craft beer lover's library, the book covers everything from the agricultural makeup of various beers to the technical elements of the brewing process, local effects of brewing on regions around the world, and the social and political implications of sharing a beer. In other words, if you love beer, you should have this book.
4:00 pm ♦ Green Flash-Raise A Glass To Find A Cure
Monk's Pub, 205 W. Lake St., Chicago (312) 357-6665
We are featuring Treasure Chest from Green Flash Brewing Co. a barrel-aged Saison with plum on tap, raise a glass to find a cure! Proceeds to Susan G. Komen For The Cure.
Also on tap from Green Flash:
East Village Pilsner ● Czech Pilsener ● 5.3% ABV
30th Street Pale Ale ● American Pale Ale ● 6% ABV
West Coast IPA ● American IPA ● 7.3% ABV
4:00 pm ♦ Wednesday Tapping at Tribes Alehouse, Mokena
The Tribes Alehouse, 11220 W. Lincoln Hwy, Mokena, IL (815) 464-0248
Southern Tier War King, A blend of Pumking and Warlock.
5:30 pm ♦ 1st Annual Hollywood Craft Beer Event
Hollywood Palms Cinema, 352 South Route 59 Naperville, IL 60540
Lights, Camera, Action! Come experience Hollywood Palms' first fall craft beer tasting event. Guests are invited to sample beers from ten different craft breweries, including local favorites from Solemn Oath Brewery and Goose Island Brewing Company. Take a walk down the red carpet and enjoy passed hors d'oeuvres while mixing and mingling with brewery representatives.We are reserving half of the facility so you can enjoy an indoor fall beer tasting! At 8:00 PM, the curtain goes up and guests can enjoy watching Old School or the seasonal favorite Halloween in our Egyptian, Oscar, and Wizard of Oz Dining rooms.
Tickets are $40.00 and include price of admission, 12 tickets for 3 oz. samples, a commemorative glass, and passed food. Must be 21+ to attend.
6:00 pm ♦ German Inspired Brewer's Dinner
Rock Bottom Yorktown Center, 94 Yorktown Center, Lombard, IL (630) 424-1550
For only $39.99, treat yourself to a delectable experience hosted by Chef Shawn Murphy & Brewmaster Jim Wolfer. Call today to make your reservation – 630-424-1550
For the full menu, please visit our Facebook page.
6:00 - 8:00 pm ♦ WWIMM Celebrates Women in Craft Beer
The Chop Shop, 2033 W. North Ave, Chicago 773-537-4440
In honor of Oktoberfest, Women Working In Mixed Media (WWIMM) is hosting a craft beer-filled networking event devoted to Chicago's hardest working women in the craft beer industry. WWIMM will host an interactive panel Chop Shop & 1st Ward, where locals are invited to learn about the top women in the field, while tasting exclusive craft brews from Temperance Beer Company, Bell's, Great Lakes, Baderbräu, and O'so Brewing Company.
Tickets are available on EventBrite for $30 each. Bring a friend and purchase two tickets for $50. Tickets include access to the panel, 5 drink tickets for exclusive beer tastings, and networking with influential women working in the craft beer industry. Book online and receive 10% off dinner at Chop Shop.
Panelists include Claudia Jendron - Brewer, Temperance Beer Company, Kate Bernot - Nightlife Reporter, RedEye, Kim Leshinski - Design Consultant and Event Curator, Hail To The Ale, Monica Mooney - Field Sales Representative, Bell's Brewery, Inc., Jennifer Faulk - Director of Marketing at Glunz Beers.
For more information or to schedule an interview, contact info@wwimm.org
Thursday, October 23
Goosetoberfest at Standard Market Grill
Standard Market Grill, 444 W. Fullerton Pkwy., Chicago 773-857-3080
Goose Island is taking over the taps at Standard Market Grill! Drafts can be enjoyed solo as well as part of the "Stout Flight" or "Build-Your-Own Goose Island Flight" for $15 apiece. The line-up features 8 fall Goose Island beers all in one place, including:
Rambler Red IPA, 2013 Bourbon County Brand Barleywine, 2013 Bourbon County Brand Stout, Two More Weeks Wine-Barrel Aged Lambic, 2012 Night Stalker Imperial Stout, The Muddy Imperial Stout, Sticky Feathers Wet-Hopped Pale Ale, Sofie.
Goose Island glassware will be given away with special stickers hidden on the bottom of select glasses, giving customers the chance to win a tour of the Goose Island Brewery or Goose Island swag. Standard Market Grill's beer-of-the-month, Goose Island Rambler Red IPA, will be only $4 on draft.
4:00 pm ♦ Thursday Tapping at Tribes Alehouse Tinley
The Tribes Alehouse, 9501 W. 171st St., Tinley Park, IL (708) 966-2051
Founders Dissenter IPL/ Firestone Walker Double DBA. Another double tapping of some killer brews!
5:00 pm ♦ Tap Room Thursday
Kimbark Beverage Shoppe, 1214 E 53rd St, Chicago
A Free Beer Tasting that features tap room brewers, regional and local craft breweries.
5:00 pm ♦ Rockwell's Freak-Nasty Foundersfest
Rockwell's Neighborhood Grill, 4632 N. Rockwell St., Chicago (773) 509-1871
It's that time of year again when we bust out our stash of Founders' deliciousness that we've been squirreling away since last year's debauchery.
The Goods: All Day IPA, Backwoods Bastard 2013 (bottles), Bolt Cutter 2012 (bottles), Breakfast Stout, Curmudgeon 2013, Dark Penance, Devil Dancer, Dirty Bastard (bottles), Dissenter, Doom 2013 (bottles), Imperial Stout 2013, KBS, Porter (bottles), Red's Rye, Rubaeus
The Foods: Warm pretzels with Centennial IPA beer cheese, Dirty Bastard braised pork with Dirty Bastard stone ground mustard bbq sauce and All Day IPA pickles, Breakfast Stout beer bread pudding with Rubaeus ice cream
5:00 pm ♦ Local Brews Local Grooves
House of Blues, 329 N. Dearborn St., Chicago, IL, 60654, United States
The Ultimate Craft Beer and Music Festival. 28+ craft beers, including a mix of seasonal releases and old favorites from Off Color, Solemn Oath, Finch's, Two Brothers, Revolution, Lagunitas, Penrose, BrickStone, Hopothesis, Argus, Empirical, Metropolitan, Half Acre, and Anthem Brewing (Oklahoma City).
Food pairing menu
2 stages of live music and DJ in Foundation Room
Full bars open in addition to sampling areas
VIP Sampling and music begins at: 4:30pm
General admission door time: 5:30pm
Tickets through LiveNation, apparently you need a separate entrance at $10, then a wristband at $15, plus fees.
5:00 pm - 7:00 pm ♦ Dogfish Head Punkin Ale Tasting at Franklin Tap
Franklin Tap, 325 S. Franklin, Chicago (312) 922-8025
Franklin Tap will welcome representatives from Delaware's Dogfish Head Craft Brewery for an informal beer tasting event. Reps from the brewery will distribute samples of Dogfish Head's seasonal brew, Punkin Ale (7% ABV). This smooth, full-bodied brown ale is brewed with pumpkin meat, brown sugar and spices. Full pints of Dogfish Head Punkin Ale will be offered for $6. Chef Glenn Pistorio's full dining menu (bar snacks, soup, salad, wraps, burgers, sandwiches and more) will be available.
6:00 pm ♦ Sheffield's Annual Pumpkin Carving
Depart from Sheffield's, 3258 N Sheffield Ave, Chicago (773) 281-1350
Tis the season! Join us for our Annual Pumpkin Carving. Every year we bring in a huge truckload of pumpkins for y'all to carve for FREE! We provide the pumpkins and the carving tools, you provide the imagination!
Your pumpkin will be displayed at Sheffield's through Halloween for all to see.
Get here early to grab your seat and carving spot and enjoy one of our pumpkin beers on tap or or hot mulled cider on special!
7:00 pm ♦ Shiner Beer Tasting
Village Inn Pizzeria Sports Bar & Grill, 8050 Lincoln Ave., Skokie, IL (847) 675-3737
Come in and sample different beers from Shiner Brewery.
7:00 - 10:00 pm ♦ Southern Tier Tap Takeover at High Noon Saloon
High Noon Saloon, 1560 N. Milwaukee Ave., Chicago 773-227-9339
High Noon Saloon welcomes brand ambassadors Mark Padilla and Joe Morrison of Lakewood, New York's Southern Tier Brewing Company and offers hard-to-find brews, including the DeMunck's Hard Cider, a Belgian-style hard cider brewed by Southern Tier but under a different brand name and logo. The cider was featured at Beer Hoptacular 2014 on October 10 and 11; High Noon Saloon will be the first venue in Chicago to carry the cider.
Limited release and seasonal beers include Warlock Imperial Stout, Pumking Imperial Pumpkin Ale, Choklat Imperial Stout, Crème Brulee Imperial Milk Stout and Oat Imperial Oatmeal Stout. The tap takeover features beer education, off-the-menu Southern Tier-spiked specials and giveaways. There is no cover charge and food and drink are pay-as-you-go (beers range from $6-$8). Reservations recommended via 773-227-9339.
8:00 - 4:00 am ♦ Pumpkin Carving Party at the Division Ale House
Division Ale House, 1942 W. Division St., Chicago 773-384-6886
The Division Ale House provides both the pumpkins and the carving tools for this free party and displays the carved creations through Halloween. Pumpkins are first come, first served (early arrival recommended).
Specials for the night include $4 Newcastle Werewolf drafts, $3 Tullamore Dew shots and $5 house-made beer brats (with choice of side). Newcastle reps will be on-hand to give away logoed gear from wearables to a dart board. The bar's resident DJs spin from 8 p.m.-2 a.m. with no cover charge.
8:00 pm ♦ Bell's Pint Night & Trivia
Warren's Ale House, 51 Town Square, Wheaton, IL 630-462-5126
Come out to play Bell's Inspired trivia while enjoying a variety of options from the tap. Featured beers include Amber Ale (beer of the month, $4 pints!), Best Brown Ale, Two Hearted Ale and Kalamazoo Stout. The first people to sign up for trivia get a pint glass to take home with them! Free to play.